Set your taste buds on fire with this jalapeno popper kale deep dish pizza – between the chiles and the pepperjack cheese, it is not meant for the faint of heart!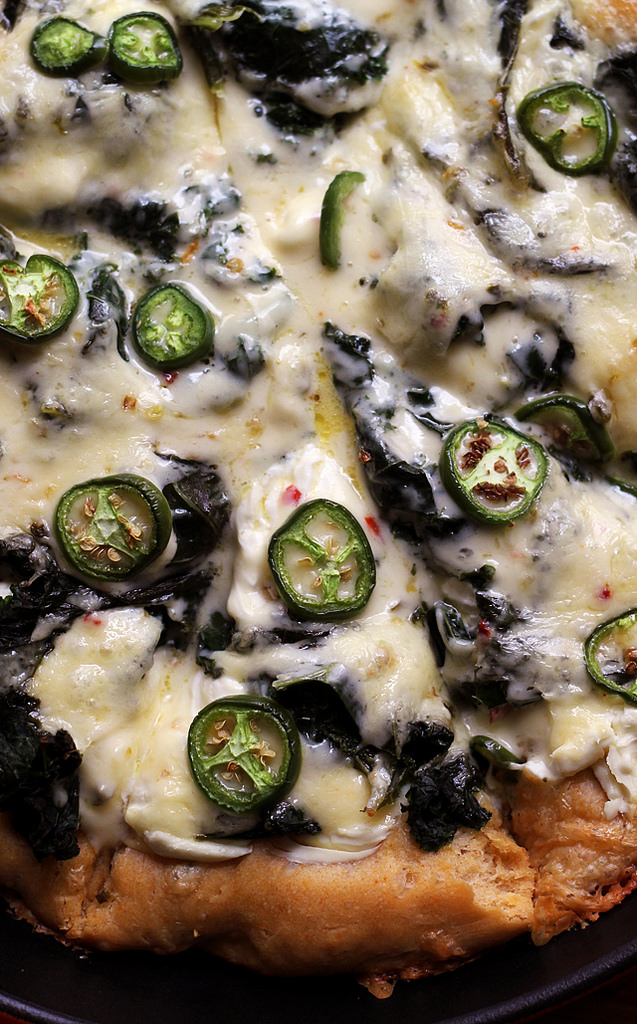 That time you put a scale on your wedding registry for, you know, completeness, thinking that no one would actually get it for you because TACT.
But then it mysteriously arrives at your door and YOU DECIDE TO STEP ON IT.
When am I going to learn to make better life choices?
So now I've put myself on this thing called a wedding diet.
And a real one this time.
The kind where I actually count calories and don't just say I'm on a wedding diet while simultaneously devouring a plate of cookies. Because apparently the latter kind has not really been working out too well for me. Go figure.
I mean, it's not so much of a dire situation. All of my jeans still fit, so how bad could things really be?
But how glad am I that I made and devoured this pizza two days before this life altering realization? So glad.
If you're going to go out, you might as well go out with a bang.
A cheesy, spicy, carbalicious deep dish kind of bang.
For this month's Recipe Redux, we were challenged to create a recipe with a spice that had been lurking in the backs of our cabinets, but since I really am an equal opportunist with my spice usage, I chose instead to use a new-to-me spice that I had never cooked with before! The super kind folks over at Melissa's Produce, purveyor of all things crazy/awesome/delicious in the produce world, recently sent me some of their Hatch chile powders to try, and as soon as I received them, I knew I just HAD to make this pizza! The mild chile powder is infused into the dough and adds just a hint of heat, with some great chile flavor.
This pizza isn't tame, though! Slices of jalapeno and pepperjack cheese on top bring some serious spice while dollops of cream cheese and kale do their best to tame it, so your tongue is alternately exploding in flames and then submerged in creamy goodness.
It's kind of the best.
Unless you're on a self-imposed wedding diet.
Which I will promptly start after I eat all the leftovers. It just seems like the right thing to do.
Jalapeno Popper Kale Deep Dish Pizza
Set your taste buds on fire with this jalapeno popper kale deep dish pizza - between the chiles and the pepperjack cheese, it is not meant for the faint of heart!
Ingredients
For the crust
2¼ tsp yeast
1 cup lukewarm water, divided
pinch of sugar
2½ cups bread flour, divided
2 tbsp olive oil
1 tsp salt
1 tsp hatch chile powder
For the pizza
1 bunch kale, stems removed and leaves thinly sliced
8 oz low fat cream cheese, softened
2 jalapenos, thinly sliced
8 oz pepper jack cheese, grated
Instructions
For the crust, in a small bowl whisk together the yeast, ¼ cup of water, and a pinch of sugar. Let sit while you prepare the rest of the dough. Meanwhile, in the bowl of a stand mixer fitted with the bread hook attachment, combine 2 cups of bread flour, olive oil, salt, remaining water, and chile powder. If the yeast has become foamy, then add it into the mix as well. If not, then it is probably dead and you should buy new yeast.
Mix on medium speed until well combined. If the dough is still sticking to the sides of the bowl after a minute or mixing, then add in more flour until it does not. Mix on medium-high speed for 4 minutes. Cover lightly with plastic wrap and let the dough rise in a warm, draft-free place until doubled in size, about 30 minutes.
Meanwhile, heat water in medium pot over medium-high heat and bring to a boil. Add the kale to the pot and cook for 2-3 minutes, or until wilted. Drain and set aside.
When the dough is ready to use, grease a 12-inch cast iron skillet. Heat oven to 425.
Spread the dough into the greased skillet so that it reaches the sides. Top with dollops of the cream cheese, kale, pepper jack, and jalapenos, leaving a 1-inch border around the edges. Bake for 15 minutes, or until cheese is bubbling and bottom of the dough is a golden brown. Let cool for 5 minutes before serving.
Notes
An Eats Well With Others Original