Spring is in the air and the best way to celebrate is with these shaved asparagus, strawberry, and goat cheese flatbreads that are perfect for a light lunch or a party appetizer!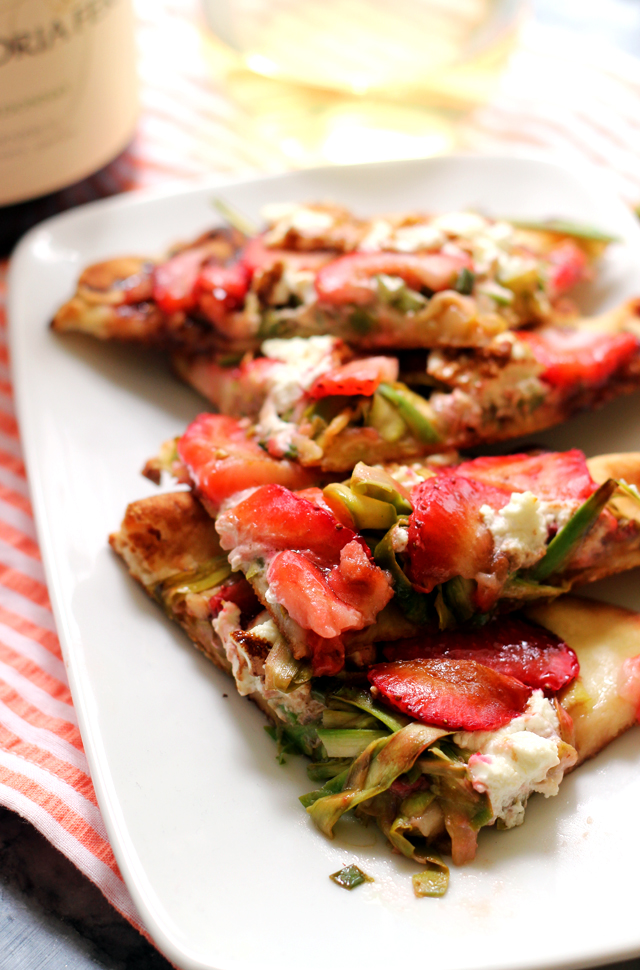 Or should I say, spring was in the air, until SNOW was forecasted for today.
Face smack.
Why is this happening to me!? / I NEED A DRINK.
A hypothetical drink, of course, given my current "condition" but a much desired drink nonetheless.
Well, only 7 weeks(-ish) to go until I can turn that dream into a reality, so until then I'll be coping by:
(a) delusionally ignoring any and all weather predictions that don't suit my mood
and (b) focusing on the positive, namely that since we are now spring "official", we can go about eating asparagus and strawberries with reckless abandon and celebrating their arrival at every turn.
For some of us, that means buying (and eating) > 3 lbs of strawberries in a week and planning an entire spring/Easter celebration menu around them.
If this sounds like you, then let's chat about these flatbreads, which would make for an awesome spring-inspired soiree appetizer plate.
Strawberries and asparagus are an unlikely pairing at first glance but the adage that "what grows together, goes together" rings true when it comes to dishes combining the two. I can't really explain what it is about them, but they just fit.
Here, I've simply shaved the asparagus into as thin as possible slices using a vegetable peeler (though you can use a mandoline if you're far more reckless with your fingertips than I am) and tossed it with chives and a light meyer lemon vinaigrette. It then gets layered onto naan breads, along with strawberry slices, goat cheese, and a sweet tangy balsamic syrup drizzle. The breads are baked until crispy and cut into wedges perfectly sized so that you can shove one into your mouth with one hand and cradle your wine glass with the other.
Speaking of which, no cocktail hour is complete without an expertly paired wine+appetizer combo, so let me introduce you to Gloria Ferrer Chardonnay, which, with it's tasting notes of peach, pear, and meyer lemons, effortlessly brings out the fruity, light flavors in these flatbreads. If there's any white wine that screams of SPRING and SUNSHINE, it's this, my friends. It pairs incredibly well with pretty much all citrus and stone fruit flavors, and is just acidic enough to temper rich cheeses like chevre (i.e. goat cheese), brie, and epoisses. Gloria Ferrer Caves & Vineyards is actually the original sparkling wine house in Sonoma Carneros, as well as the first to bring back clones from France to plant in their vineyard. In the last five years, they've won over 400 gold medals and 50 90+ scores.
I, for one, can't get enough of them as proven by the fact that last year I made this Zucchini, Bell Pepper, and Halloumi Panzanella Salad to pair with their Chardonnay. What can I say – I like what I like.
All that to say, drink, be merry, and get into the spirit of spring with these flatbreads. You won't be sorry you did!
Shaved Asparagus, Strawberry, and Goat Cheese Flatbreads
Spring is in the air and the best way to celebrate is with these shaved asparagus, strawberry, and goat cheese flatbreads that are perfect for a light lunch or a party appetizer!
Yield:
4 large flatbreads or 16 small flatbreads
Ingredients
½ lb asparagus, cut into long thin strips
2 tbsp minced chives
2 tbsp olive oil
2 tbsp meyer lemon juice
salt and black pepper, to taste
1 lb strawberries, hulled and thinly sliced
4 oz goat cheese, crumbled
4 naan flatbreads
balsamic syrup, for drizzling
Instructions
Heat oven to 400F.
In a medium bowl, toss together the asparagus, chives, olive oil, and lemon juice. Season to taste with salt and black pepper.
On a parchment- or foil-lined baking sheet, arrange the flatbreads. Divide the dressed asparagus-chive mixture evenly on top of each of the flatbreads, leaving ½-inch edges for the crust. Top with the strawberries and the goat cheese. Drizzle with balsamic syrup as desired.
Bake for 10 minutes, or until flatbreads start to crisp and the vegetables are warmed through. Cut each flatbread into 4 pieces and serve warm or at room temperature.
Notes
An Eats Well With Others Original
Nutrition Information
Serving size:
1 flatbread
I was selected for this opportunity as a member of Clever Girls and the content and opinions expressed here are all my own.