Middle Eastern flavors shine in this simply summery zucchini, bell pepper, and halloumi panzanella.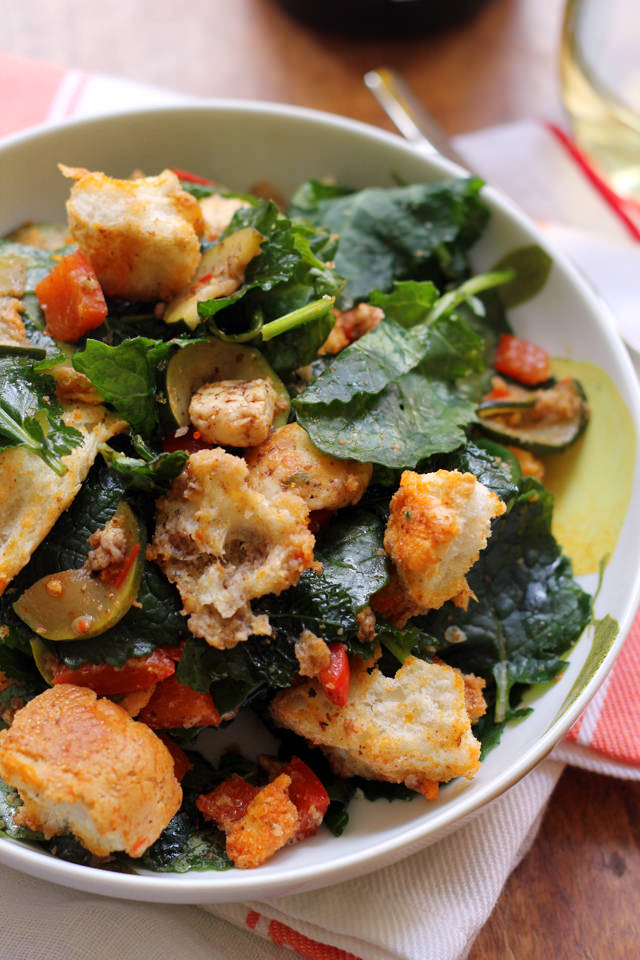 I'm OFFICIALLY officially ready to eat like it's summer.
That means buying all the zucchini at the store and pretending I harvested them myself and OMG ISN'T IT SO ANNOYING HOW FAST AND ABUNDANTLY THEY GROW?!
(Says everyone, every summer. All the time.)
That also means Keeping It Simple.
And Keeping It Salad.
And Keeping It SPARKLING.
Basically, taking over my mother's patio as often as possible without becoming an inconvenience, because OUTDOOR EATING. It's the new black.
The best part about outdoor eating is really that you can just keep it casual. No one expects you to break out the good China and real silverware to eat on your deck. So long as there is good wine, good food, blue skies, and a warm breeze..everyone is happy.
I can't control the weather (though I try!) but I can help you on the food and drink front. Starting with this salad. It's all fresh flavors and fried cheese bits and crusty bread cubes and the perfect spicy harissa vinaigrette…and KALE.
(To balance out the fried cheese bits. I'm so thoughtful, right?)
Dressed in Middle Eastern spices like lemony sumac and earthy za'atar, it's also a mouthful of flavor. I love that in a salad.
Then, there's the WINE! And not just any wine…Gloria Ferrer 2013 Carneros Chardonnay. You know, the good stuff. It's fruit-forward, exuberant and pretty much perfect for pairing with just about any cuisine. The winery itself opened in 1986 and in the past 5 years alone, it has won over 400 GOLD MEDALS for its wines. That should pretty much speak for itself…but I'll also say that I couldn't wait to get home from work every day to pour myself another glass.
Gloria Ferrer is currently hosting a Spring Photo Contest for anyone who wants to #BeGlorious! The theme from June 1st to June 15th is Al Fresco Dining/Entertaining and the winner will win a fun food and dining package! There are more contest themes through July 15th, so if outdoor eating isn't your jam then it's totally worth checking out to see if you can swing an entry that will fit for another theme.
Zucchini, Bell Pepper, and Halloumi Panzanella
Middle Eastern flavors shine in this summery zucchini, bell pepper, and halloumi panzanella.
Ingredients
1 loaf Italian bread (about 1 lb), cut into 1-inch cubes
4 tbsp extra virgin olive oil, divided
8 oz halloumi, cut into ½-inch cubes
4 cloves garlic, minced
3 zucchini, cut in half lengthwise and sliced into thin half moons
2 red bell peppers, diced
1 tbsp sumac
½ tsp za'atar
2 tbsp capers, drained
5 oz baby kale
For the dressing
¼ cup extra virgin olive oil
¼ cup harissa
2 tbsp champagne vinegar
1 tsp salt
Instructions
Heat oven to 450F.
Arrange bread cubes on a parchment-lined baking sheet in a single layer. Roast for 10 minutes or until crispy and starting to brown. Set aside.
Heat two tbsp olive oil in a large skillet over medium heat. Add the halloumi to the pan and saute until browned on each side, about 4-5 minutes. Remove to a paper towel-lined plate to drain.
Heat the remaining two tbsp olive oil in the same skillet over medium heat. Add the garlic to the pan and saute for 1-2 minutes, or until fragrant, stirring frequently.
Add the zucchini slices and bell peppers to the pan along with a pinch of salt, sumac, and za'atar. Saute for 5-6 minutes, or until veggies are softened, stirring frequently. Stir in the capers.
In a small bowl, whisk together the ingredients for the dressing until well combined.
Toss the veggies with the baby kale and bread slices. Toss with the dressing. Season to taste with salt and black pepper.
Notes
An Eats Well With Others Original
More summer salads: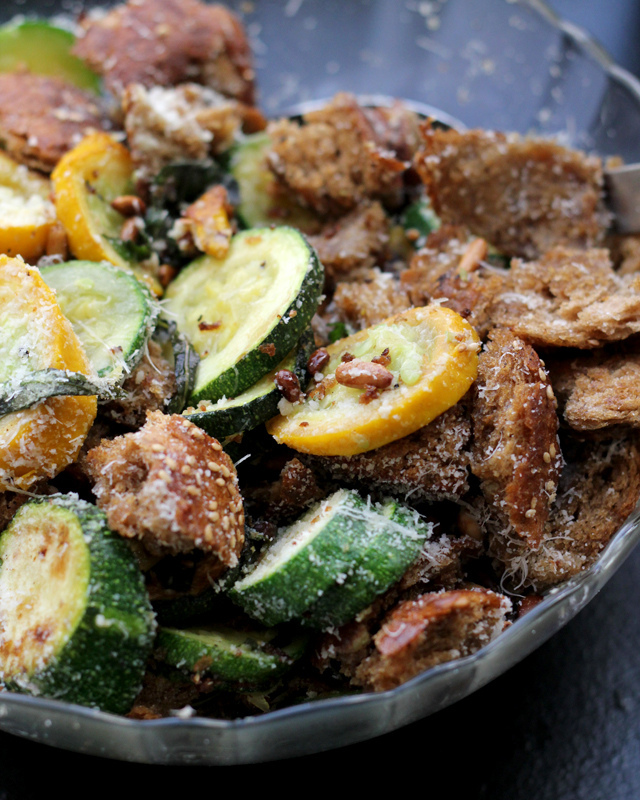 Zucchini with Basil, Pine Nuts, and Croutons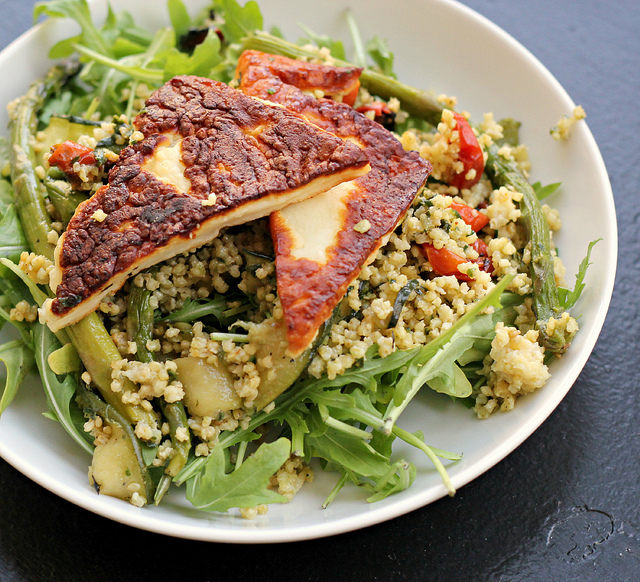 Roasted Asparagus, Zucchini, and Halloumi Salad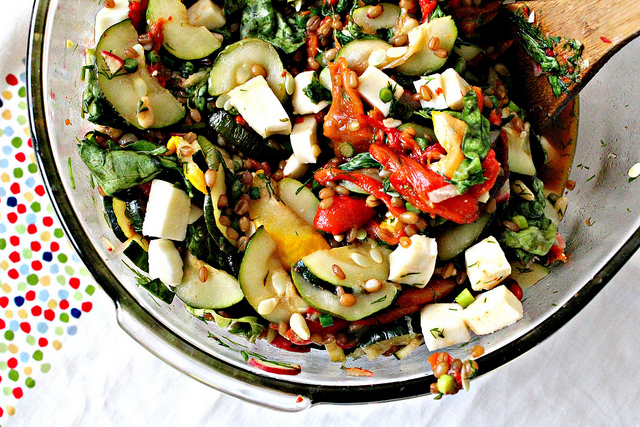 Wheat Berry Salad with Zucchini and Mozzarella
From Around the Web:
Corn, Tomato, and Zucchini Salad with Basil Oil from MJ and Hungryman
Quinoa Salad with Zucchini, Mint, and Cranberries from Heather Christo
Zucchini Noodle Mason Jar Salad with Farro and Mozzarella from Rachel Cooks
Italian Zucchini Pasta Salad from Hip Foodie Mom
Orzo Salad with Roasted Corn and Zucchini from Floating Kitchen
I was selected for this opportunity as a member of Clever Girls and the content and opinions expressed here are all my own.