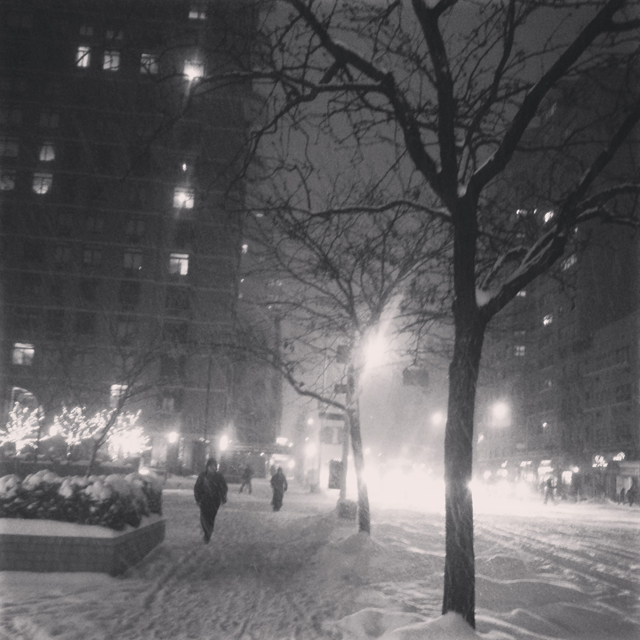 1. I am so over PV2. It can take its snow and wind and thunder (yes. this happened) and go back to the Arctic Circle. Not kidding. But in the meantime, I'll be consoling myself (and my wet sneakers) with cookies. (<–silver lining)
2. And by cookies, I mean cookie. Because I tried on The Dress this weekend and it is increasingly apparent that if I gain even a SINGLE OUNCE between now and November, it will not zip. And that would be unfortunate, though I don't doubt that the.boy would be very happy if I walked down the aisle in an unzipped dress. Easy access and all.
3. The good thing about having a little brother who makes more money than you do is that he buys you whatever you want for Christmas. This year I requested a Fitbit
, but it was crazy backordered so it just arrived last week. I let it sit around in the box for a few days before I worked up the courage to open it and now I'm obsessed. The thing is basically a pedometer combined with a calorie counter and sleep tracker. It made me walk 20 blocks for a lunch date and back just so I could reach my 10,000 step goal. And it didn't even care that I almost lost a nose-tip in the process.
4. The.Boy and I have this goal to watch as many of the Academy Award-nominated movies as possible before the awards. However, a certain person in this relationship detests seeing movies in theaters (weirdo), so we've actually seen none of them. So unless we want to spend every single waking second that we're together in front of our television, we need to make a shortlist. I know you've seen them. What should we watch first??
5. No matter what The.Boy says, Meyer lemons are a real thing. And I want to turn them into this, this, this, and this. And maybe I won't even share.
6. Can I get a hallelujah that I haven't gone over our grocery budget in THREE WHOLE WEEKS. And that's even considering the aforementioned overconsumption of Meyer lemons and ALL THE CHEESE. World record in the making.
7. We missed Downton Abbey this week because someone had to watch football. I was not pleased. Can we just get this dang Superbowl thing over with already??
8. I had my family over for Sunday Dinner on, uh, Sunday and it was kind of the best. I made this lasagna even though my brother hates capers and eggplant, and the.boy hates olives. It went over really well.
9. But seriously, to those of us with normal taste buds, it was awesome. The other two just be hatin'.
10. I lost all my brain cells on Monday watching the Kardashians and #RichKids of Beverly Hills. It was the best/worst. And I will never get those hours back.