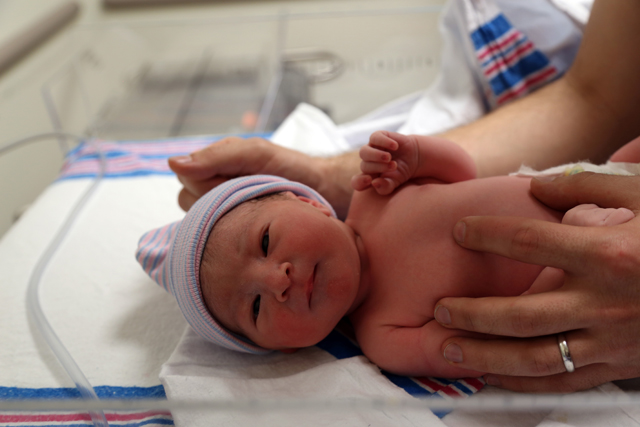 This is so belated, it's almost SHAMEFUL, but sheeee'sssss heeeeerrreeeeee! Miss Remy Stella Peters entered this world on April 30th at 4:34 AM at 6 lb 9 oz and 18.5 inches and the.boy and I love her so impossibly much, it hurts.
It's taken me a while to gather up the energy to process the many many MANY hours that went into her birth partly because there were just an inordinately large number of them but also because new mama-ing is EXHAUSTING. Who knew? Um, probably all of you. (Was I the only one in denial on this?)
As anyone who has ever written a birth plan can tell you, putting pretty much anything down on paper is a surefire way of ensuring that exactly the opposite will happen. Labor and delivery is nothing if not an exercise in compromise, at least in my experience, which is why I think it's all the more important that women share their birth stories. The more collective knowledge we all have about the mystery that is childbirth, the more we can all make informed decisions and also normalize our varied experiences. There is no "right" or "wrong" way to give birth, so long as the outcome is a healthy mom and a healthy baby.
The.Boy and I actually spent a lot of time preparing for Remy's birth. I was dead set on having an all natural labor and delivery with as few medical interventions as possible, so we went to an 8 week class to teach us how to have a natural birth in a hospital setting where pretty much all the odds (and OB/GYNs) are against you. The.Boy learned more than I'm sure he ever cared to know about childbirth, especially how to determine via outward cues when I was ready enough (i.e. dilated between 7-10 cm) to go to the hospital and how to help me cope with labor pain without an epidural. We also hired a doula who would be added support for him and me during the entire childbirth process. During our prenatal meetings, we all agreed that our plan would be to labor at home for as long as possible in the hopes of getting to the hospital just as I was ready to push; the less time we spent in the hospital before baby was born, the fewer interventions they could try to push on us.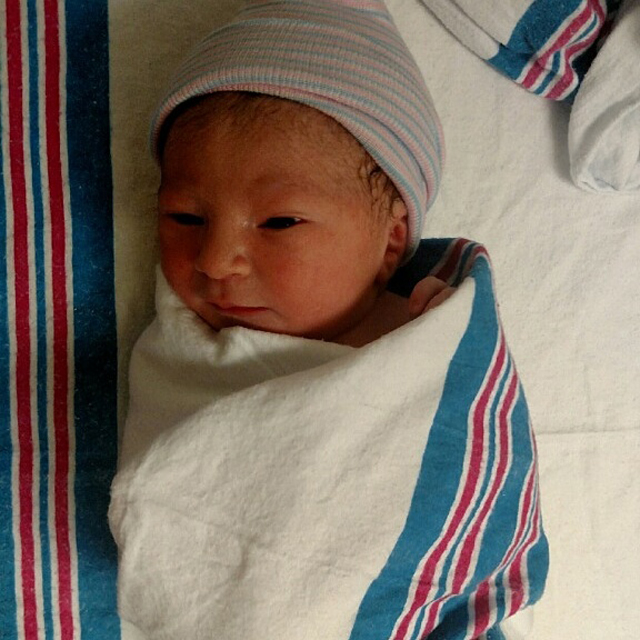 As Murphy's Law would have it, absolutely none of that happened. On Thursday, April 28th, I went to an OB/GYN appointment where my blood pressure measured high. Really high. Like, 160s/100s. MAJOR cause for concern if I wasn't pregnant but even more so because high blood pressures at the end of pregnancy could indicate the onset of pre-eclampsia, which is life threatening if untreated. My OB sent me straight to labor and delivery for further monitoring and to have bloodwork done to determine whether this was actually pre-eclampsia or just late term gestational hypertension. In labor and delivery triage, my blood pressures jumped around a bit, but were mostly in the high but not "severe" range. Thankfully, all of my bloodwork was negative for pre-eclampsia, which was a huge relief. Given that I was already full term (38 weeks, 5 days), the OB on call as well as my OB were both strongly recommending induction. They felt that even if this wasn't pre-eclampsia now, it could be pre-eclampsia tomorrow and so why should we take that risk. The.Boy and I were initially very undecided about what to do but after a few hours of monitoring when it became clear that these high blood pressures were not just anxiety-induced, we decided to go the induction route.
At 3pm, cervidil, which is a cervical ripening agent, was placed. Typically, so long as the baby is doing well on the fetal heart rate monitor, it is left in for 12 hours. Rarely (mostly in 2nd time moms), it alone is enough to kickstart labor, so we were really hoping for that, as unlikely as it was. Our doula, Laura, came to check in around when the cervidil was inserted. We discussed our game plan going forward and decided that we would all try to get some rest and reconvene in the morning, so Laura went home to try to sleep while the.boy and I tried to get as comfortable as possible. Well, I don't know if you've ever tried to "get comfortable" in a hospital bed, but it is IMPOSSIBLE. Especially when you have a fetal heart rate monitor and a tocometer strapped around your belly, a pulse oximeter on your pointer finger, an IV in your left arm, and a blood pressure cuff that is set to go off every 30 minutes around your right arm. Sleep? Uh, yeah right. Oh, and of course, at this point my blood pressure had gone back down to normal. Low normal. Like, 100s over 60s/70s. So, basically, I tossed and turned for 12 hours and got almost no sleep at all whatsoever.
At 3AM, they came to remove the cervidil and see how dilated (if at all) I was. At that point I was 50% effaced and 1.5 – 2 centimeters. I was then given an hour to eat and shower since you're not supposed to really get up that much or eat at all while on the cervidil. You know, in case you need an emergency C section…not that eating has ever prevented anyone from having an emergency C section before. (Sigh.)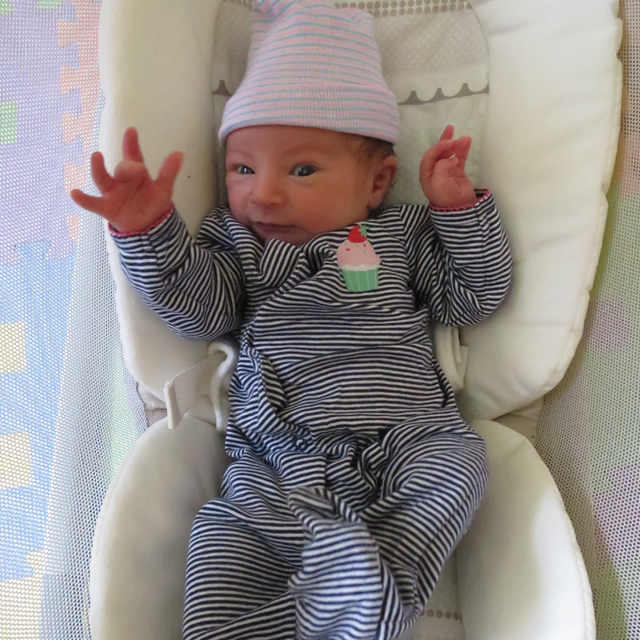 After the hour, I was hooked back up to all the monitors and we were told that a doctor would be in to start pitocin ASAP, which sent us into an immediate panic for a few reasons. (A) I had barely slept in the past 24 hours. Dealing with another possible 24 hours of pitocin labor without an epidural and without sleep seemed impossible. (B) I really REALLY REALLY didn't want pitocin and was still kind of hoping that my labor would magically kickstart on it's own.
At this point we called our doula and discussed our options. She recommended we asked to have a Foley balloon before the pitocin, which basically acts to manually stretch your cervix to a max of about 4 cm dilation. This would not only buy us time (and more sleep opportunities!), but would also put us in a better position when we eventually did start the pitocin.
For the next hour or so, nurses kept trying to come in to start the bag of pitocin and we kept telling them that we wanted to speak to a doctor before we decided to move forward with anything. Eventually, the doctor on call did come in and we asked if we could have a Foley balloon placed before they started the pitocin. Well, she did not like that idea and was extremely rude to us without actually explaining to us what her problem with the Foley balloon was. After about 10 minutes of trying to get her to explain her reasoning, the.boy pretty much kicked her out of the room because it was obvious that any kind of rational communication with her was not in the realm of possibility.
The fact of the matter was, Foley balloon or not, we knew that we needed more sleep before the induction really got going. We also knew that my OB, who is an extremely reasonable and kind person, was coming on call in the morning and we felt strongly that whatever her recommendation was for moving forward would be the best call (and that she would explain why she thought so, especially knowing that I do have a fair amount of medical knowledge). So the next time the nurse came in, we pretty much told her to tell the current OB on call that we needed time to sleep before the pitocin and that we would start the induction again in the morning. That OB obviously wanted nothing more to do with us, so she agreed.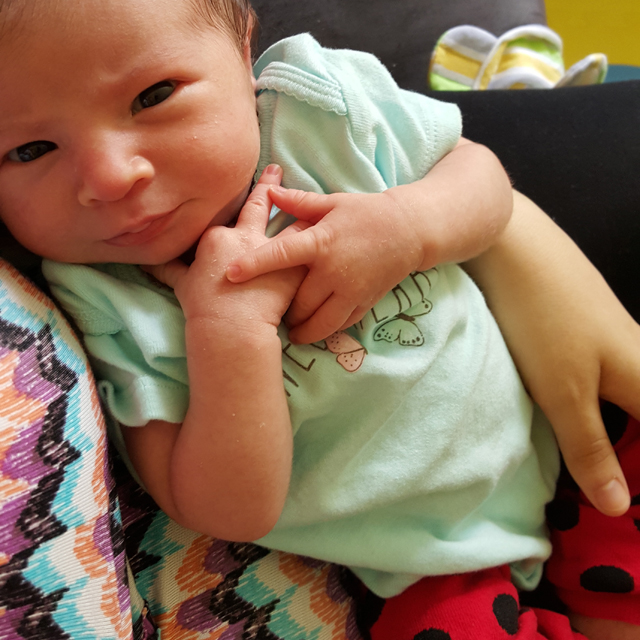 The next morning, my OB came in and was pretty much like, "So…what are we doing?". We asked again about the Foley balloon and she explained why she felt it wasn't particularly useful – that even if it dilated me to a 4, it wasn't a "real" 4 cm and for all intents and purposes I would still be dilated to a 2 even if the Foley technically could stretch me to a 4. She strongly thought that we should start the pitocin. So we did.
I don't know if you guys know how pitocin works, but basically it's an artificial version of the hormone oxytocin, which is responsible for causing contractions. You start it at a very low dose and keep raising it by 2 units every hour until the person in labor is contracting once every 2 minutes. Initially, the contractions weren't two bad. They were still fairly far apart and I had to breathe through them, but it was nothing that I couldn't handle. However, we still called our doula and asked her to come ASAP because, though we didn't know when things would get intense, we knew that with pitocin on board it could happen suddenly and without warning. Laura got there within about an hour and she had me walking around, bouncing on my birth ball, sitting on the toilet – all sorts of things to try to get the baby to descend and get into position. The contractions still weren't too bad, though, and in-between them we were all laughing and joking around.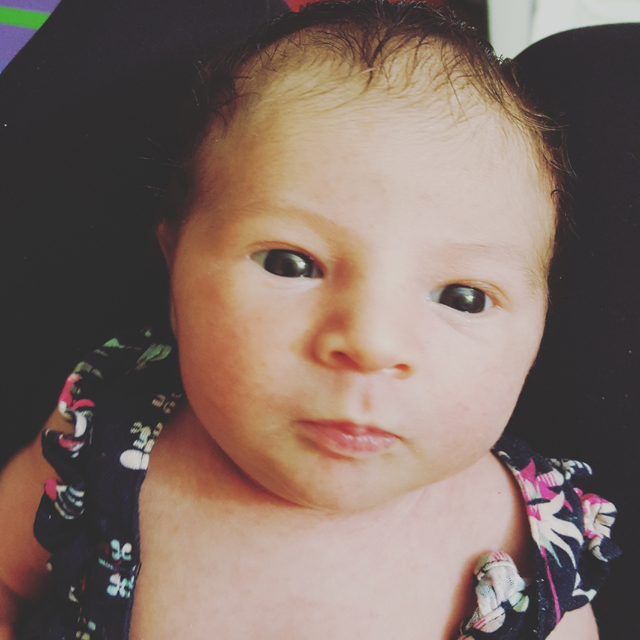 At around 2:30, my OB came in to see how I was doing and check me again. Still 2 cm. She recommended that we break my water to really get things going. Now, here is the only thing I regret about my labor – I knew that I shouldn't have my water broken until I was at least 5-6 cm, especially because I was group B strep positive, meaning that once my water was broken – whether anyone would admit it or not – there was now a time limit on how long they would let my labor go before C-sectioning me because of the increased risk of infection to the baby. We had also learned in our birth class that breaking your water just isn't as effective at helping labor progress until you've already dilated some. Yet, I let her do it, all the while knowing that it wasn't the best decision.
And, my friends, the second she did…shit. got. real. The contractions increased in intensity by about 100-fold. They still weren't really regular or super close together, but instead I would have three in a row practically on top of each other, and then a 5 minute break. For hours, I tried to breathe through them.
The.Boy and Laura were so supportive. Basically when each one started, I would lean on the.boy who would say encouraging things to me while Laura would be behind me, massaging me and supporting my back. We did this on the birth ball, on the toilet, and while walking around the room. In-between contractions, one of them would try to shove coconut water or miso soup in my mouth. After a while it got to the point where I was just crying through all of them. The pain was so terrible that I felt like I was just a shell of a person. I couldn't think except to live in fear of the next contraction starting because I couldn't imagine how I could make it through, especially when they just kept raising the pitocin dose, making things more and more intense. I kept telling them that I didn't think I could do it anymore and the.boy kept telling me that I was doing it and that I could do it.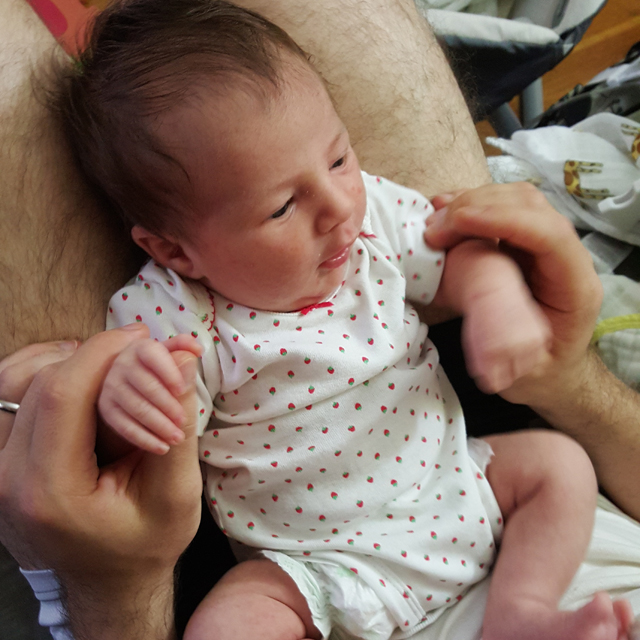 Eventually, at around 6:30, I started begging them for an epidural. In our birth class we had learned that when a person reaches this point of self doubt, they are usually in transition and almost fully dilated. Knowing this, the.boy tried to bargain with me because he really thought I must be at least 7-8 cm and he didn't want me to do anything that I would regret later. We agreed that I would have the doctor check me first before I made my decision.
She came in and checked me. Still 2 cm.
This was the breaking point for me. I knew that I could not go through another 8 cm of labor like this. It could take hours. So, against all odds and everything I had spelled out in my birth plan – I got the epidural. And, surprisingly, I don't regret it. The reality is that if I were having a natural labor, the contractions would only be this bad if I was more dilated. But to have transition-level contractions at only 2 cm just wouldn't happen in a natural labor. At 2 cm I should still have been in early labor baking brownies in my apartment! We should have been drinking wine and watching bad reality television! Not hunched over a birth ball, unable to move, in intractable pain. Laura later told me that there is a difference between pain and suffering in labor, and I was suffering. She also told me that she had never seen anyone go as long on pitocin without an epidural as I did, so there's that.
The anesthesiologists were in the room placing the epidural within what felt like hours, but was actually minutes. Like, less than 10. And oh my god. So much relief. I guess because of the way my body was tilted on the bed, half of my body was more numb than the other so I could still feel some of the contraction pain but it was so minor compared to what it had been. Also, I could still move my legs, which was pretty awesome. They really dosed it exactly perfectly.
Even though I was totally at peace with my decision to get an epidural, the.boy was initially really heartbroken over it. He took a lot of responsibility for everything that had "gone wrong" with our labor and felt that as my labor coach he should have worked harder to get me everything I wanted. He felt like he had failed as my partner, which was totally the opposite of how I felt about him. I knew I couldn't have gotten through any of this without him and Laura and that it was only because of them that things hadn't gone even more awry. The.boy did a great job of continuously fighting with the doctors for me, challenging them on why they were recommending certain things over others, and asking them to let us have more time to think through our decisions. Sure, the entire first half of my birth plan was thrown out the window. But that's the nature of labor. It happens.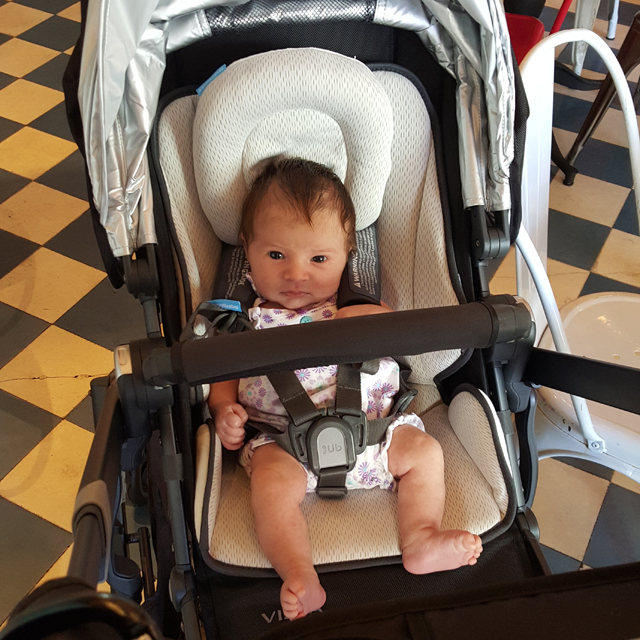 Once the epidural was placed, we called our parents and let them know what was going on. All this time, they had no idea that we were even in the hospital! We made the decision early on to keep them in the dark for a while both so that they wouldn't worry and so that they wouldn't try to sit in the waiting room for what could be days. No laboring person needs that kind of pressure! I'm sure they were a little mad at us, but whatever. We did what we had to do.
And then…we slept. (Or tried to.)
At around 10PM, the OB on call (not my OB anymore) came in to try to convince us to let her check how dilated I was. I felt strongly that it was too soon, especially since the pitocin dose had been lowered while the epidural was placed and had only been increased back to its previous strength for 2 hours, so I asked her to let us wait at least another two hours. She was really not happy with this, informed us that we were "going against medical advice" and kept saying that it was really important that they knew how dilated I was "in case the baby's heart rate dropped". This made absolutely no sense to me because I knew that if, in fact, the baby's heart rate did drop it would not matter how dilated I was, they would rush me to an emergency C-section. So the.boy and I stood our ground and she eventually agreed to come back in 2 hours.
At around midnight, I started to feel like the baby was definitely lower and when Laura looked she noticed that there was a lot of bloody show happening (TMI, but this is the reality of childbirth – it's messy and full of weird fluids). This made us all really excited and much more confident that some progress was happening. The doctor came back, as she had threatened promised, checked me, and told us that I was now 7 CENTIMETERS, 100% effaced, and that the baby was at -1 station. THINGS WERE HAPPENING. And we were now pretty sure that we would have a baby by the next morning (or at least the next afternoon). All of a sudden sleep became CRUCIAL, so we all really really tried to go to bed.
At 3AM, I woke up from some pretty terrible, not restful, on and off sleep and felt some definite pressure and a strong sensation like I had to poop (also TMI, but I'm just keeping it real). The doctor had said she was going to come back at 3:30, so I decided to just wait until she did. At 3:30, she still hadn't come and I felt like I was spontaneously pushing with a ton of pressure, so we asked our nurse to go find her. She came in to check me and I was now 10 CM and the baby was at +2 station, so pretty much most of the way down the birth canal.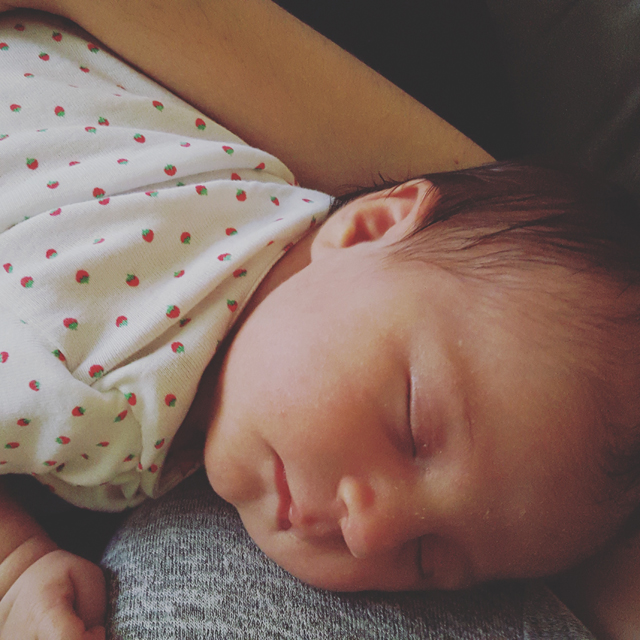 Talk about GO TIME. Laura woke up the.boy, who immediately started cleaning and tidying up the room. Out of nowhere, my nurse rolled out a table topped with all sorts of sterile instruments, the OB got scrubbed up, the vagina light came out (huge bright light in the ceiling so the OB can see what's going on down there), and stirrups were attached to the bed. By 4AM, I was pushing.
And to be totally honest…I really loved pushing. I felt like it was the only part of my labor that I had control over – that I could ensure would go the way I wanted it to. And it totally did. I pushed our little lovebug out in less than 30 minutes and with only one small first degree tear. During the pushing, The.Boy and Laura just kept saying "I see hair! SO. MUCH. HAIR."
Miss Remy Stella came out SCREAMING with 9/9 Apgars, and she was allowed to be placed on my chest immediately. Well, on my belly button really because she had such a short umbilical cord! The.Boy got to cut the cord, and then she was placed on my chest. She was so incredibly tiny, yet so incredibly perfect. Hearing her scream and seeing her look at me and holding her little squirmy body was so worth all 41 totally imperfect hours of my labor.
Within an hour of her birth, I had gotten her to breastfeed, which was another thing that was really important to me. And the rest is history.
Now she is 3 weeks and a few days old. We are still exclusively breastfeeding. She is still impossibly tiny (but probably about 8 lb!…so the weight of an average newborn). And looking into her eyes still moves me to my core.
Things are probably going to be (egregiously) slow around here as we get used to being a family of 3 and as Remy gets used to being an "outside baby". It's a work in progress, so bear with me!