Get some spicy bold flavor into your morning with these easy huevos rancheros!
Disclosure: This post is sponsored by alli®. All thoughts and opinions are my own. For more great recipes check out https://www.myalli.com/recipes-for- you/.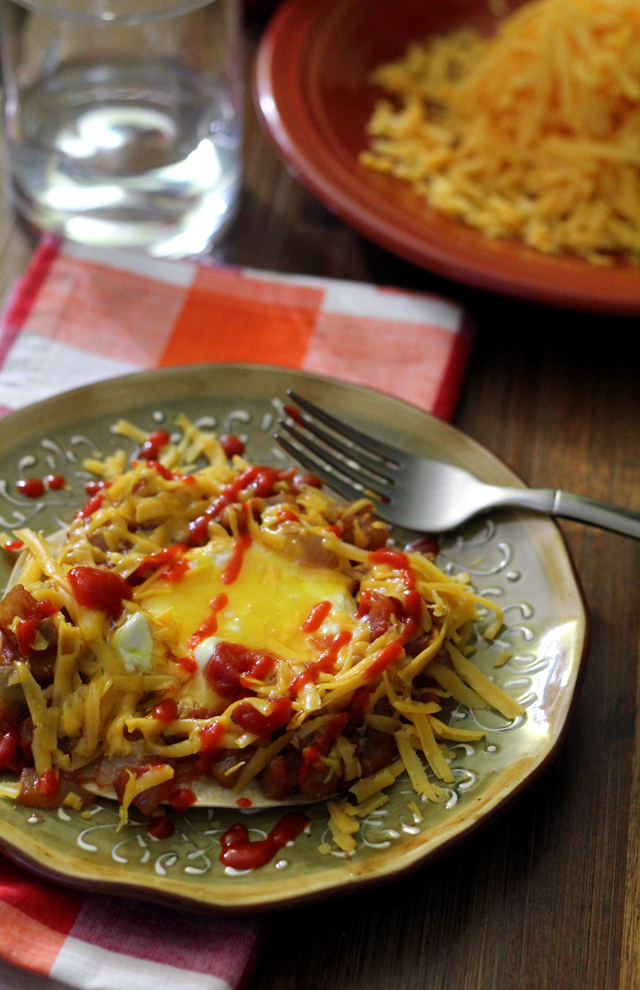 There is no telling what kinds of things that hangriness could lead me to do, but I do my best to not find out on a regular basis.
And the best way to do that?
Eggs! And LOTS of them.
There really is something about starting off my day with such a large bolus of protein that keeps my stomach growling in check and prevents me from tackling anyone who stands between me and my lunch bag.
For which everyone is grateful.
During the workweek, however, my breakfast options are limited to anything that is (a) quick, (b) easy, and (c) can be made with my eyes closed and only half a cup of coffee in my system….which eliminates 95% of egg dishes out there. Can I get a quick "THANK GOODNESS" for these huevos rancheros, which not only satisfy all of the above but are just full of big bold delicious flavor.
These are super quick to make, in part because a lot of the components can be made ahead of time! I like to prepare the spiced up tomato salsa and grate the cheese the night before so that in the morning all I have to do is toast the tortillas, poach an egg, and combine it all in layers and layers of sheer Mexican goodness. However, if you're lucky enough to have a bit more time on your hands feel free to throw it all together the morning of! It will still take less than 30 minutes, most of which is hands off anyways. Which gives you more time for coffee sipping – NICE.

Huevos Rancheros over Corn Tortillas
Get some spicy bold flavor into your morning with these easy huevos rancheros!
Ingredients
1 yellow onion
2 tsp canola oil
2 cups canned diced tomatoes
2 tbsp green chiles
1 tsp chili powder
⅛ tsp garlic powder
4 corn tortillas
4 large eggs
1 tbsp apple cider vinegar
2 oz cheddar cheese
½ tsp hot pepper sauce
Instructions
Preheat oven to 350.
Peel and chop onion. In a large skillet, cook onion in 1 teaspoon of the oil until tender.
Stir in undrained tomatoes (may use one 14-1/2 can), diced green chili peppers, chili powder, and garlic powder.
Simmer, uncovered, for 5 to 10 minutes or until slightly thickened.
Meanwhile, place tortillas on a baking sheet; brush lightly with the remaining 1 teaspoon of oil. Bake about 10 minutes or until crisp.
To poach eggs without an egg poacher, bring 4 cups of water and 1 tablespoon of vinegar to a gentle simmer in a large non-stick skillet over medium-low heat.
Break the eggs, one at a time, into a cup and gently slide into the simmering water.
Poach to desired consistency - 3 to 5 minutes for soft yolks.
Using a slotted spoon, remove an egg and rest briefly (while still in the spoon) on a paper towel to drain. Trim away any strands of egg white.
To serve, place tortillas on 4 plates. Top each with 1 egg; spoon tomato mixture over eggs, dividing evenly among the 4 servings. Sprinkle with cheese.
Serve immediately with hot pepper sauce and fresh fruit, if desired.
Notes
Recipe from
alli®
*Nutrition facts are estimates only.
Nutrition Information
Serving size:
¼ of recipe
Calories:
226.4
Fat:
9.4
Saturated fat:
2.4
Carbohydrates:
24
Sugar:
5.7
Sodium:
443.2
Fiber:
3.8
Protein:
12.1