Sweet and salty come together as a dynamic duo in these irresistible chocolate chip and potato chip cookies!
Disclosure: This post has been sponsored by Frito-Lay. All thoughts and opinions are my own.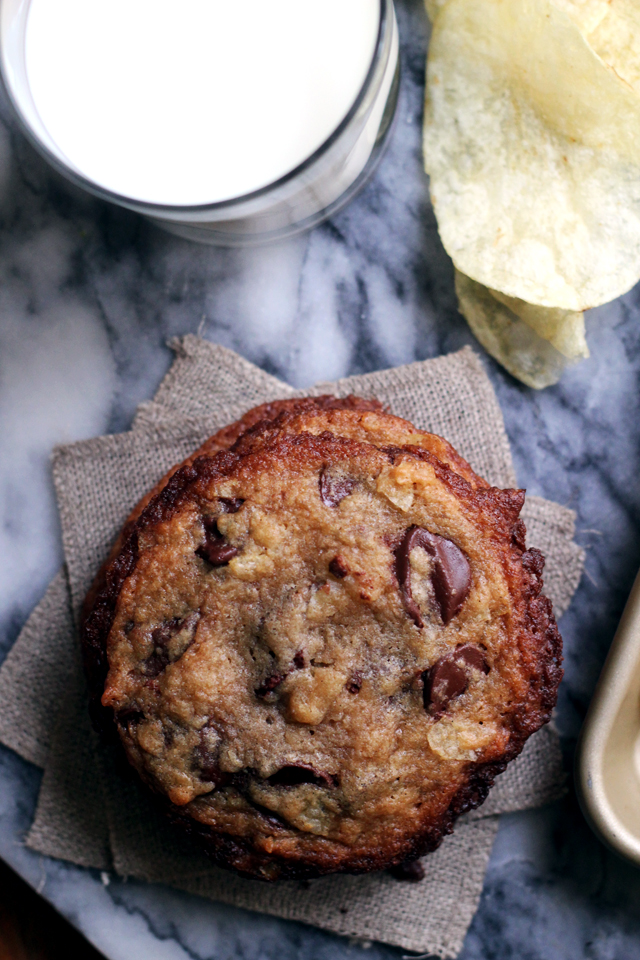 A lot of people think summer eating is not about turning on your oven…but these cookies have me begging to differ.
Big time.
Not that chocolate chip cookies should be restricted to one season by any means. I tend to think of them more as any time every time ALL THE TIME food.
However, summer sunshine has me wanting to be out of the house and socializing more, and anytime I get together with my friends and family, you know I'm going to be bringing some treats.
It's really just not a party until the chocolate chip cookies get there (<– FACT), so it should come as no surprise that these chocolate chip and potato chip cookies are what I plan on toting around with me ALL SUMMER LONG.
And here's why:
The dough comes together within minutes and can be mixed old school style!!
With a mixing bowl. And a wooden spoon. And good old-fashioned muscle power.
No frills, no overnight chill time, no stress.
Just cookies. In your face. In twenty minutes (or less!).
Ever the diehard fan of all things sweet and salty, I have to say that these are the ULTIMATE when it comes to that ever-loving flavor combination. Filled with larger than life semisweet chocolate chips intermingling with crispy crunchy salty Lay's Potato Chip bites, these cookies (which are as big as your face, by the way) are BEYOND in terms of deliciousness.
It's official: I love them.
And I suspect you will, too.
Chocolate Chip and Potato Chip Cookies
Sweet and salty come together as a dynamic duo in these irresistible chocolate chip and potato chip cookies!
Ingredients
½ lb butter, melted and still warm
¾ cup packed dark brown sugar
½ cup sugar
1 large egg
2 tsp vanilla extract
1¾ cups flour
2 tbsp malted milk powder
1 tsp kosher salt
½ tsp baking powder
¼ tsp baking soda
1 (12 oz) bag semisweet chocolate chips
1 (2¾ oz) bag Lays Potato Chips, lightly crushed
Instructions
Heat oven to 375F.
In a large bowl, stir together the butter, brown sugar, and regular sugar with a wooden spoon until well combined, about 1 minute. Add in the egg and vanilla, and stir until well combined, about 1 minute. Stir in the flour, milk powder, salt, baking powder, and baking soda, mixing until just combined. Mix in the chocolate chips and Lays Potato Chips, stirring until evenly distributed.
Using a ⅓ cup measure, scoop the dough onto a parchment paper-lined baking sheet, leaving about 2-3 inches between cookies. I was able to fit about 6 cookies on a regular cookie sheet. Bake for 8-10 minutes, or until golden brown. Let cool completely on the pan before eating.
Notes
Cookie dough base adapted from
Milk Bar Life: Recipes & Stories
Looking for more ways to make your summer more delicious? Check out the Frito-Lay Summer Hacks
Pinterest board
for more great summer recipes!