Spanakopita pizza pockets – filled with a delicious spinach and feta mixture encased in a buttery whole wheat pie crust these make the perfect party appetizer or snack.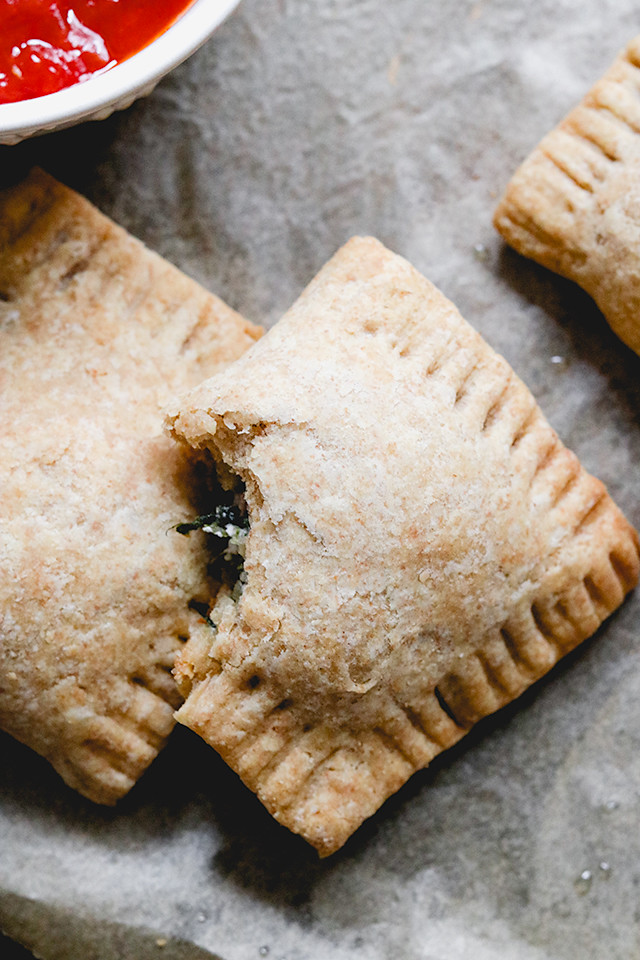 This is for all the 90s kids who LIVED on after school Hot Pocket meals.
Those things were horrible, right? But also kind of amazing? Do they even still make them?
Don't answer that. I don't need to know.
Honestly, I have no idea why my mother even bought those because she was generally opposed to all frozen pre-made snacky food like that, but somehow there was always a package in the freezer.
The thing I remember most about them was that they were never the right temperature. Either completely scalding hot or still frozen.
(But the roof-of-your-mouth burns from the too-hot cheese were absolutely a rite of passage, am I right?)
These kind of take the essence of those pizza pocket memories and transform them into something completely different.
BETTER different, I promise.
Let's start with the filling!
It's a spinach/feta/herb mix that has tons of spanakopita flair. The feta because impossibly creamy in the oven but doesn't really melt, per se. So good.
Get that prepped and chillin' in the fridge so that it doesn't melt the butter in your crust when you're forming these.
Next up: the pie dough.
It's a completely wholesome half whole wheat/half all purpose flour all-butter mix that is incredibly flaky and tender. But also SO easy to work with! I didn't curse once while I was rolling it out, and that is really saying something.
I formed these into four-bite little squares with cute crimped edges, brushed them with olive oil, and baked them until toasty.
Serve with tomato sauce on the side for dipping or just eat them as is and let the nostalgia wash over you.
Spanakopita Pizza Pockets
Spanakopita pizza pockets - filled with a delicious spinach and feta mixture encased in a buttery whole wheat pie crust these make the perfect party appetizer or snack.
Ingredients
For the filling
2 tbsp olive oil
1 small onion, minced
2 garlic cloves, minced
½ tsp red pepper flakes
1 tsp dried oregano
10 oz frozen spinach, thawed and drained, squeezing out as much liquid as possible
kosher salt, to taste
¼ cup ricotta
4 oz feta, crumbled
For the crust
1 cup whole wheat flour
1 cup all purpose flour
½ tsp kosher salt
½ tsp baking powder
8 tbsp cold butter, cut into ½-inch cubes
1 large egg
1 tsp apple cider vinegar
3-4 tbsp ice water
To assemble
olive oil, for drizzling
tomato sauce, for dipping
Instructions
For the filling
Heat the olive oil in a large pan over medium heat. Add the onion and saute for 3-4 minutes, or until tender and translucent. Add the garlic, red pepper flakes, and oregano. Saute for another 2 minutes, or until fragrant. Remove from the heat and stir in the spinach, salt, ricotta, and feta. Allow to cool in the fridge while you prepare the crust.
For the crust
Place the flours, salt, and baking powder in a food processor bowl and pulse to combine. Add in the butter and pulse until it is the size of peas. In a separate small bowl, whisk together the egg, vinegar, and water. Slowly add it into the flour mixture, pulsing, just until the dough starts to come together.
Pour the dough onto a clean work surface and knead into a disk. Wrap in plastic wrap or parchment paper and refrigerate for 30 minutes.
Heat oven to 425F.
Remove the chilled dough from the fridge and roll out on a lightly floured work surface into an ⅛-inch thick rectangle. Cut into 12 equally sized rectangles. Fill the dough strips with about 1.5-2 tbsp of filling on one side, then fold the dough over the top of the filling and pinch together with a fork. Place on a parchment-lined baking sheet and repeat with the remaining dough.
Place in the baking sheet with the pizza pockets in the freezer for 10-15 minutes. Drizzle or brush the tops of the pizza pockets with olive oil and bake for 10-15 minutes, or until puffed and golden. Serve with tomato sauce for dipping, if desired.