A simple pasta with blistered green peppers and lots of pecorino.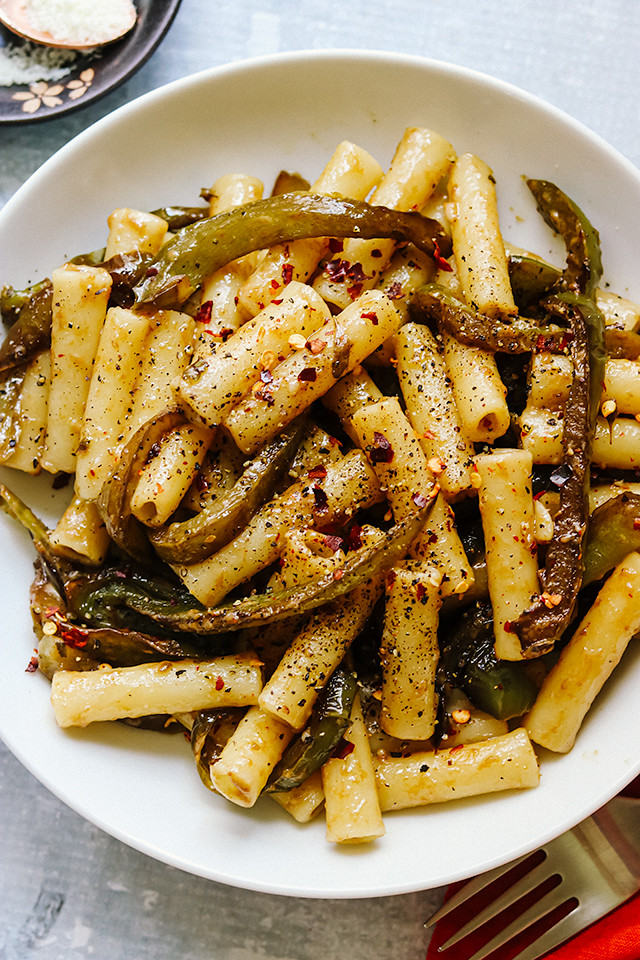 Snow dayyyyyyyyy!!!!!
Well, sort of. Now that we know everything can be done virtually, will there ever truly be such a thing as a snow day again?
Or will it just be a "work from home while your child hangs all over you demanding snacks because you have no childcare day".
That was a rhetorical question to which we all know the answer.
Good thing this is basically a big pasta hug, because we need it.
Green bell peppers are basically the black sheep of my crisper drawer. I'll (almost) never intentionally buy them, opting instead for their sweeter red, orange, and yellow counterparts.
But sometimes destiny wheedles them into my refrigerator, and then what's a girl to do?
Make pasta, that's what!
This recipe has you cook them almost forever (okay, twenty minutes) so that they get slightly charred, caramelized, and impossibly soft. This helps to cook off some of their bitter undertones and bring out all of their sweetness. The additions of balsamic vinegar and pecorino also help by adding big bold contrasting flavors that help to complement the peppers.
Feel free to use any color pepper you wish here, or to mix up the cheese situation. Other hard cheeses that would work include Asiago or Parmigiano-Reggiano.
Pasta with Blistered Green Peppers
A simple pasta with blistered green peppers and lots of pecorino.
Ingredients
2 garlic cloves, minced
¼ cup olive oil
1.5 lb green bell peppers, trimmed, seeded, and thinly sliced
½ tsp oregano
salt, to taste
3 tbsp balsamic vinegar
1 lb dried ziti
4 oz grated pecorino romano
Instructions
Heat the garlic in the olive oil in a large pan over medium-low heat and cook until fragrant, about 2 minutes. Add the peppers and stir them so they are completely coated in the oil. Increase the heat to medium-high and cook without stirring for 3-4 minutes so that the peppers can blister. Stir and continue to cook for another 20 minutes, until very soft and blackened in spots.
Decrease the heat to medium-low and sprinkle in the oregano and salt, to taste. Add in the vinegar and cook for another 2-3 minutes.
Meanwhile, bring a large pot of salted water to a boil and cook the pasta until al dente. Drain, reserving 1 cup of the pasta cooking water.
Add the pasta to the pot with the sauce. Sprinkle in the cheese, adding pasta water if necessary to loosen the sauce so that it sticks to the pasta. Serve immediately with extra cheese on the side.