These greens-stuffed ravioli nudi served over a simple but utterly delicious tomato sauce (just like the kind grandma used to make!) make for a lovely holiday or special occasion meal.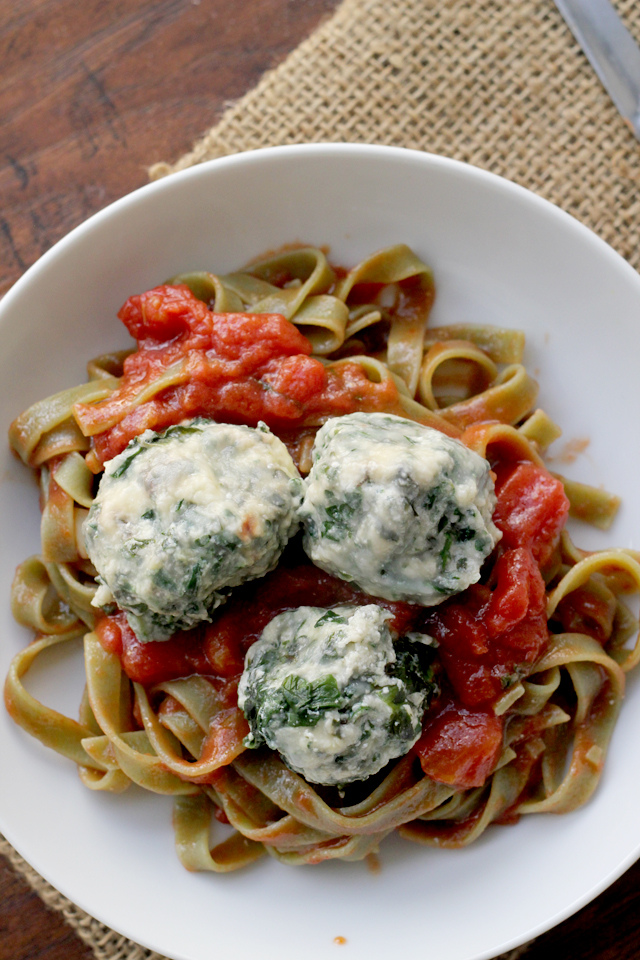 They say you can never go home again.
But "they" obviously never had inside-out ravioli smothered in tomato sauce that tastes surprisingly like grandma's. Which is like a little piece of The Bronx's Arthur Avenue, circa 1987-2003 in your upper east side apartment. Not exactly the home you grew up in, but still. Home.
What is not like grandma's is when you try to explain to your fiance that you are making ravioli nudi and he comes running into the kitchen expecting something a bit more provocative than you dressed (TO THE NINES) in sweatpants and a t-shirt with a little bit of ricotta/flour/chard mix in your hair.
Because he's obviously still a teenage boy.
Eye roll.
Needless to say, his disappointment was replaced with moans of satisfaction when we sat down to lunch.
(Still fully dressed. Minds out of gutter, thankyouverymuch.)
Because even though I'm pretty sure he has never stepped foot in The Bronx's Little Italy, this tastes like home no matter where you're from.
And isn't that just the kind of meal we need at this time of year?
Plus it's so red, white, and green. AKA holiday-perfect.
This recipe is from Domenica Marchetti's The Glorious Vegetables of Italy
, which I just can't stop cooking from.
Though I love Italian food, I can normally kind of take-it-or-leave-it in favor of more global flavors, but the vegetable-driven dishes in this cookbook are just utterly inspiring. Not to mention that the pictures make me want to lick every page. The book starts out with a "Gallery of Italian Vegetables", which describes each veggie, what it's season is, information about different varieties, how to prepare it, etc. And then it dives into the fabulous recipes that use them. On my list of things to make are: Crostini with Fontina and Tomato Marmalade, Minestrone Verde, Winter Cauliflower Salad, Spinach Fettuccine with Baby Spinach, Carrot-Ricotta Ravioli with Herbed Butter, Vegetable Lasagne, Crepe Cannelloni with Mushrooms and Zucchini, Baked Delicata Squash with Cream and Parmigiano, Sweet Potato Frittelle, and basically everything.
If you're looking for a cookbook to give as a gift for someone who just loves good food, then this is perfect. It is filled with good classic standbys as well as dishes that are a bit more out there, but still taste like comfort, if you know what I mean.
Note that I was in no way compensated for this review, I'm just obsessed with this cookbook. This post does contain Amazon Affiliate Links and so I'll make (literally) a few cents if you purchase the cookbook on Amazon using one of them.
One year ago…Peppermint Crinkle Cookies, Pumpkin Snickerdoodles
Two years ago…Italian Chocolate Almond Cookies, Cornflake Chocolate Chip Marshmallow Peppermint Cookies
Three years ago…Savory Leek Bread Pudding
Four years ago…Whole Grain Challah with Cranberries and Orange Zest
Spinach and Swiss Chard Ravioli Nudi Over Simple Tomato Sauce
These greens-stuffed ravioli nudi served over a simple but utterly delicious tomato sauce make for a lovely holiday or special occasion meal.
Ingredients
1 lb swiss chard, stems removed, leaves shredded
8 oz baby spinach
12 oz ricotta
fine sea salt
freshly ground black pepper
¾ cup freshly grated parmesan cheese
2 large egg yolks, lightly beaten
¼ cup flour, plus more for coating the nudi
1 recipe simple tomato sauce (recipe below)
Instructions
Rinse the chard in cold water. Without drying, place the leaves in a large saucepan and steam, over medium heat, until tender, about 12-15 minutes. Toss frequently while cooking. Transfer the chard to a strainer and let cool. Return the saucepan to the stove.
Rinse the spinach leaves and steam them in the same saucepan that you used for the chard. Cook for 5 minutes, tossing occasionally, or until tender and wilted. Remove from the heat and transfer to the strainer with the chard. Let cool.
Squeeze as much excess water from the greens as possible. Transfer to a cutting board and chop them finely.
In a large bowl, combine the greens with the ricotta, ½ tsp salt, black pepper to taste, parmesan cheese, and egg yolks. Sprinkle in the flour and gently fold it in.
Pour some flour into a small shallow bowl. Pinch off a piece of the nudi dough that is about the size of a chestnut. Roll it into a ball, then roll it in the flour. Place on a parchment-lined baking sheet. Repeat with remaining dough until it is all used up.
Bring a large pot of generously salted water to a boil. Drop in 8-10 nudi, depending on the size of the pot. They will start to float after a minute or so. Allow to cook for another 5 minutes, or until they have puffed up. Remove with a skimmer and transfer to a serving bowl. Repeat until all the nudi have been cooked. Carefully toss with the tomato sauce. Serve over pasta, polenta, rice, or on their own.
Notes
Adapted from
The Glorious Vegetables of Italy
Nutrition Information
Serving size:
¼ of recipe
Simple Tomato Sauce
A good classic tomato sauce doesn't get more simple - or more like grandma used to make - than this!
Ingredients
2 garlic cloves, lightly crushed
¼ cup olive oil
2 (28 oz) cans diced tomatoes
fine sea salt
5 large basil leaves, shredded
Instructions
Heat the olive oil in a large saucepan over medium heat, along with the garlic. Press down on the garlic a bit with a spoon to release some of its flavor. Cook until garlic begins to sizzle, but doesn't brown, about 2 minutes. Carefully add the tomatoes, along with their juice and stir to combine with the oil. Season with 1 tsp salt. Bring o a simmer, then reduce the heat to medium-low. Simmer gently, stirring occasionally, for 30 minutes, or until the sauce has thickened.
Remove from the heat and stir in the basil. Season with salt to taste. Refrigerate for up to 3 days or freeze for up to 3 months.
Notes
Adapted from
The Glorious Vegetables of Italy