This healthy delicata squash and goat cheese fritatta is paired with a savory spice apple salad with walnuts and lime, making for a great light option for lunch or brunch!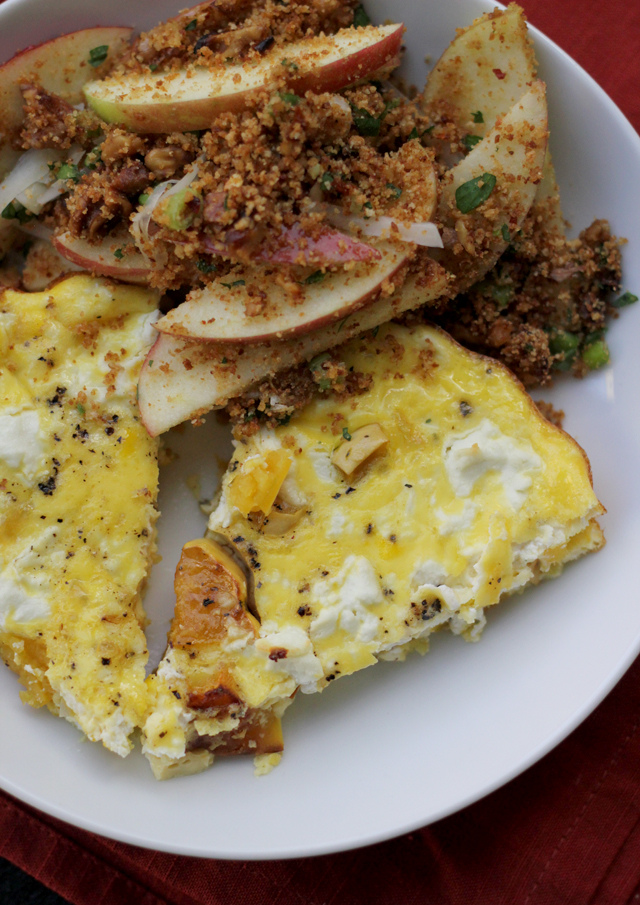 So apparently we still have to eat dinner until Christmas.
Who made these rules?!?
Oh, right, that would be our grumbling stomachs who are threatening to stage a coup if we don't start filling them with something other than sugar, butter, and sprinkles.
Especially since they know that we have delusions of grandeur going wedding dress shopping between Christmas and New Year's. And actually being able to fit into one.
Cookie consumption notwithstanding.
Ha.
Well, if we must.
Then let's fritatta this damn thing. The good news about fritattas is that you can throw anything in them. Grab a veggie, grab a cheese, and go to town.
The other good news about fritattas is that, the way I make them, you just mix everything up, throw them in the oven, walk away for 20-30 minutes. And come back to brunch/lunch/dinner. Served. How about that.
Roasted delicata squash and goat cheese is my new favorite thing. Actually, I've paired them together about twenty million times before, so they're really my old favorite thing in a new favorite way. You can use any kind of winter squash though. Delicata are great because their skin is super thin and they are the easiest of all squashes to cut.
I like that in a gourd.
I paired this fritatta with a savory apple salad with a citrusy spicy lime dressing and crunchy bits of walnuts and breadcrumb in every bite. It was unexpected(ly delicious).
Also, we are officially over the winter squash hump. Less than half way to go! (tragic).
If you've winter squash-ed at all this past week, then leave your link here:
One year ago…Apple, Leek and Gruyere Grilled Cheese
Two years ago…Sweet Potato Black Bean Chili, Eggplant and Chickpea Salad with Moroccan Spaghetti Squash and Feta Dressing
Three years ago…Persimmon Cookies, Snowball Cookies, Risotto with Salmon and Prosciutto
Four years ago…Cranberry Bliss Bars
Roasted Delicata Squash and Goat Cheese Fritatta
This healthy fritatta, stuffed with roasted winter squash and goat cheese, is great for breakfast, brunch, or lunch!
Yield:
1 10-inch fritatta
Ingredients
1 delicata squash
1 tsp olive oil, divided
salt, to taste
8 eggs
1 cup milk
4 oz goat cheese, crumbled
Instructions
Preheat oven to 375.
Cut the squash in half lengthwise. Scoop out the seeds and set aside for future use. Cut the squash into ½-inch cubes. Toss with 1 tsp olive oil and a pinch of salt. Roast for 20-30 minutes on a parchment-lined baking sheet, or until tender.
Whisk together eggs, milk, and a large pinch of salt. Stir in the delicata squash. Pour into a 10-inch tart plate. Sprinkle crumbled goat cheese on top.
Bake for 20-30 minutes, or until set.
Nutrition Information
Serving size:
¼ of recipe
Apple Salad with Walnuts and Lime
Apples turn savory in this spicy salad with walnuts, breadcrumbs, and a lime dressing.
Ingredients
½ cup walnut halves
2 honeycrisp apples, thinly sliced
4 scallions, thinly sliced
¼ cup parsley
¼ cup fresh lime juice
½ tsp crushed red pepper flakes
salt and freshly ground black pepper
½ cup grated white cheddar
2 tbsp olive oil
1 cup coarse, fresh breadcrumbs
Instructions
Preheat oven to 350.
Spread walnuts on one parchment-lined baking sheet and breadcrumbs on another. Toast in the oven - 8-10 minutes for the walnuts, and 6-8 minutes for the breadcrumbs, stirring occasionally. Let cool. Coarsely chop the walnuts.
Toss together the walnuts, breadcrumbs, apples, scallions, parsley, lime juice, and red pepper flakes in a large bowl. Season to taste with salt and pepper. Mix in the cheddar and olive oil.
Notes
Adapted from
Bon Appetit
Nutrition Information
Serving size:
⅙th of recipe