Spiced praline meringues that taste like Christmas spirit and would be the absolutely perfect addition to your holiday cookie tray!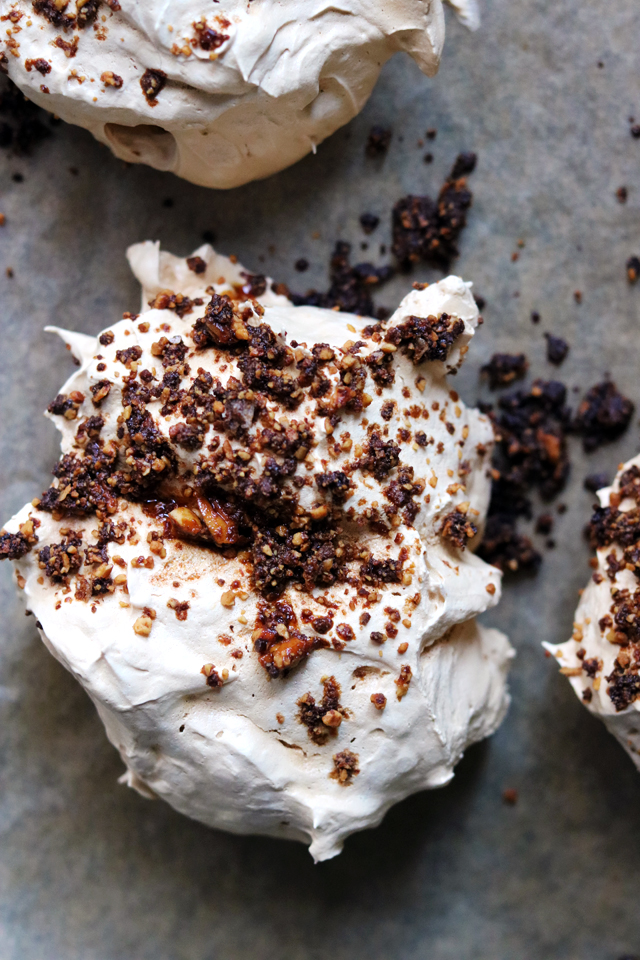 DON'T BE ALARMED, but there are basically only 22 days until Christmas and I have bough exactly zero presents for anyone.
Well, Mike and I bought ourselves a vacuum because that's the kind of exciting thing you do for yourself when you're an adult. (Seriously though, it's cordless and I am SO EXCITED about it. Maybe I'll actually not hate vacuuming now??)
But other than that, we're pretty much SOL.
Please tell me you're in a better place with your Christmas shopping than we are.
At this rate, I'm just going to give everyone edible Christmas gifts this year in the form of ALL THE COOKIES.
Not my worst idea, I'll tell you that much.
Yes, it will require a bit more effort on my part than just clicking on random crap on Amazon that no one actually wants,  just to have something to give. BUT IT WILL TASTE SO MUCH BETTER and be filled with love rather than the irritation and disdain I usually feel when we end up buying stuff just for the sake of buying it.
That being said, I also haven't started planning my Christmas cookie menu yet BUT I can say with absolute certainty that these spiced praline meringues are a MUST HAVE for this year.
Honestly, I made them this past January with the thought that they would be a nice healthy-ish dessert to share in the new year…but then I tasted them and was basically smacked in the mouth with the flavors of Christmas! So I knew I just had to sit tight and wait to share until the holidays came around again.
Meringues are basically composed of a whipped egg whites and sugar that get dried out in the oven until they're crunchy on the outside but still a little bit chewy on the inside. These are topped with spiced praline crumbles that infuse them with rich holiday flavor in the form of cinnamon, cloves, and orange zest. I don't know what it is about this combination of flavors but it tastes EXACTLY like the holidays to me.
Another plus to these cookies is that they last FOREVER (okay, for a week or two) if they're stored in a good air-tight container. And, as I alluded to earlier, they are kind of a healthy-ish holiday treat because they're made mostly of egg whites and protein. So they're almost like a palate cleanser in the midst of all the buttery, sugary treats we're sure to be eating.
Spiced Praline Meringues
Spiced praline meringues that taste like Christmas spirit and would be the absolutely perfect addition to your holiday cookie tray!
Ingredients
⅓ cup blanched slivered almonds
1½ cups sugar
2 tbsp water
½ tsp cinnamon
⅛ tsp cloves
finely grated zest of 1 orange (about 1 tbsp)
¼ tsp flaky sea salt
5¼ oz egg whites (from about 4 large eggs)
Instructions
Heat oven to 375F.
Scatter the almonds onto a rimmed baking sheet and place in the oven. Toast for 5-7 minutes, or until lightly browned. Remove to a plate and set aside to cool. Line two baking pans with parchment paper and set aside.
Meanwhile, combine ¼ cup of sugar and the water in a small saucepan. Stir to combine. Cook on high for 4 minutes without stirring, until lightly golden. Add in the almonds and cook for 1 minute until the nuts are coated in the sugar mixture and the sugar has caramelized. Pour onto a parchment-lined baking sheet and set aside to cool.
Break the cooled praline into small pieces and then place in a food processor. Process until finely ground. Pour into a bowl and mix with the cinnamon, cloves, orange zest, and salt. Set aside.
Spread the remaining 1¼ cups sugar onto the second lined baking sheet in an even layer. Place in the oven and bake for 7 minutes, or until the sugar is hot. Remove the pan from the oven and lower the heat to 275F. Place the egg whites in the bowl of a stand mixer fitted with the whisk attachment. Beat on high speed until frothy. Add the hot sugar to the egg whites, 1 tbsp at a time, with the mixer still running. Continue to beat for 7-8 minutes, or until the mixture is cold and at room temperature.
Line two baking sheets with parchment paper. Use an extra-large serving spoon to scoop up the meringue batter. Use a second spoon to help shape it into a ball. Place on the baking sheet. Repeat with the remaining meringue batter. Sprinkle with the ground praline.
Place in the oven and bake for 2 to 2.5 hours, rotating the pans halfway through. They are done when they can easily be lifted from the pan, the outside is completely firm and the inside remains a little soft. Allow to cool completely on the baking sheet before serving.