Rich milk chocolate and raspberry swirl blondies that are fudgy with the perfect balance of sweet and salty.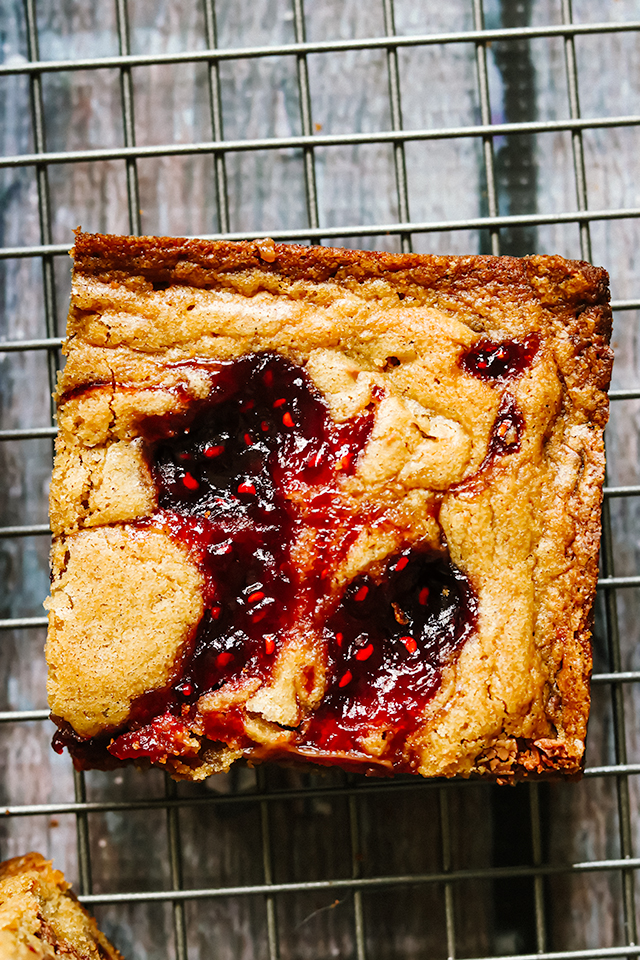 All the blondie lovers of the world, gather round! Now is our time.
Thick and fudgy blondies studded with oozy pockets of milk chocolate and bright raspberry jam swirls are happening in our kitchens this weekend (yes, that's an order) and nobody is mad about it.
The real truth of the matter is that I am a blondie-lovin' gal living in a house of brownie addicts (well, to be precise, one EXTREMELY VOCAL 6-going-on-16 brownie addict) so I don't get to satisfy my own cravings all too often.
Any time I make the mistake of asking The Queen, as we so affectionately and not at all sarcastically call her, what dessert I should make on the weekend her answer is always always always brownies. No other dessert will suffice. We even tried to tempt her with Shake Shack milkshakes last weekend, TO NO AVAIL.
The girl is clearly an alien life form, there is no other explanation.
Despite this, every once in a while I work up the nerve to ignore my peanut gallery and treat myself to a little blondie self care. Most recently that meant a dive into Melissa Weller's A Good bake cookbook to make her acclaimed milk chocolate and raspberry swirl blondies.
This bake is one of the simpler recipes in the book (perfect when you're making it with a newborn in tow), coming together with two bowls, a whisk, and a rubber spatula. Don't let that fool you, however, because what it lacks in complex technique it makes up for in basically every other aspect of its being.
One of the secrets to this decadent treat is the use of salted butter in the blondie. This helps to cut the richness of these beautiful bars and ensures that the flavors are well balanced. An optional sprinkling of flaky sea salt on top takes them over the edge to something truly magical.
Milk chocolate chunks are mixed into the blondie batter, creating perfect pockets of sweetness. I used Valrhona milk chocolate feves that I broke into smaller pieces but run-of-the-mill milk chocolate chips will work as well.
To offset this sweetness, raspberry jam is swirled over the top of the blondies just before baking. Weller's original recipe includes instructions for making homemade jam but I just used my favorite Bonne Maman, which we always have on hand.
Time to get baking!
Milk Chocolate and Raspberry Swirl Blondies
Rich milk chocolate and raspberry swirl blondies that are fudgy with the perfect balance of sweet and salty.
Ingredients
2 cups (240 g) all purpose flour
1 tsp baking powder
8 oz (226 g) milk chocolate
1½ cups (300 g) dark brown sugar
2 large eggs
16 tbsp (226 g) salted butter, melted and cooled slightly
2 tsp vanilla extract
½ cup (145 g) raspberry jam
1 tsp flaky sea salt
Instructions
Heat oven to 350F. Grease the bottom and sides of a 9x9-inch baking pan. Set aside.
In a small bowl, whisk together the flour and baking powder. Set aside.
Chop the milk chocolate into ⅜-inch pieces. Set aside.
In a medium bow, whisk together the brown sugar and eggs until smooth and light in color. Slowly pour in the butter, whisking constantly, until completely combined. Add in the vanilla and whisk to combine.
Pour the dry ingredients into the wet ingredient mixture and fold together with a rubber spatula until almost no flour is visible. Add in the milk chocolate and fold until combined.
Transfer the batter to the prepared baking pan and smooth into an even layer. Dollop the jam in ½-tsp size drops over the surface of the batter. Drag a small paring knife through the batter and the jam to swirl it. Sprinkle with the salt.
Place the blondies into the oven and bake for 30 minutes, rotating the pan halfway through. Remove from the oven and allow to cool to room temperature on a wire rack before cutting and serving.