Make your mornings brighter with these soft, buttery lightly sweet cherry almond scones.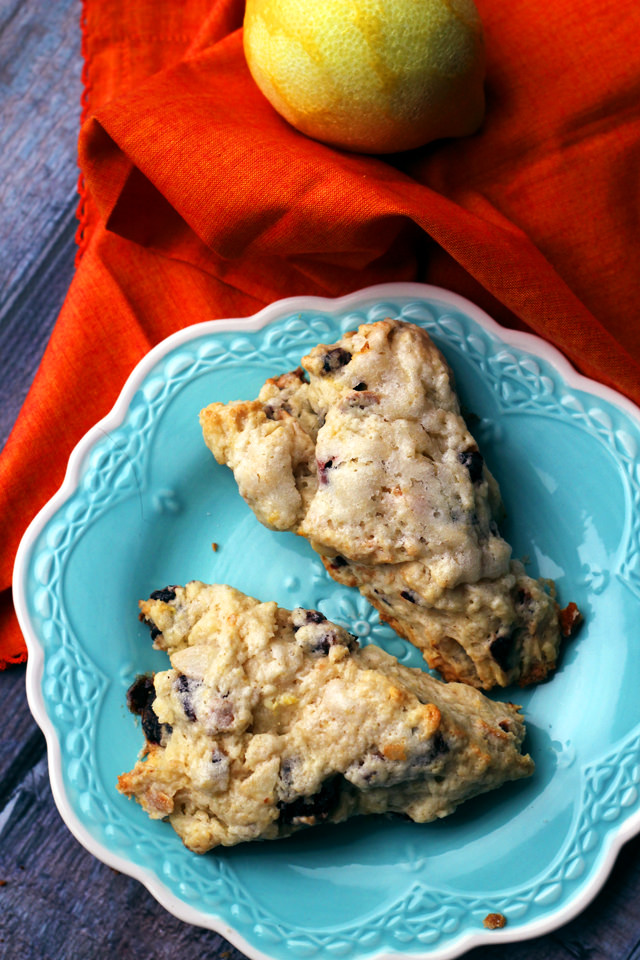 I was informed by one of my gym instructors this week that abs are made in the kitchen.
Yes, well.
So are scones.
And I'm pretty sure you can't have both.
But given that I've gone exactly 27 years and 4 months without a single visible ab….how necessary can they really be?
Dried cherry and almond stuffed butter soft flaky breakfast pastries, on the other hand?
Non-negotiable.
Especially where the weekend is concerned.
Admittedly, scones used to scare me, which is why you'll find so few recipes for them on my site. I blame it on one too many a dry and flavorless version from a certain coffee chain that rhymes with Sbarstucks. But I'm slowly but surely coming around.
These scones in particular were quick and easy enough to be thrown together on a weekday morning before work, which is really saying something. They are only lightly sweet, but with juicy bursts of cherry throughout and a hefty sugar crust on top your sweet tooth will most certainly be satisfied.
Worth every ab lost. And then some.
Cherry Almond Scones
Make your mornings brighter with these soft, buttery lightly sweet cherry almond scones.
Ingredients
2½ cups all purpose flour
¼ cup sugar, plus more for sprinkling
1 tsp baking powder
1 tsp grated lemon zest
¾ tsp kosher salt
¼ tsp baking soda
10 tbsp cold unsalted butter, cut into ½-inch dice
½ cup dried tart cherries, chopped
½ cup sliced blanched almonds, toasted
1 cup buttermilk
¼ tsp vanilla extract
¼ tsp almond extract
¼ cup heavy cream, for brushing
Instructions
Preheat the oven to 425F.
In a large bowl, whisk together the flour, sugar, baking powder, lemon zest, salt, and baking soda. Using a pastry blender or your fingers, cut the butter into the flour mixture until it resembles coarse sand. Stir in the cherries and the almonds.
Fold the buttermilk, vanilla extract, and almond extract into the batter with a spatula until it just comes together. Turn out onto a piece of parchment paper and knead the dough together until it is smooth and all the ingredients are incorporated. Pat the dough into a 9-inch round, 1-inch thick circle. Cut the dough into 8-12 wedges, depending on how big you want your scones.
Put the scones on a parchment-lined baking sheet. Brush with the heavy cream and then generously sprinkle with sugar. Bake for 10 minutes. Rotate the pan and then lower the heat to 350, baking for an additional 15 minutes, or until golden brown and cooked through.
Let cool briefly but serve while still warm.
Notes
Very slightly adapted from
The Dahlia Bakery Cookbook: Sweetness in Seattle
For more scone recipes to dress up your breakfast, check out these: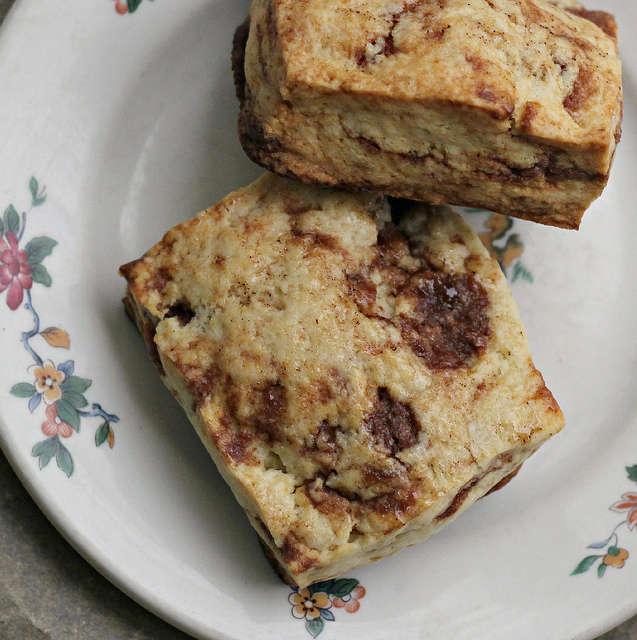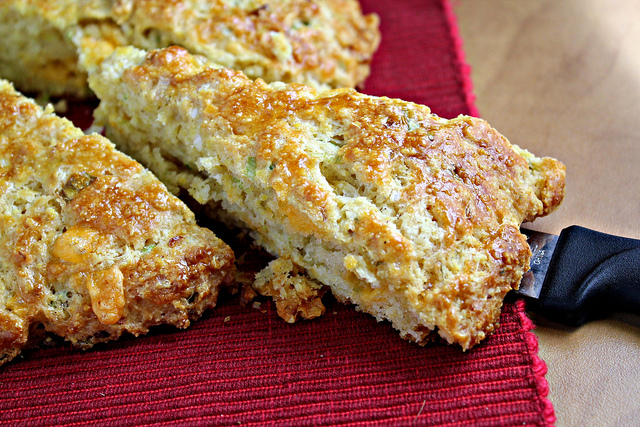 From Around the Web:
Glazed Vanilla Bean Scones from The Baker Chick
Black Pepper Cheddar Scones from Blogging Over Thyme
Strawberry Almond Scones from Love & Olive Oil
Berry Scones from Recipe Girl
Cinnamon Chocolate Scones from A Thought For Food