Smoky poblano peppers stuffed with a cheesy pinto bean and corn mixture.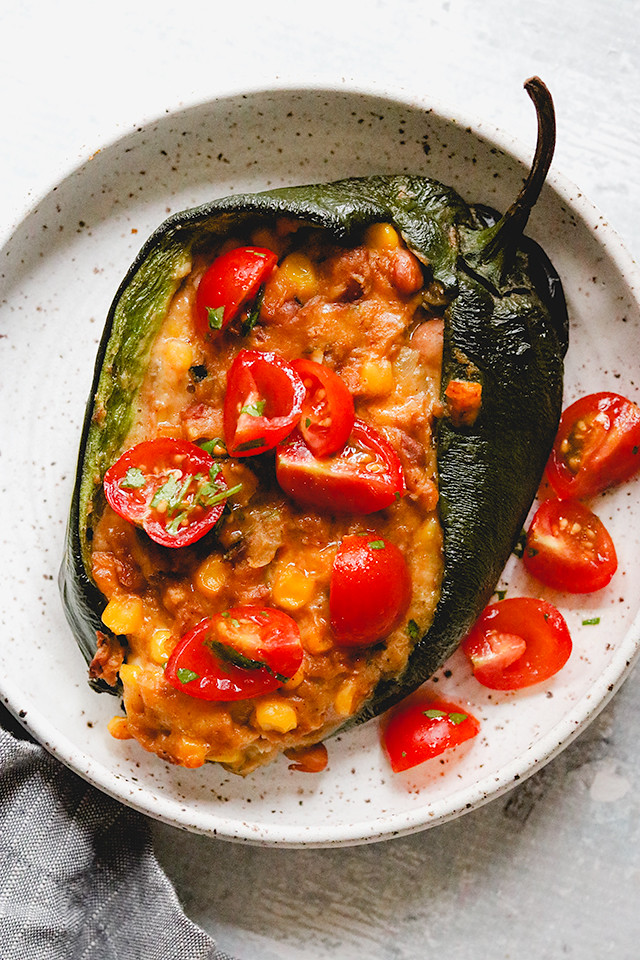 I can't tell if it's Inauguration Day or Christmas!!!
Feels like both.
So I'm gifting myself the present of cheesy beany hearty smoky spicy stuffed poblano peppers. I have a feeling you're gonna want one too.
Maybe with a side of the restaurant-style Mexican rice I posted last week?
It's a date!!
(Remember dates?? Sigh.)
Let's talk logistics: these are actually pretty simple due to a little secret trick I call….
….wait for it
….THE MICROWAVE.
Seriously! The microwave!!
Here's the deal. The cheesy beany hint-of-spicy filling gets made on the stove top. It can totally be made ahead but overall it is a super quick process.
Then you're left with all of these peppers to contend with! They're kind of tough and unwieldly and completely inflexible. Until they meet….the microwave. Yes, they get a quick zap for 2 and a half minutes or so just to soften them up enough so that you can pry them open and stuff their guts full of cheesy bean filling. (<– technical terms)
Pop them in the oven until the peppers soften completely and everything gets all melty gooey. Ugh, it's fabulous.
Cheesy Pinto Bean Stuffed Poblano Peppers
Smoky poblanos peppers stuffed with a cheesy pinto bean and corn mixture.
Ingredients
2 (15 oz) cans pinto beans, rinsed
1 cup water
1 tbsp vegetable oil
1 onion, finely chopped
4 garlic cloves, minced
1 tbsp ground cumin
1 tsp dried oregano
1 tsp ancho chili powder
1 tbsp lime juice
salt and black pepper, to taste
⅛ tsp cayenne pepper
2 cups frozen corn
4 oz Monterey Jack cheese, shredded
4 oz sharp cheddar cheese, shredded
¼ cup minced fresh cilantro
8 poblano chiles
Instructions
Heat oven to 425F. Line 2 rimmed baking sheets with aluminum foil and set aside.
Combine the beans and the water in a bowl. Mash about half of the mixture using a potato masher, until mostly smooth. Set aside.
Heat oil in a large skillet over medium heat. Add the onion and saute until softened, about 5 minutes. Add in the garlic, cumin, oregano, chili powder, ½ tsp salt, and cayenne. Cook until fragrant, about 2 minutes. Stir in the bean and water mixture, then cook for 3-5 minutes or until nearly all of the liquid has evaporated and the mixture has thickened. Stir in the corn and cook until heated through, about 2 minutes. Remove from the heat, then stir in the cheeses, cilantro, and lime juice. Season to taste with salt and black pepper. Set aside.
To prepare the poblanos, cut a slit in each one lengthwise down its side, leaving the stem intact. Place the peppers in a bowl, cover them, and microwave 2½ minutes. Open the poblanos, then remove the seeds. Stuff with the bean and cheese mixture. Place on the prepared baking sheets, stuffed side up.
Bake for 30-40 minutes or until the poblanos are tender and the cheese has melted, rotating halfway through the baking time. Serve immediately.