Banana bread scones topped with a chocolate tahini frosting – the perfect indulgent weekend breakfast!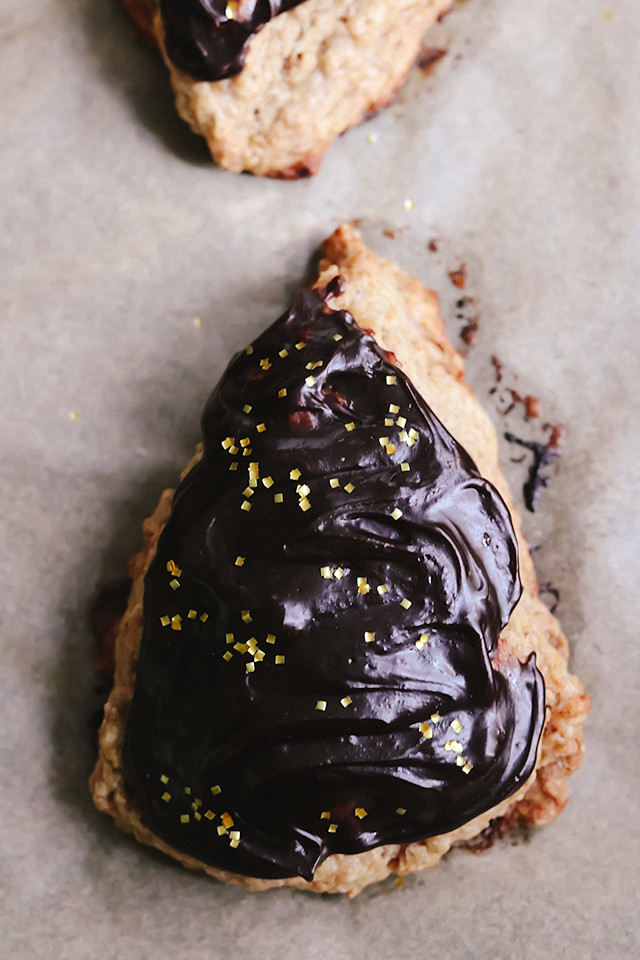 Buckle up kids, I'm about to blow your banana bread-loving minds.
No one can deny that 2020 was alllllllllll about the banana bread. (Okay, AND the sourdough but I'm just not there yet, despite having bought all the sourdough-making supplies and swearing that I'm finally going to get a starter going every weekend. Since March.)
2021 – going to be all about the banana bread SCONES.
Seriously. I'm calling it now.
As much as I love a good quickbread, I love scones even more.
They're buttery and tender, only slightly sweet (so can convince yourself they're almost good for you), and the perfect vehicle for devouring any flavor of jams or infused butters.
Also, they bake up in approximately a quarter of the time of a quickbread so you can go from craving to consumption A.S.A.P.
These scones are extra special because they get a banana bread flavor infusion and are topped with the most glorious CHOCOLATE TAHINI FROSTING.
You heard me right, and if you're not running to the Soom tahini website to buy them out of their chocolate tahini jars then you are cray cray. (Not sponsored, I just adore this tahini brand.)
It's super nutty and sultry and when I'm not eating it straight from the jar, I'm spooning it all over everything I can. Pair it with bananas and you really have a match made in breakfast heaven.
If you don't have a jar of chocolate tahini (or ten) in your pantry, then you can feel free to substitute it with nutella or any chocolate nut butter. I won't judge.

Banana Bread Scones with Chocolate Tahini Frosting
Banana bread scones topped with a chocolate tahini frosting - the perfect indulgent weekend breakfast!
Ingredients
For the scones
3.25 cups all purpose flour
⅓ cup packed brown sugar
2½ tsp baking powder
1½ tsp ground cinnamon
½ tsp baking soda
½ tsp kosher salt
¾ cup cold unsalted butter, cut into ½-inch dice
⅔ cup full fat coconut milk
2 tsp vanilla extract
2 ripe bananas, mashed
3 tbsp heavy cream, for brushing
For the chocolate tahini frosting
½ cup chocolate tahini (I use Soom tahini)
3 tbsp heavy cream
Instructions
For the scones
Heat oven to 425F.
In a large bowl, whisk together the flour, brown sugar, baking powder, cinnamon, baking soda, and salt. Add in the chilled butter cubes and cut into the flour mixture using a pastry blender or your fingers, breaking them down until the dough looks like wet sand.
Pour the coconut milk, vanilla, and mashed bananas into the center of the dry ingredient mixture. Mix until it comes together. Pat it into a large circle and cut into 8 wedges. Place on a parchment-lined baking sheet.
Brush the tops of the scones with heavy cream and bake for 13-15 minutes, or until slightly browned on top. Allow to cool completely before frosting.
For the chocolate tahini frosting
In a medium bowl, whisk together the chocolate tahini and heavy cream until the mixture is smooth and loose enough to spread on the scones. You made need to add more heavy cream, 1 tsp at a time, depending on which brand of tahini you use to reach the desired consistency.
Spread over the tops of the scones with an offset spatula. Serve immediately.