This perfectly spiced cinnamon zucchini sheet cake could not be more delicious! It's topped with a luscious cream cheese frosting and is the perfect way to use up garden zucchini.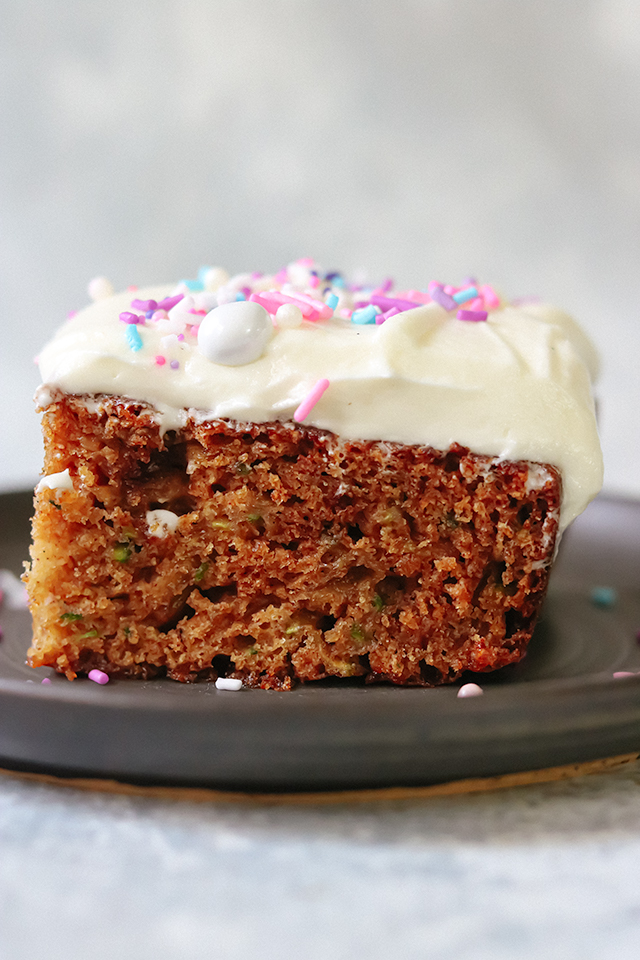 Alternatively titled: THE ONLY WAY I GOT MY CHILD TO EAT VEGETABLES THIS WEEK.
Counting this one as a parenting win.
Especially because she even KNEW that there was zucchini in here! And she still ate it! Asked for seconds, even!
Usually I have to hide it and pray that she doesn't notice any specks of green in the cake, but this time she must have heard me when I was telling my husband what it was because the next thing I knew, not only had she devoured a slice, but she was proclaiming how much she loved zucchini cake from the rooftops.
Praying that this is like the gateway drug to actual zucchini consumption. (But not holding my breath.)
There are a lot of options for recipes to help you get through you summer zucchini stash in the blog archives, but I'm always up for one more.
Especially if it involves cake, and especially especially if it involves a thick layer of cream cheese frosting.
I mean, YES.
This is the perfect weekend cake, especially because it can be thrown together in mere minutes on a Friday and then snacked on all weekend long!
It also makes enough to serve an actual army –> not an exaggeration.
The cake itself is oil-based, which is great because you don't need to remember to soften butter and it makes it super moist and plush. It's filled with a whopping 3 cups of grated zucchini and packed with cinnamon spice. 
Mix it up in mostly one bowl, let it cool, and then whip up your frosting!
This is smothered in my absolute favorite CREAM CHEESE FROSTING.
I could eat it for all my meals and yeah I would feel sick but it would be worth it.
This cream cheese frosting recipe features a secret ingredient that I was introduced to from the Zoe Bakes Cakes book and will now never make cream cheese frosting without – Lyle's golden syrup! This is an inverted sugar syrup that adds a light caramel flavor to whatever you mix it into. I was able to get it in my local grocery store, but if it's difficult to find you can just leave it out. The cream cheese frosting will still be delicious!
Top it with rainbow sprinkles, a dusting of cinnamon, or just leave it plain.
Then grab a fork and DIG IN.
Cinnamon Zucchini Sheet Cake with Cream Cheese Frosting
This perfectly spiced cinnamon zucchini sheet cake could not be more delicious! It's topped with a luscious cream cheese frosting and is the perfect way to use up garden zucchini.
Ingredients
For the zucchini cake
1.75 cups (350 g) sugar
¾ cup (255 g) honey
½ cup (120 ml) vegetable oil
3 large eggs, room temperature
1 tsp vanilla extract
3 cups (470 g) packed grated zucchini
2.75 (330 g) cups all purpose flour
2 tsp baking powder
1 tsp baking soda
4 tsp ground cinnamon
½ tsp ground nutmeg
½ tsp ground ginger
¼ tsp kosher salt
For the cream cheese frosting
¾ lb (340 g) cream cheese, room temperature
¾ cup (165 g) unsalted butter, room temperature
1 tsp vanilla extract
1 tsp lemon juice
2.5 cups (300 g) powdered sugar
1 tbsp Lyle's Golden Syrup (optional)
Instructions
For the zucchini cake
Heat oven to 325F. Grease a 9x13-inch sheet cake and line it with parchment paper. Set aside.
In a large bowl, whisk together the sugar, honey, oil, eggs, and vanilla. Add the zucchini and stir in until incorporated.
In a separate bowl, whisk together the flour, baking powder, baking soda, cinnamon, nutmeg, ginger, and salt. Stir into the wet ingredients.
Pour the batter into the prepared pan. Tap the pan a few times to release any air bubbles, then place in the oven and bake for 45-55 minutes, or until a tester inserted in the center comes out clean. Allow to cool for 10 minutes in the pan, then remove to a wire rack to cool completely.
For the cream cheese frosting
Beat the cream cheese in the bowl of a stand mixer fitted with a paddle attachment for a few minutes or until creamy and smooth. Add the butter to the mixer bowl and mix until smooth, MIx in the vanilla and lemon juice until well combined.
Slowly add in the powdered sugar and then the golden syrup, mixing until smooth.
Scrape onto the cooled cake, then spread in an even layer using an offset spatula. Top with sprinkles, as desired.