Soy-braised tofu and vegetable udon noodle stir fry for a savory and simple weeknight meal.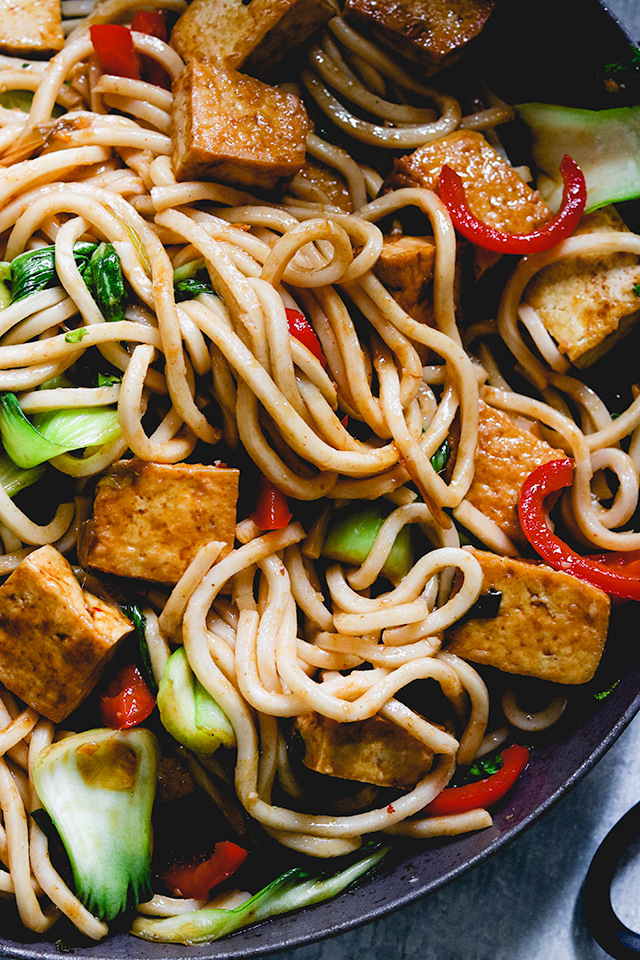 Welcome to this week's edition of the infinite weeknight dinner saga. 
I KNOW, the audacity of these family members who keep needing to be fed every night. Even Nico is in on it now and to say that I feel betrayed is an understatement. 
Et tu, Brute?
Well, thank goodness for stir fries – the ultimate meal for those nights when cooking just feels unreasonable.
While they can feel like a lot of work when you're in the trenches with the chopping and the mixing, once everything is ready to go dinner practically makes itself. The secret here is really and truly to prep ahead. 
I know, I know. But the reality is that ten minutes the night before when no one is nagging you or pulling on your sleeve or trying to get into his sister's room to eat her legos (ahem) is completely worth it when it means that you can have dinner made in under fifteen minutes the following day.
I speak from many evenings of unprepped dinner stress experience. (Don't be like me.)
Another total boon of the stir fry experience is its adaptability. 
Not a fan of tofu? Pick your protein, any protein!
Only have frozen veggies on hand? Sure, no problem, go for it.
Want to serve it with rice instead of noodles? Ok cool.
The only constant here is the sauce, which is completely simple and easily thrown together ahead of time. Just give it a good whisk before cooking, as the cornstarch has a tendency to clump and sink to the bottom of the storage vessel as it sits.
A few notes on some (maybe) more specialty ingredients (though worthwhile staples to invest in if you cook a moderate amount of Asian-inspired meals!):
Shaoxing Wine – this is a type of Chinese rice wine that is typically used more for cooking than for drinking (though you totally can drink it if desired!). The versions sold in the supermarket have a lower alcohol content and more salt, though, so you probably don't want to be slurping them. It has a hint of sweetness to it, but with a more full, complex flavor than mirin, another Chinese rice wine often used in stir fry recipes. I got it at my favorite spice/specialty ingredient store in NYC, but it can also be found online and in many regular supermarkets, probably in the international section. If you really must substitute it, dry cooking sherry is a reasonable option.
Doubanjiang – otherwise known as spicy bean sauce, this is a paste made from fermented soybeans, broad beans, and chilies. I've also seen it referred to as broad bean chili sauce or spicy broad bean paste. It is used often in Sichuanese cuisine to add heat and umami to recipes. This is definitely an ingredient that I've never seen in my regular supermarket, but I've bought it online and in specialty grocery stores before. It keeps in the fridge pretty much indefinitely, so it's a worthwhile investment in my book, and the flavor just can't be beat when added to stir fries or soups.
Let's do this.
Soy-Braised Tofu and Vegetable Udon Noodle Stir Fry
Soy-braised tofu and vegetable udon noodle stir fry for a savory and simple weeknight meal.
Ingredients
For the tofu
1 lb extra firm tofu, drained and patted dry
neutral oil
salt and black pepper
1 tbsp doubanjiang
2 garlic cloves, peeled and minced
1 (!-inch) piece of ginger, peeled and minced
4 scallions, trimmed and thinly sliced
1 bell pepper, stemmed and seeded, thinly sliced
2 tsp Shaoxing wine
4 baby bok choy, trimmed and halved
1 lb fresh udon noodles, cooked according to package directions
For the sauce
2 tbsp soy sauce
1 tbsp vegetarian stir fry sauce
1 tsp cornstarch
½ tsp sugar
Instructions
Cut the tofu into 12 squares. Set aside.
Heat a large nonstick or cast-iron skillet on medium-high heat. Once hot, add a tablespoon of oil and swirl the pan to ensure it is completely coated. Add the tofu in a single layer, seasoning with a sprinkle of salt and black pepper. Fry for 3-4 minutes per side or until golden. Remove the tofu to a paper towel-lined plate to cool.
To make the sauce, combine the soy sauce, stir fry sauce, cornstarch and sugar in a bowl with ⅓ cup of water, whisking until smooth. Set aside.
Heat the skillet again over medium heat. Add the doubanjiang and a splash of neutral oil. Stir for 15 seconds or until warmed through. Add in the garlic, ginger, and scallions. Saute for 1-2 minutes or until the scallions have softened and the aromatics are fragrant.
Add in the bell pepper and Shaoxing wine. Stir fry for 2-3 minutes, or until the pepper has softened slightly. Pour in the sauce and allow to cook for 30 seconds. Add in the bok choy and tofu. Toss gently to coat. Simmer for 1-2 minutes or until the sauce thickens. Add in the cooked noodles and toss to combine. Serve warm.