Fettuccine with pistachio cream sauce is a rich and comforting meal that is dangerously easy to make – perfect for a weeknight or a special occasion.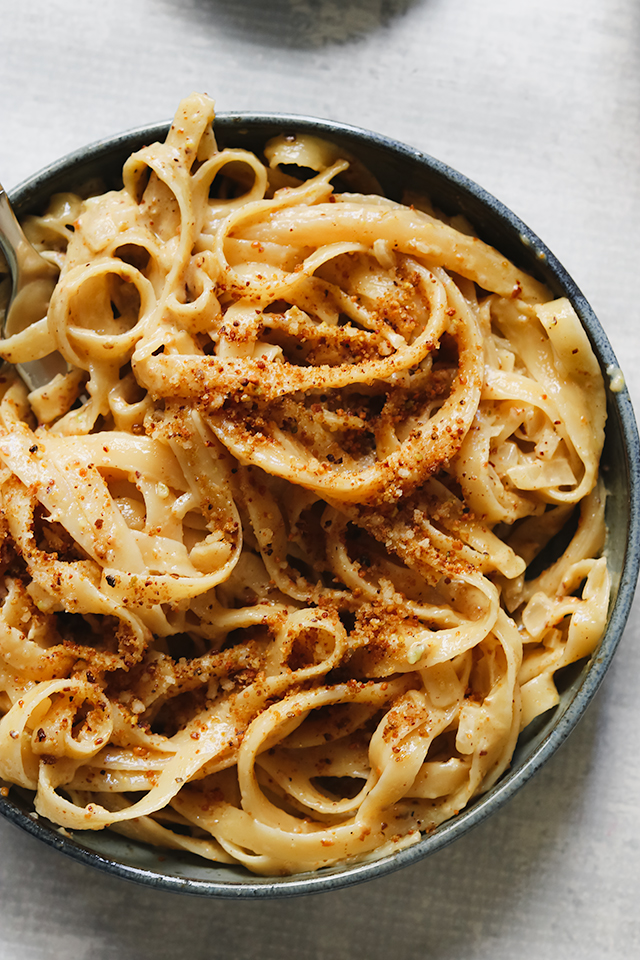 I'm a simple gal.
I don't need roses or chocolates or jewelry for Valentine's Day, or really any presents at all for that matter. 
Though if anyone is offering, I'll take a night of completely uninterrupted sleep with no one touching me, a day of unaccompanied trips to the bathroom (#momlife), and a lifetime supply of pistachios or at least enough to feed all of my current and future baking/dinner/snacking pursuits for the foreseeable future. 
Like I said. Simple.
Perhaps it's the Sicilian in me, but I have loved pistachios for as long as I can remember – their gorgeous green hue, their slightly sweet earthy flavor – they are basically the perfect nut. 
One of the most celebrated (and expensive) pistachio species hails from the Bronte village in Sicily, which is located basically on the slopes of Mt. Etna. They are unique because they actually grow out of the volcanic rocks, and so need to be harvested entirely by hand under pretty dangerous conditions. I have yet to bring myself to splurge on these "green gold" gems, as they are called, but they are rumored to be the greenest, sweetest, most exquisitely flavored of all the pistachios. 
Quite aptly, one of the hallmark recipes from this tiny town is pasta alla brontese – a simple yet decadent dish that pairs fettuccine with a creamy pistachio-laden sauce. The New York Times cooking website featured the recipe in a recent column and I was shocked, as it was a dish that I'd never heard of before and certainly never seen on a restaurant menu. WHERE HAD IT BEEN ALL MY LIFE. 
So I did what any normal full-blooded Sicilian would do in this situation – dropped everything and made it immediately! The traditional recipe for pasta all brontese calls for cooking pancetta (ie Italian bacon) until crisp in a skillet and then using the rendered fat to flavor the simple pistachio and parmigiano-reggiano cream sauce. Since I don't eat meat but still wanted to have hints of that smoky flavor to cut the richness of the sauce, I seasoned it with some smoked sea salt that I've had in the pantry for quite a while. Otherwise, I kept the recipe true to the traditional version. 
While this recipe undoubtedly has a feeling of fanciness to it, it is quite easy to make and comes together in the time it takes to boil water and cook the pasta. 
First, pistachios and parmigiano-reggiano cheese are ground together in a food processor until the pistachios are broken down to the consistency of flour. Be careful not to grind them too much or they will turn into a nut butter-like paste. 
In a skillet deep enough to hold the sauce and the cooked pasta, a minced shallot is sauteed until golden and then the pan is deglazed a a glug of white wine. Finally, the pistachio-cheese mixture is added to the pan along with a generous amount of heavy cream.
The cooked pasta is added to the sauce and allowed to cook in it for a few minutes, just until the sauce thickens enough to coat the pasta. Season the dish with smoked sea salt, as desired, and serve immediately.
This meal is absolutely lovely – it has the decadent feel of a restaurant meal yet was simple enough for a weeknight dinner. Not to mention that it was child-approved by both children, who devoured it gleefully.
I truly can't imagine more of a dinner win (/Valentine's present to myself) than that.
Fettuccine with Pistachio Cream Sauce
Fettuccine with pistachio cream sauce is a rich and comforting meal that is dangerously easy to make - perfect for a weeknight or a special occasion.
Ingredients
1 lb fettuccine
½ cup toasted pistachio
½ cup grated parmigiano reggiano cheese
2 tbsp olive oil
1 large shallot, minced
½ cup white wine
1½ cups heavy cream
smoked sea salt, to finish
Instructions
Bring a large pot of salted water to a boil. Cook the pasta according to package directions. Drain and set aside.
Meanwhile, make the sauce. Combine the pistachios and cheese in the bowl of a food processor. Pulse until the pistachios are ground down to a flour consistency and the mixture resembles wet sand.
Heat the olive oil in a deep skillet over medium heat. Add the onion to the pan and saute golden, about 4 minutes. Add in the wine and cook until it is evaporated, about 5 minutes.
Set aside ¼ cup of the pistachio mixture to use as garnish. Add the remaining pistachio mixture to the pan along with the heavy cream. Stir to combine.
Transfer the pasta to the skillet and toss to combine. Season to taste with the smoked sea salt.
Divide among serving bowls and top with the reserved pistachio-cheese mixture before serving.