Caramelized roasted cauliflower is paired with a white bean salad and curried raisin jam in this farmer's market inspired meal.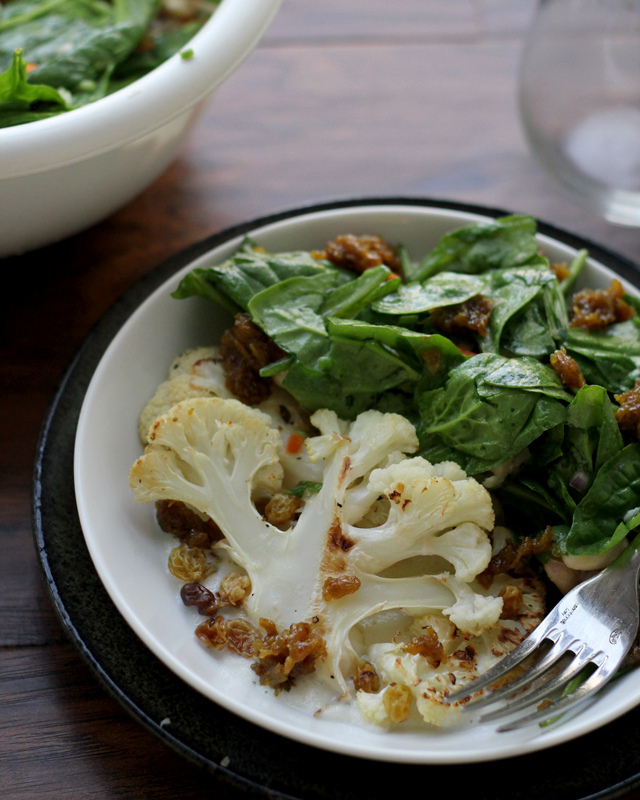 The.Boy and I have a little inside joke when it comes to chain restaurants.
Except….it's more of an inside argument.
Which is really more of an inside Cold War.
Which is really mostly an inside screaming match.
So. We agree to disagree. (Except that I'm totally right.)
It goes something like this.
Insert random person in our lives who suggests we go to Applebee's/Chilis/TGIF/Friendlys/The Olive Garden/Ruby Tuesdays.
The.Boy considers it for a few minutes. While I start yelling like a maniac about the depravity that must exist in this world such that a warm-blooded, reasonably intelligent individual would actually desire to frequent such an "establishment"* and spend money on the poor excuse for food that they serve. And then I throw up in my mouth a little.
It's all quite civilized. Not.
*I use that term loosely.
In order to produce really good food, you have to have some kind of passion and respect for it. And somehow I don't think the random guy on the line at Applebee's whose job is to dunk the bag of frozen potato sticks in sizzling oil has that kind of verve.
And then there are places where the enthusiasm for sourcing good quality ingredients and showing some appreciation for those who create and nurture them, is palpable.
One such place here in NYC is Gotham Bar and Grill. They did this fabulous thing this summer to pay homage to the Union Square Greenmarket and all the farmers it houses, where they highlighted one farm each week, for twelve weeks, in an all-vegetarian lunch prix fixe menu. I only wish I had known about this earlier, because I would have been there. Every week.  But there's always next summer.
And in the meantime, there is the recipe journal that they have produced, highlighting all the fabulous meals that they made this summer with gorgeous photos to accompany each recipe. Tantalizing creations, such as Basil Olive Oil Cake with Lemon Buttercream, Fried Green Tomatoes with Bourbon Roasted Peaches and Plymouth Cheddar Grits, and Corn Agnolotti with Fava Beans, Sungold Tomatoes, and Tarragon-Corn Broth, to name a few.
I was lucky enough to receive two copies of this recipe journal – one for myself and one to GIVE AWAY to one of you guys! Love it. To enter the GIVEAWAY to receive a copy of this cookbook all you have to do is leave a comment telling me what your favorite farmer's market find from this summer has been, and if you haven't been to a farmer's market – which piece of summer produce you'll be the saddest to see go out of season. Winner will be announced next Wednesday!
This recipe for roasted cauliflower with white beans and curried raisin jam is from the Gotham to Greenmarket Recipe Journal and all I can really say about it is wow. Wow because it got my boyfriend, who looked at it quite skeptically mind you, to eat and LIKE cauliflower. Wow because curried.raisin.jam.yes. Wow because all the components of this seem kind of weird together and yet they just work so that every bite is a mix of these crazy awesome flavors. Just. Wow.
Forget Applebees. With this book in tow, we can just eat at my place. Kthanks.
Three years ago…Red Velvet Whoopie Pies
Four years ago…Cranberry Chutney and Brie Grilled Cheese
Roasted Cauliflower with White Beans and Curried Raisin Jam
Caramelized roasted cauliflower is paired with a white bean salad and curried raisin jam in this farmer's market inspired meal.
Ingredients
1 large head cauliflower
2 tbsp olive oil
salt and freshly ground black pepper
milk
1 cup dried white beans, soaked overnight and cooked until tender
1 large carrot, peeled and finely diced
1 shallot, peeled and finely diced
1 tbsp finely minced chives
½ cup golden raisins, plumped in warm water then drained
2 cups baby spinach
For the curried raisin jam
2 tbsp butter
1 small onion, minced
1 cup golden raisins
1 tsp madras curry powder
¼ tsp cayenne pepper
½ cup water
For the White Balsamic Dressing
¼ cup white balsamic vinegar
¾ tsp dijon mustard
salt and freshly ground black pepper
¼ cup olive oil
Instructions
Preheat oven to 400. Trim the outer leaves off the cauliflower. Using a long bladed knife, slice the cauliflower into ¾-inch slices, reserving any small florets or trim that falls off. Lay slices on a baking sheet lined with parchment paper. Brush with olive oil and season with salt and pepper. Roast, turning once, until browned and softened, about 10 minutes/side.
Meanwhile, place the small florets and trim that you set aside in a small saucepan. Add milk to cover them. Season with salt and pepper and bring to a simmer. Cook until soft. Puree in a blender. Season to taste.
To make the curried golden raisin jam, melt the butter over medium heat in a saucepan. Add the onions and cook for about 5 minutes. Add the raisins and curry powder. Cook, stirring, for 2 minutes. Add the water and simmer for 10 minutes or until water has evaporated. Place in a blender or food processor and puree, adding water as necessary until it is smooth.
For the white balsamic dressing, whisk together the balsamic, mustard, salt, pepper, and olive oil.
Toss the white balsamic dressing with the beans, carrots, shallots, chives, and spinach. Season to taste with salt and pepper.
To serve, on each plate spread a spoonful of the cauliflower puree. Arrange the roasted cauliflower, white bean salad, and raisins on the plate. Drizzle with the curried raisin jam.
Nutrition Information
Serving size:
¼ of recipe