Berry and ricotta brioche buns make for a lovely breakfast treat! A light brioche dough is filled with streusel, vanilla-sweetened ricotta, and berries, then baked into a decadent pastry.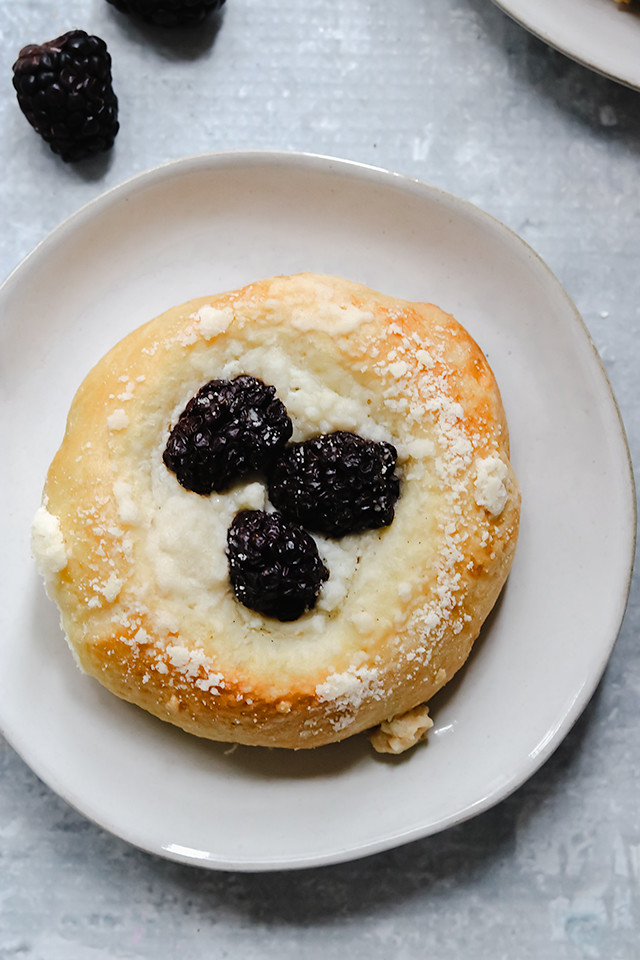 You can just add us to the never-ending list of parents who are struggling with virtual learning. Remy's daycare has been doing two virtual sessions a day and our biggest problem is not with her paying attention or not wanting to do it…it's that she cries hysterically that she misses school and her class for at least an hour afterward.
It's kind of crazy heartbreaking. But also, like…dear god can she please love school this much forever and ever?!
As I mentioned in my last post, she's had a bit of a cough so we haven't left the house in about a week, just in case.
I definitely don't want us to be the reason anyone else gets sick and also I'm just not convinced that this thing isn't airborne (despite what the CDC says, since it seems that their only prerogative is to say whatever it takes to convince healthcare workers that it's safe to work with whatever meager PPE is available) so I'm not sure how safe it is to be out and about for recreational activities, even if you're staying 6 feet away from everyone else.
Being inside this long has left us all with a serious case of the stir crazies, with all the days running into each other and feeling exactly as stifling as every other day.
Like, what is a weekend anymore and how can you even explain that to a toddler?!?! I have no idea.
The best thing I've come up with is that we drink more wine on the weekends and do more baking projects, just to make it feel a little extra special.
These berry and ricotta brioche buns were our most recent endeavor, inspired by a container of blackberries that had come with our most recent Imperfect Produce box and that needed to be used up ASAP.
The recipe for these is from the Breaking Breads cookbook, and like all the other recipes from this book that I've tried it did not disappoint. The base of the buns is made from a "light" brioche dough that is still plenty rich and a dream to work with. I had no issues with sticking and didn't even want to pull all of my hair out by the end of it – amazing.
The buns are filled with a buttery streusel and lightly sweetened ricotta, then topped with berries before baking. After a stint in the often, they are transformed into a decadent pastry that can serve as either breakfast or dessert. A perfect way to make these weird weekends feel a little bit more special.
Berry and Ricotta Brioche Buns
Berry and ricotta brioche buns make for a lovely breakfast treat! A light brioche dough is filled with streusel, vanilla-sweetened ricotta, and berries, then baked into a decadent pastry.
Ingredients
For the light brioche
9 tbsp butter (6 tbsp should be at room temperature)
150 g (1/2 cup + 2 tbsp) lukewarm water
2½ tsp active dry yeast
500 g (4 cups) all purpose flour
1 large egg
50 g (1/4 cup) sugar
10 g (2 tsp) kosher salt
For the buns
200 g (7 oz) ricotta cheese
1 tbsp powdered sugar
1 tbsp cornstarch
1 tbsp vanilla bean paste or ½ vanilla bean
½ recipe light brioche dough (recipe above)
1 large egg
1 tbsp water
pinch of salt
1 recipe streusel topping (recipe below)
fresh berries
For the streusel
75 g (1/3 cup) sugar
170 g (1⅔ cup) cake flour
120 g (8 tbsp) cold unsalted butter
Instructions
For the light brioche
Freeze 3 tbsp of the unsalted butter for at least 20 minutes. Grate the butter using the large holes of a box grater. Return to the freezer while you prepare the rest of the dough.
Pour the water into the bowl of a stand mixer fitted with the dough hook. Sprinkle the yeast over the water and whisk until combined. Add in the flour, egg, sugar, salt, and the remaining 6 tbsp butter. Mix the dough on low speed until combined, scraping the bottom and sides of the bowl as needed, about 2 minutes.
Increase the mixer speed to medium and mix for 4 minutes, or until a smooth dough forms. Reduce the speed to low and add in the frozen grated butter a tbsp at at time. Mix until it is all added, about 30 seconds.
Dust a bowl with flour. Shape the dough into a loose ball and transfer it to the floured bowl. Dust the top of the dough lightly with flour. Top the bowl with plastic wrap and let it rise in a warm, draft-free area for 1-2 hours or until doubled in size.
Divide the dough in half, using one half for the berry and ricotta brioche buns. You can use the second half to make a simple loaf of brioche bread, for cinnamon rolls, or freeze it for future use.
For the buns
In a small bowl, whisk together the ricotta, powdered sugar, cornstarch, and vanilla. Set aside.
Divide the brioche dough into 8 pieces, gently folding the corners into the middle of each piece to form a ball. Return to the first piece and use a cupped hand to gently roll it and form it into a nicer ball shape. Repeat with the remaining dough pieces. Place the dough balls on a parchment-lined baking sheet.
In a small bowl, whisk together the egg, water, and salt to form an egg wash. Brush each dough ball with the egg wash. Press your fingers down into the middle of each dough ball to form a deep depression, spreading it out to within ½ inch of the sides of the dough ball. Repeat with the remaining dough balls, then return to the first piece of dough and do it again. Sprinkle the streusel into the depressions in each bun and then spoon the ricotta over the streusel. Top each with 3 berries and sprinkle with any remaining streusel.
Cover the buns with a clean kitchen towel and let rise for 1 hour. Meanwhile, heat oven to 325F.
Bake until golden, about 20 minutes. Remove from the oven and let cool before serving.
For the streusel
Whisk together the sugar and flour in a medium bowl. Cut the cold butter into thin slivers and cut it into the dough with your fingers or a pastry cutter. Do this until the dough looks like small pebbles and all of the butter has been worked into the flour. Cover with plastic wrap and refrigerate until ready to use.