Simply spiced use-what-you've-got roasted vegetable and naan wraps that are topped with pickled cucumbers and an herbed yogurt sauce.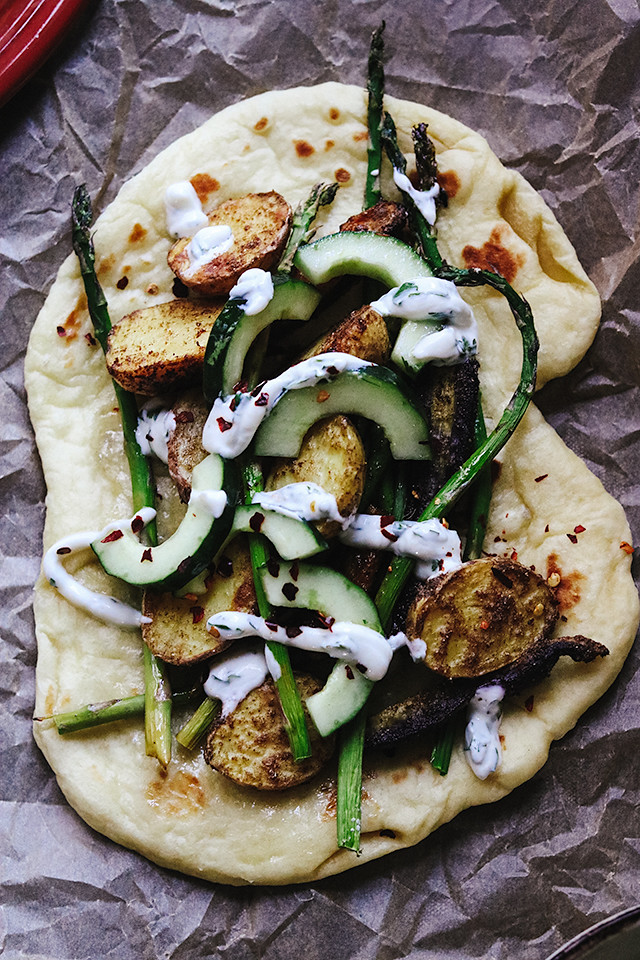 Day 1232 of quarantine!
And I finally washed my hair. I know you're proud.
We even did laundry yesterday and it was appalling how few actual clothes there were in it.
Like, did I even wear socks (or a bra) all week??
No. No, I did not.
Let's just say it's been kind of like the wild west around here with art supplies everywhere, a smattering of toys on every surface, and Remy's marker drawings on the floor (literally…she drew with marker ON THE ACTUAL FLOOR) that she colored when Mike and I both had to be on phone calls and couldn't watch her every move.
After this is over, I am never going to underestimate the power of daycare again.
Also, I'm going to be so so so much better at minimizing my food waste.
I used to think I was pretty good at using up everything in my fridge every week, but in retrospect I was actually horrible at it. Since I can't just run out to the store for a quick something or other, I really just have to use to what I have and be a whole lot less picky about needing every exact ingredient for a recipe before I make it.
Which is how these roasted vegetable and naan wraps were born!!! On a wing and a prayer and a whole lot of fridge scraps that were on their last legs. Maybe you're finding yourself in a similar position?
Here's what you do:
Gather up all the vegetables in your fridge or pantry. For me, this was carrots, asparagus, and potatoes but you really can use anything, just adjust the roasting time accordingly. Toss them with some basic spices, olive oil, salt, and pepper and then roast away!
Meanwhile, make some quick pickled cucumber (or if you have pickles in your fridge, just use those!) and an easy tahini-yogurt sauce (again, if you have another dressing that you love on hand USE IT).
Once the veggies are done roasting, pile them up on a piece of naan (or pita or flatbread or toast or rice or quinoa…you get the idea) and top with the pickles and yogurt sauce.
These are so great for an easy lunch or dinner that you can nibble on all week long.
Use-What-You've-Got Roasted Vegetable and Naan Wraps
Simply spiced use-what-you've-got roasted vegetable and naan wraps that are topped with pickled cucumbers and an herbed yogurt sauce.
Ingredients
1 tbsp cumin
1 tbsp ground coriander
½ lb baby carrots or regular carrots cut into small chunks
1 lb baby new potatoes, halved
3 tbsp olive oil, divided
salt and black pepper, to taste
½ cucumber
1 lemon
½ lb asparagus, trimmed
4 pieces of naan, flatbreads, or pitas
For the herbed yogurt sauce
⅓ cup Greek yogurt
1 tsp maple syrup
a few sprigs of cilantro, chopped
1 tbsp tahini
lemon juice
salt and black pepper, to taste
Instructions
Heat oven to 425F.
Toss the carrots and potatoes with 2 tbsp olive oil, cumin, coriander, salt and black pepper. Spread on a parchment-lined baking sheet and place in the oven to bake. Roast for 30 minutes.
Meanwhile, make the quick-pickled cucumbers. Cut the cucumber in half lengthwise. Scoop out the seeds from the center and then cut it into thin half-moons. Mix it with the juice from half a lemon, a good pinch of salt and black pepper, and a drizzle of olive oil. Set aside.
Once the carrots and potatoes have roasted for 20 minutes, remove the pan from the oven and scatter the asparagus over the pan. Squeeze over the juice from the remaining half a lemon and a bit of olive oil. Place back in the oven and roast for the final 10 minutes.
Warm the naan breads or flatbreads. When ready to eat, divide the roasted vegetables among the flatbreads. Top with the pickled cucumbers and a drizzle of the herbed yogurt sauce. Serve right away.
For the herbed yogurt
Mix together the Greek yogurt, maple syrup, cilantro, and tahini. Season to taste with lemon juice, salt, and pepper.