A super-soaked, super moist berries and cream tres leches cake layered with sponge cake, rich milk syrup, whipped cream, and any berries you like.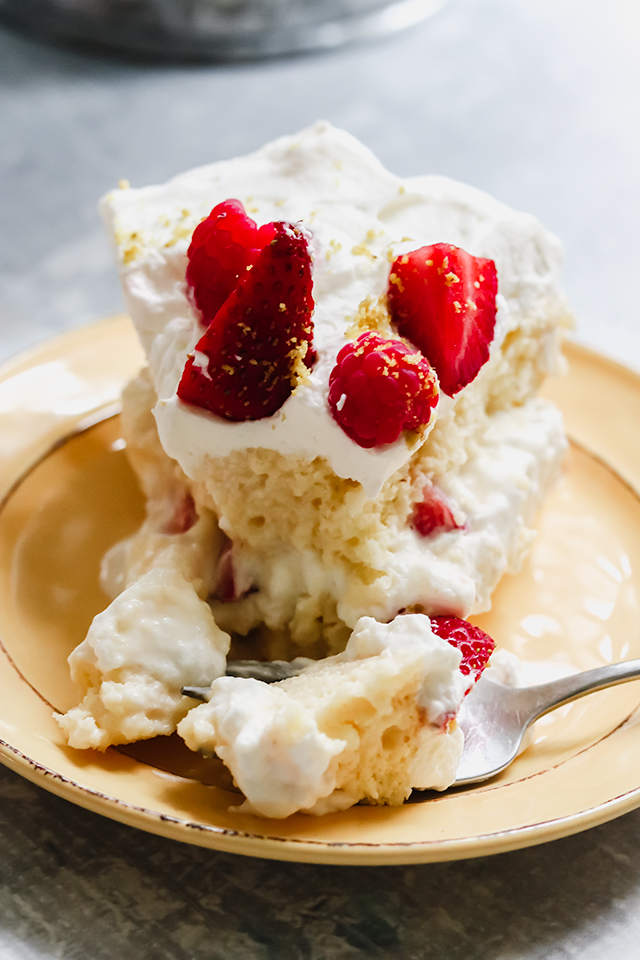 It's spring! It's spring!
Maybe not in actual weather temperatures (we'll just ignore the fact that it's approximately 27F in NYC today), but in my heart. I just feel it.
And you know what that means.
Time to eat ALL THE BERRIES. OMG I have missed them so much.
I have visions of all sorts of pies (slab pies, lattice pies, hand pies) that need to happen in the near future, but first: BERRIES AND CREAM TRES LECHES LAYER CAKE.
I'll just leave you to reflect on the glory of that for a moment.
To eat a tres leches cake is to love it: a light (and porous) sponge cake that gets soaked in a three-milk syrup (usually some sort of cow's milk, sweetened condensed milk, and evaporated milk) until it's almost bursting at the seams and is then topped with homemade whipped cream. It's really quite a revelation.
Tres leches cake is usually made as a sheet cake, which makes sense since it does become pretty heavy with all of the milk mixture that it absorbs. But the only thing better than one layer of milk-soaked cake….is two layers of milk-soaked cake.
So here we are!
Now, let me just prepare you – this is going to be messy. 
You're going to bake your cakes, soak them in their baking pans in milk syrup for 30 minutes, and then invert them onto a serving platter. Milk syrup is totally going to splosh out and you are totally going to lick it off all the surfaces it falls on because it is liquid gold, that's why. 
Then, you're going to make homemade whipped cream, chop up a whole slew of your favorite berries and layer them in-between the cakes. The berries add some tartness and tang to cut all of that sweet milk richness and each bite is kind of magical.
It is so perfect for spring (or whatever weirdo in-between season we find ourselves in) – enjoy!
Berries and Cream Tres Leches Cake
A super-soaked, super moist berries and cream tres leches cake layered with vanilla cake, rich milk syrup, whipped cream, and any berries you like.
Ingredients
For the milk syrup
1 cup (240 ml) heavy cream
1½ cups (360 ml) evaporated milk
¾ cup + 1 tbsp + 2 tsp (205 ml or ½ can) sweetened condensed milk
For the tres leches cake
1 cup + 3 tbsp (150 g) all purpose flour
½ tsp baking powder
1 cup (200 g) sugar
5 large eggs, separated
⅓ cup (80 ml) whole milk
½ tsp vanilla extract
½ tsp cream of tartar
To assemble
3 cups (720 ml) heavy cream
½ cup (60 g) confectioner's sugar
7 oz (200 g) mix of strawberries and raspberries
2 tbsp (10 g) ground pistachios
Instructions
For the milk syrup
Mix together the cream, evaporated milk, and sweetened condensed milk. Set aside.
For the cake
Heat oven to 350F. Grease and line two 9-inch cake pans with parchment paper. Set aside.
In a large bowl, sift together the flours and baking powder. Set aside.
Combine 150 g (3/4 cup) of the sugar and the egg yolks in the bowl of a stand mixer fitted with the whisk attachment. Mix on high speed until pale, about 2 minutes. Decrease the mixer speed to low and add in the whole milk and vanilla. Add in the flour mixture and mix until just incorporated. Set aside.
In a clean mixer bowl with a clean whisk, mix the remaining 50 g (1/4 cup) of sugar, the egg whites, and the cream of together. Whip on high speed until medium peaks form.
Fold a third of the egg white mixture into the batter to loosen it, then fold in the rest, mixing until just incorporated. Divide the batter among the prepared cake pans.
Bake for 15 minutes, or until a toothpick inserted in the center comes out clean. Allow the cakes to cool in the pans for 10 minutes. Prick the tops of the cakes all over with a fork. Pour half of the milk syrup over each cake and allow to soak for 30 minutes.
Meanwhile, in a clean mixer bowl, whip the heavy cream and powdered sugar until medium peaks form.
Once the cakes have soaked, invert the first cake onto a cake stand or serving plate. Spread half of the whipped cream over the top. Top with about half of the berries.
Invert the second cake on top of the first. Top with the remaining whipped cream and berries. Sprinkle with the ground pistachios. Cut and serve.