Creamy baked eggs topped with smoked salmon and capers.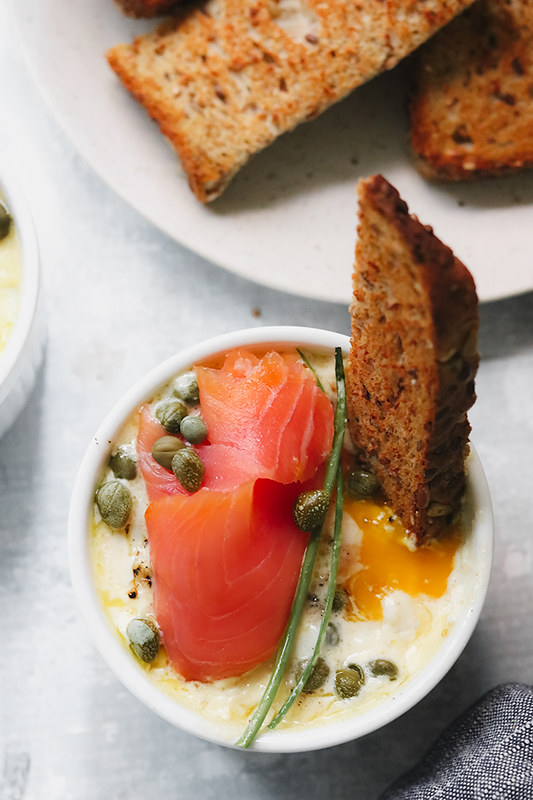 Who's diving into that creamy runny yolk center with me?
It'll be fun, we can double fist mimosas on the way down.
Yes, ON A WEDNESDAY. It's the 954th day of March, there are no rules anymore!
But seriously, if you're looking for a way to make the middle of your week a little bit more tolerable, this is it!!
The original recipe is from the (gloriously amazing) Dinner In French cookbook, but it's basically an exact replica of my favorite brunch dish from what used to be one of the best French bakeries in all of NYC. Unfortunately they've shuttered all of their NYC locations since last spring with no signs of reopening any time soon. Ever since, my life has been completely bereft of a midday almond croissant snack, truly excellent spur of the moment sourdough loaves to perk up dinner, and Sunday creamy egg cocotte breakfasts.
I doubt I'll be tackling croissants any time soon (famous last words!) and my days-old sourdough starter is doing a whole lot of nothing, BUT THE COCOTTES. That I can handle. 
There are a million different ways to make baked eggs, and usually my tendencies veer more toward the tomato-based methods (shakshouka! eggs in purgatory!), but every once in a while you need something completely indulgent and that's where these come in.
First you start by making a lemony caramelized leek cream sauce. It will coat your tongue with richness but also feel kind of light and citrusy. Pour it into greased ramekins, add a few eggs and pop them into the oven. (I like my yolks on the runny side, but you can bake them to your desired egg consistency.) 
Top with smoked salmon and capers for some extra salt and a deep punch of umami and (not optional) serve with toast fingers to scoop up all of that cream/yolk goodness. We used very not-fancy whole wheat bread for our toast (see above for my distress at not being able to get *good* bread any more), but really anything on the carb spectrum will do.
Creamy Baked Eggs with Smoked Salmon
Creamy baked eggs topped with smoked salmon and capers.
Ingredients
2 tbsp unsalted butter, plus more for greasing the ramekins
1 large leek, halved lengthwise, cleaned, and thinly sliced
fine sea salt
10 tbsp heavy cream, divided
2 tbsp creme fraiche
¾ tsp grated lemon zest
8 large eggs, room temperature
freshly ground black pepper
4 oz thinly sliced smoked salmon
1 tbsp chopped capers
toast fingers, for serving
Instructions
Heat oven to 400F. Brush four 8-oz ramekins with butter and place on a rimmed baking sheet. Set aside.
In a large skillet, melt the butter over medium heat. Add in the leeks and ¼ tsp salt. Saute until soft and caramelized, about 15-20 minutes. Add in 6 tbsp of the cream, the creme fraiche, and the lemon zest, then remove from the heat. Season to taste with salt and black pepper, then divide among the prepared ramekins.
Crack 2 eggs into each ramekin. Pour 1 tbsp of the remaining cream on top of each ramekin. Place in the oven and bake until the whites are set and the yolks are still runny, about 13-17 minutes.
Remove from the oven and allow to cool slightly, then top with the smoked salmon and capers. Serve with toast fingers for dipping.