A hearty vegetarian tortellini minestrone filled with vegetables and chickpeas.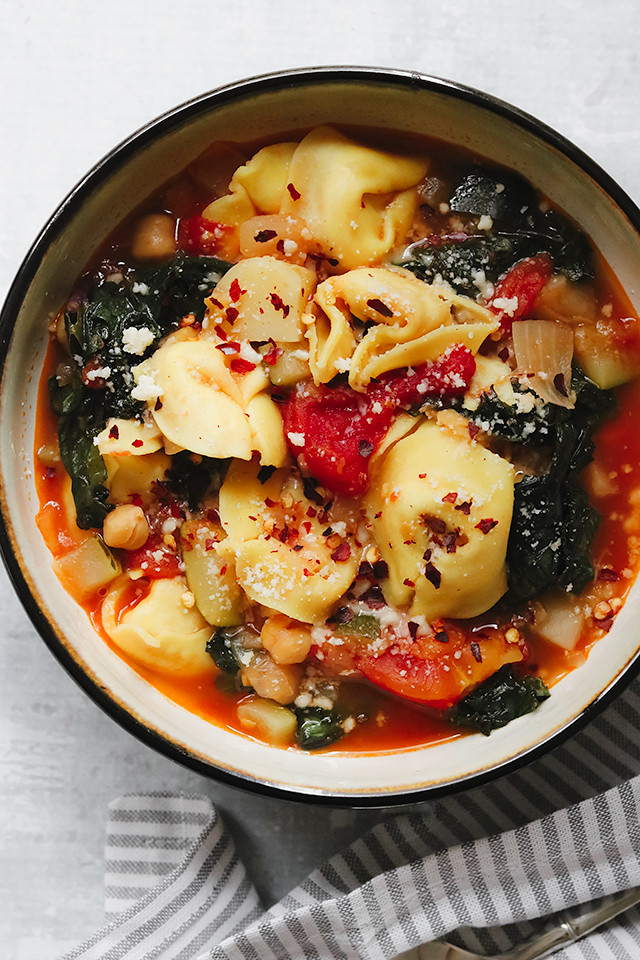 Oh look it's soup season again because WE'VE LITERALLY BEEN INSIDE FOR 365 DAYS.
Right?
When you've been sheltering in place for a lifetime (okay, A MONTH NOW) you lose all sense of time, space, and season.
What is it appropriate to eat these days?
I hope ice cream for breakfast and wine with all the meals, because – DOING THAT.
But also eating a lot of soup. All things considered, it just feels right.
This tortellini minestrone is my latest culinary endeavor and, guys. It's a good one.
It's hearty in all the best ways, features TORTELLINI which is arguably an all-star in the pasta world, and has so many veggies you can't feel even a little bit bad about going back for seconds.
The other best thing about it is that it is super flexible in terms of what you can and can't put in it.
No tortellini? Use ravioli or gnocchi or elbows or just about anything you have lying around.
No chickpeas? Use white beans or lentils or leave them out!
No "insert random vegetable here". IT'S FINE. Just use whatever else you have on hand. Winter squash, sweet potatoes, anything green.
It's all good.
Vegetarian Tortellini Minestrone
A hearty vegetarian tortellini minestrone filled with vegetables and chickpeas.
Ingredients
3 tablespoons olive oil
1 large onion, peeled and chopped
4 garlic cloves, minced
3 carrots, peeled and chopped
1 lb zucchini, chopped
1 potato, peeled and chopped
4 cups vegetable broth
1 15 oz. can of cooked chickpeas, drained
1 28 oz. can of peeled San Marzano tomatoes, with juice
Salt, to taste
1 bunch of kale, leaves chopped
28 oz package frozen tortellini
Grated parmesan cheese and red pepper flakes for garnish
Instructions
Heat olive oil in a large pot over medium high heat. Add the onion and garlic. Saute until softened, about 4 minutes. Add in the carrot, zucchini, and potato. Saute for another 2-3 minutes.
Add in the vegetable broth, chickpeas, and tomatoes (crush them with your hands as you add them). Season with a few pinches of salt. Bring to a boil and then lower the heat to a simmer. Cook for 30 minutes.
Stir in the kale and tortellini. Simmer until cooked through, about 5-7 minutes. Season to taste with salt and black pepper.
Pour into serving bowls and top with spoonfuls of parmesan cheese and red pepper flakes.
Notes
Recipe slightly adapted from
Food52