Chai brulee tartlets feature a buttery shortbread crust filled that is filled with chai spice-infused custard that is bruleed to a crisp sugary crust finish.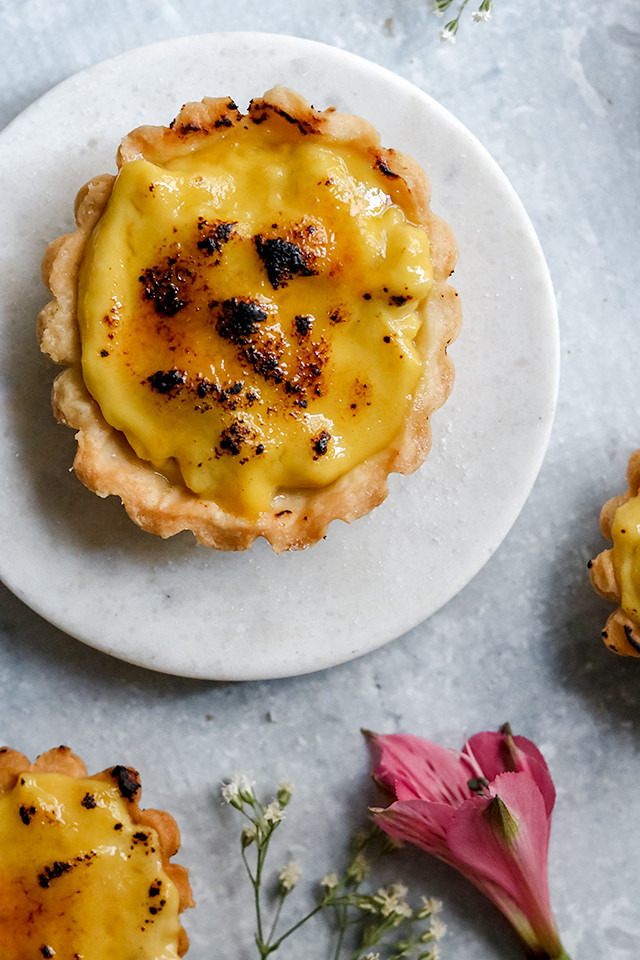 Blowtorch FRIIIIDAAAYYYSSSS!!!
Can we make that a thing?
Okay, maybe not because using my blowtorch (as incredibly wimpy as it is) gives me all the anxiety. Perhaps that explains why I haven't used it for 3+ years??
Part of the struggle is actually figuring out where to do the aforementioned blowtorching. Like, my wood kitchen table is probably not the best place for the job and the meager counterspace in my kitchen also leaves something to be desired.
No time like a pandemic to break it out and face your fears, though!!
C'est la vie, etc etc.
Totally worth any fire safety stress if you're a creme brulee lover, as I am.
I haven't had it in F O R E V E R. It's the kind of thing I'll only ever order at a restaurant, but we don't go to a whole lot of French restaurants in general (they never seem to have good vegetarian options), and especially not now that we'll be stuck inside for the duration.
Eventually I realized that if I wanted to make my creme brulee fantasies come true, I really just had to do it myself (instead of what I was doing, which was waiting for a creme brulee fairy to drop some at my doorstep along with our contact-less grocery delivery).
And what better way to creme brulee than with a chai-infused custard that tastes like absolute spice magic encased in a buttery shortbread crust!!
I can't think of any.
To be fair, this recipe has a few moving parts that require multiple different chill steps, so let me give you some guidance on how to streamline this as much as possible.
My recommendation would be to make the infused cream and tart dough on day 1, bake the tart shells and the custard on day 2, and serve on day 3. You could totally combine days 2 and 3, but just make sure you start early enough in the day if you want to be eating the tartlets by dessert time. The sugar crust won't stay crisp for more than a half hour or so, so torch them a la minute otherwise you'll end up with a plain old custard tart (still good, but not what we're going for).
Chai Brulee Tartlets
Chai brulee tartlets feature a buttery shortbread crust filled that is filled with chai spice-infused custard that is bruleed to a crisp sugary crust finish.
Ingredients
For the custard
2⅓ cups (560 ml) heavy cream
2⅓-inch piece of fresh ginger, coarsely grated
seeds from 7 cardamom pods
3 large cinnamon sticks
1 English breakfast tea bag
3 bay leaves
½ tsp whole black peppercorns
1 whole nutmeg
¼ cup + 1 tbsp (60 g) sugar, plus ⅓ cup for the caramelized topping
6 oz (165 g) egg yolks
For the pastry
1⅔ cups (200 g) all purpose flour
8½ tbsp (120 g) unsalted butter, cold
2 tbsp sugar
¼ tsp salt
½ tsp white wine vinegar
3 tbsp ice cold water
Instructions
For the custard
Place the cream in a large heavy-bottomed pan along with the ginger, cardamom pods and seeds, cinnamon sticks, tea bag, bay leaves, peppercorns, nutmeg, and 60 g sugar. Bring to a slow boil and then remove immediately from the heat. Set aside to cool. Once cool, cover with plastic wrap and refrigerate overnight.
The following day, heat oven to 350F.
Gently warm the infused cream over medium heat and strain through a fine-mesh sieve. Discard the spices and the tea bag. Place the egg yolks in a clean bowl. Pour the warm cream slowly over the egg yolks, whisking constantly to combine. Transfer to an 8-inch square glass or ceramic baking pan. Place this pan in a larger baking pan. FIll the larger pan with boiling water so that it reaches halfway up the sides of the smaller pan (ie create a hot water bath). Place both pans in the oven and bake for 15-20 minutes, or until just cooked. Carefully lift the custard pan out of the water bath and set aside to cool. Cover and chill for at least an hour or until ready to use.
For the pastry
Combine the flour, butter, sugar, and salt in the bowl of a food processor. Pulse a few times, until it is the consistency of wet sand. Add the vinegar and water. Pulse for another few seconds, just until the dough starts to come together. Remove from the food processor bowl and flatten into a disk. Cover with plastic wrap and allow to chill in the fridge for at least 1 hour.
Brush 12 3.5-inch fluted tart pans with melted butter. When ready to bake, remove the dough from the fridge and place on a lightly floured work surface. Roll to ⅛-inch thick, then cut out twelve 5-inch circles. Press each dough circle into a prepared tart pan so that it fits snugly inside. Trim any excess pastry. Chill in the fridge for 30 minutes.
Heat oven to 400F.
Place the tart pans on a baking sheet. Line each tart with a square of parchment paper and then fill with baking weights or dried beans. Bake for 18 minutes, or until starting to turn golden brown at the edges. Remove the weights and parchment paper and return to the oven for another 9-10 minutes. Remove from the oven and let cool.
Just before serving, remove the tart shells from their pans. Spoon the custard into the shells, filling them to the top. Sprinkle the remaining sugar over each tart and, using a kitchen blowtorch, melt the sugar to caramelize it. Serve immediately.