Vietnamese rice noodle salad bowls filled with spicy sriracha tofu, quick pickled veggies, and a vegetarian nuoc cham dipping sauce.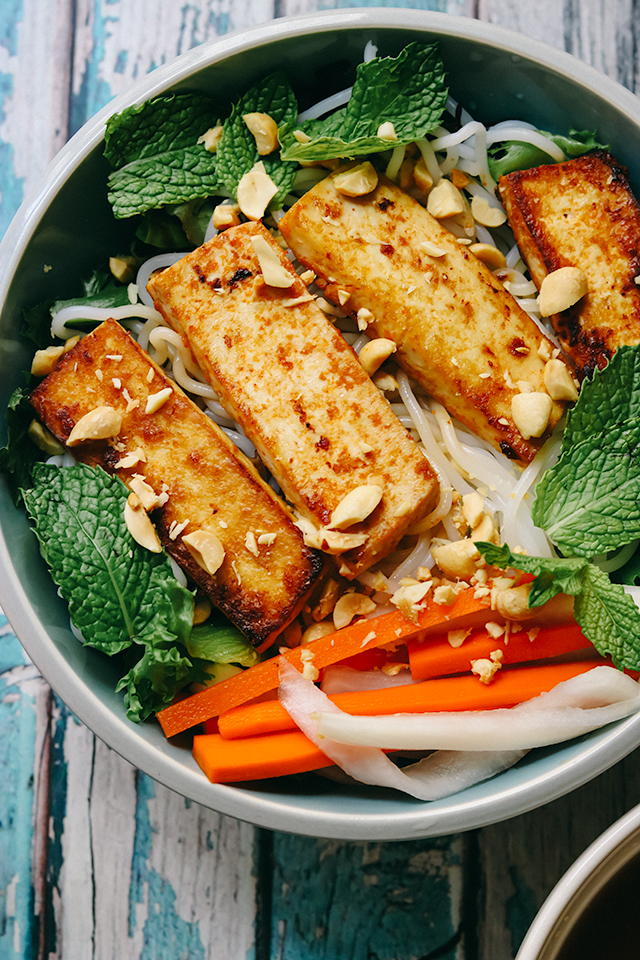 Sitting here trying to type with peach juice dripping down my chin (actually happening, at this very moment…pray for my keyboard) and thinking how happy I am that summer eating is here!!!! I always think I love fall food the best, but no no no.
Summer is where it's at.
In no other season can you make a platter of fresh fruit/vegetables/cheese or pull a slew of cold ingredients from the fridge, plop them together in a bowl, and call it dinner.
I don't know about you, but I am SO into that life right now.
Case in point.
This salad bowl is completely the flavor bomb of my life right now.
It's hard to put into words in a succinct and sensible way because there's so much going here, between the tangy funky quick pickle crunch, spicy umami-full crispy tofu bites, mouth-cooling fresh herb nibbles, and OF COURSE the chewy heart-warming noodle base.
I'm kind of thinking of throwing my peaches on top and calling it breakfast, but wondering if that would be crossing a line?
Hmmmm.
These bowls are loosely inspired by Vietnamese Bún Chay, or vegetarian rice noodle bowls. They are completely adaptable to use what you have on hand, and typically pair thin rice noodles with lettuce, crunchy pickled veggies, a protein, and handfuls of fresh herbs. They're dressed in a vegetarian nuoc cham that is at once sweet, savory, and tart. 
Though these bowls have a lot of a individual components, none of them are particularly hard to make and since these bowls can (and should!) be served cold, you can prep them all ahead of time and store them in the fridge until you're ready to eat.
The nuoc cham and the quick pickles in particular are actually BETTER after they've had a chance to sit so that their flavors can meld together.
The inspiration for this recipe comes from Andrea Nguyen's Vietnamese Food Any Day cookbook, which is a great guide to authentic (but simple!) Vietnamese food. All of her recipes are completely approachable and easy to prepare (hence why they can be made ANY DAY, even on busy weeknights with a child attached to your hip, ASK ME HOW I KNOW). 
One of my favorite things about Asian cuisine is that it has so many dimensions of flavor. There's really an effort made to include a mix of complimenting flavor profiles in each meal, making for a truly satisfying eating experience. 
I love all of the components here, especially when they come together in a single perfect bite, but if I had to choose just one, the sriracha tofu would be my absolute favorite. Despite being cooked with a mere one tablespoon of oil, it is crispy on the outside and infused with SO MUCH FLAVOR all the way through. The sriracha adds a good amount of spice, so feel free to adjust it based on your preferences if you prefer a more mild heat.
Rice Noodle Salad Bowls with Sriracha Tofu and Quick-Pickles
Vietnamese rice noodle salad bowls filled with spicy sriracha tofu, quick pickled veggies, and a vegetarian nuoc cham dipping sauce.
Ingredients
For the sriracha tofu
10 oz super firm tofu
1 tbsp water
1 tbsp Bragg Liquid Aminos
2.5-3 tbsp of sriracha
1 tbsp canola oil
For the vegetarian nuoc cham dipping sauce
½ tsp sea salt
3 tbsp light brown sugar
3 tbsp lime juice
⅔ cup lukewarm water
1.5 tsp soy sauce
For the quick pickles
1 pound daikon radish
6 oz carrot
1 tsp fine sea salt
2 tsp sugar, plus ½ cup
1.25 cups distilled white vinegar
1 cup lukewarm water
For the bowls
one 6-8 oz package of mai fun or 10-12 oz package of dried rice spaghetti
⅔ cup unsalted roasted peanuts, chopped
4 cups baby lettuce mix
½ cup hand-torn fresh cilantro
½ cup hand-torn fresh mint
Instructions
For the sriracha tofu
Cut the tofu crosswise into three thick slabs, then cut each slab crosswise into eight strips.
In a large nonstick skillet, mix together the water, Bragg Liquid Aminos, and sriracha. Add the tofu to the pan and turn several times to coat the slices in the seasoning. Arrange the tofu so that it covers the pan in a single layer. Place the skillet with the tofu over medium heat. Once the seasoning starts to bubble, turn the tofu. Continue cooking until very little liquid remains in the pan, then drizzle the tofu with 1.5 tsp of the canola oil. Flip the tofu pieces again.
Allow the tofu to cook for another 3-4 minutes, adding the remaining 1.5 tsp of canola oil and flipping the tofu again halfway through. Remove from the pan and transfer to a wire rack or paper towel-lined plate to cool.
For the vegetarian nuoc cham dipping sauce
Stir together the salt, sugar, and lime juice. Season to taste for sweetness. Add the water and soy sauce. Taste and re-season as needed.
For the quick pickles
Peel the daikon and cut it into sticks that are about 3 inches long and ¼-inch thick. Peel the carrot and cut it into sticks that are slightly thinner than the daikon sticks.
Place the vegetables in a large bowl and toss with the salt and 2 tsp sugar. Knead for 3 minutes, then let rest for 20 minutes. Rinse and drain the vegetables, pressing to squeeze out any excess water. Transfer to a 4 cup mason jar.
In a medium bowl, whisk together the remaining ½ cup sugar, the vinegar, and 1 cup water until all of the sugar has dissolved. Pour into the jar with the vegetables to cover them in liquid. Allow to sit for at least 1 hour or refrigerate up to 1 month.
For the bowls
Boil the noodles until tender, according to package instructions. Drain, rinse with cold water, and then drain again.
Divide the lettuce among four large soup or pasta bowls. Add the cilantro and mint, reserving some to garnish. Top with the noodles and a small pile of quick pickles.
Add the tofu on top along with the nuts and reserved herbs. Serve the bowls with the nuoc cham on the side for dipping and dressing the bowls.