Smoky and spicy chickpea tinga tacos made with a chipotle pepper and tomato sauce topped with hibiscus-pickled onions and queso fresco.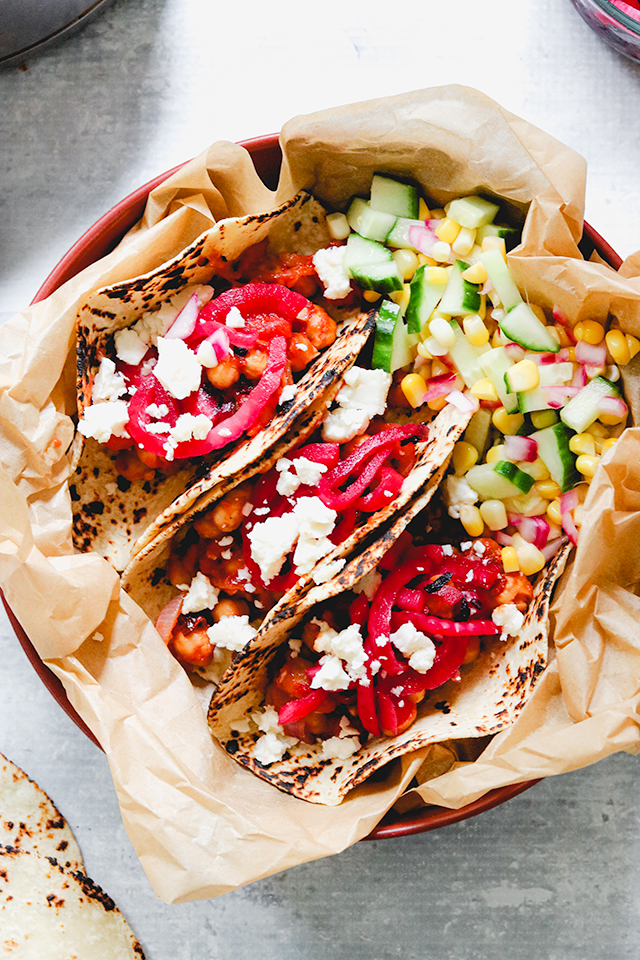 Chickpea tinga tacos are MAKING MY LIFE RIGHT NOW and I may not eat anything else for a whole week. 
Forget Taco Tuesday, we are living the taco every day life around here!!!
And it tastes so good.
What happened was this: I was flipping through one of my Mexican cookbooks, seeing all the saucy meat tacos and thinking to myself, why should THEY have all the fun??
Where are the veggie tacos smothered in rich sauce with complex umami flavors that come together to form a perfect bite??
(But, really. WHERE?!?!)
After a few hours of deep contemplation, I realized I could sit around sulking about the injustice that is the veggie taco options of this world….or I could pull myself up by my bootstraps and make a freaking amazing one myself.
I think we all know where this is going.
Since I am zero percent of an expert on Mexican food, I started by consulting one of my favorite authentic Mexican cookbooks – Nopalito.
Despite the above rant, there really are quite a few good vegetarian recipes in this book and I highly recommend it for vegetarian and omnivorous eaters alike. I have never made anything bad from it and if you're looking to add more actually delicious Mexican food into your life, then it is a must-have.
I used the tinga sauce from this cookbook as a starting point, tweaking it here and there to get it where I wanted it.
At its core, tinga is a chipotle-and-tomato sauce, usually stewed with chicken, served atop a crispy tostada with refried beans and a tangy crema. It's simple, made with only a handful of ingredients, but oh so good.
Here we've replaced the chicken with chickpeas, added handfuls (literally) of garlic, and swapped out chipotles in adobo for dried chipotle peppers. We're serving it taco-style topped with sweet-tart hibiscus-pickled onions and a glorious amount of creamy queso fresco. 
The tinga sauce ends up completely making the dish: it's tart, smoky, spicy, deeply savory, with a hint of sweetness and wraps around the chickpeas like a warm, comforting blanket.
Does that not sound like the best flavor explosion of a taco experience, or what?
We ate it until we ran out of taco shells and then after that, we (and by we, I mean ME because I refused to share) poured the toppings over whatever was left in the pot and ate it burrito-bowl style. 
Can't get enough.
Chickpea Tinga Tacos with Hibiscus-Pickled Onions and Queso Fresco
Smoky and spicy chickpea tinga tacos made with a chipotle pepper and tomato sauce topped with hibiscus-pickled onions and queso fresco.
Ingredients
For the chickpea tinga tacos
2 dried chipotle chiles, soaked in boiling water for 15 minutes
2 tbsp neutral oil
½ red onion, thinly sliced
kosher salt, to taste
8 garlic cloves, minced
15 oz canned diced tomatoes
3 tbsp minced cilantro
2 (15 oz) cans chickpeas, drained and rinsed
12 6-inch corn or flour tortillas
hibiscus pickled onions (recipe below)
crumbled queso fresco
For the hibiscus-pickled onions
½ cup white wine vinegar
2 tsp sugar
3 tbsp dried hibiscus flowers
1 red onion, thinly sliced
½ tsp salt
Instructions
For the chickpea tinga tacos
Remove the dried chiles from their soaking water, destem them, and finely chop the remaining flesh and seeds. Set aside.
In a medium pot, heat the oil over medium heat. Add the onion to the pot and season with salt, to taste. Saute for 10 minutes or until softened. Stir in the garlic and saute until fragrant, about 1 minute. Stir in the chile and the tomatoes. Bring to a boil, then lower to a simmer and cook for 15-20 minutes or until thickened.
Stir in the cilantro and the chickpeas. Heat for a few minutes or until the chickpeas are warmed through. Season to taste with salt.
Serve on warmed tortillas with hibiscus pickled onions and crumbled queso fresco.
For the hibiscus-pickled onions
In a medium bowl, stir together the vinegar, sugar, hibiscus, onion, and salt. Allow to pickle for at least 2 hours. Store in the fridge for 2-3 weeks.
Notes
An Eats Well With Others Original