These clean-out-the-pantry chewy cinnamon white chocolate chip coconut cookies are all the best of the cookie world!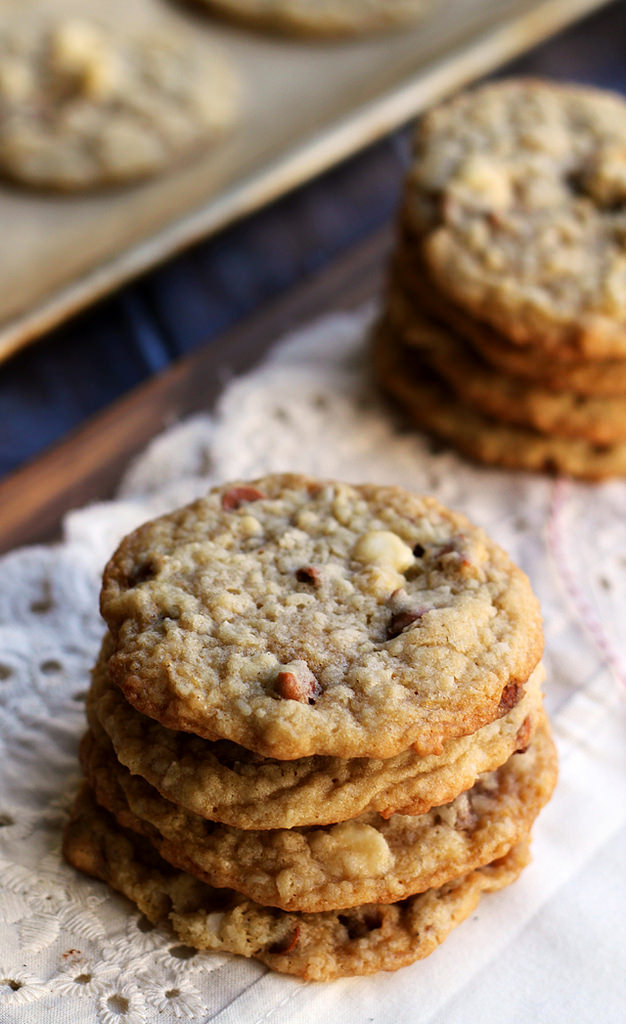 Some days, I measure my life successes in brussels sprouts.
Namely how many I can get the.boy to eat without dry heaving.
Yesterday: five.
I believe that there is a RECORD, up from my previous high score of half a sprout.
Cookies to celebrate?
You truly understand me.
For those of us who happen to have pantries that are chock full of baking chips of various shapes and sizes, along with coconut left over from a failed macaron experiment, these are a godsend.
For those of us who don't….get thee to a supermarket!
Or just work with what you have. I won't judge.
I wouldn't skimp on the coconut, though, because that's what imparts the chew factor. And I know that coconut can sometimes be a controversial ingredient, but the.boy HATES coconut and LOVED these. So don't let that deter you.
Recently, I was lucky enough to receive a crazy awesome package of Graeter's new lines of gelato and "A Little Less Indulgent" ice cream. They sent me six different flavors: caramel truffle, hazelnut truffle, dark chocolate truffle, chocolate chip, mint chocolate chip, and Madagascar bourbon vanilla bean. I ate the majority of them too quickly to put them to any other use, but I knew I wanted to save some for some ice cream sandwich magic. Thankfully for me, these cookies happen to make for the BEST ice cream sandwiches. I went simple with this one, going with the Madagascar bourbon vanilla bean as my filling of choice, but once I get my hands on another pint of the caramel truffle, it is so getting sandwiched. If only I can restrain myself from just going at it with a spoon.
This cookie recipe made a gazillion cookies, so I sent the leftovers to my Leftovers Club partner this month – Mary Kay from Homemade Cravings! Have you guys signed up for The Leftovers Club yet?! Seriously, do it.
Chewy Cinnamon White Chocolate Chip Coconut Cookies
These clean-out-the-pantry chewy cinnamon white chocolate chip coconut cookies are all the best of the cookie world!
Ingredients
1 cup butter, room temperature
¾ cup brown sugar
¾ cup sugar
2 eggs
2 tsp vanilla extract
2 cups all purpose flour
1 tsp baking soda
¾ tsp salt
2 cups unsweetened coconut flakes
5 oz white chocolate chips
5 oz cinnamon chips
Instructions
Preheat oven to 375. Line 2-3 baking pans with parchment paper. Set aside.
In the bowl of a stand mixer fitted with the paddle attachment, cream together the butter and sugars until light and fluffy, about 2-3 minutes. Add in the eggs and vanilla and beat until combined.
In a separate bowl, whisk together the flour, baking soda, and salt. Slowly mix into the batter until combined.
Pour the coconut flakes, white chocolate chips, and cinnamon chips into the batter. Mix until just combined.
Drop the cookies onto the baking sheet in 1½ tbsp scoops, leaving about 1 inch in-between cookies.
Bake for 8-10 minutes or until the edges are starting to brown. Cool for 5 minutes before removing to a cooling rack.