A stunning fruit tart filled with a rich almond cream and juicy plum filling.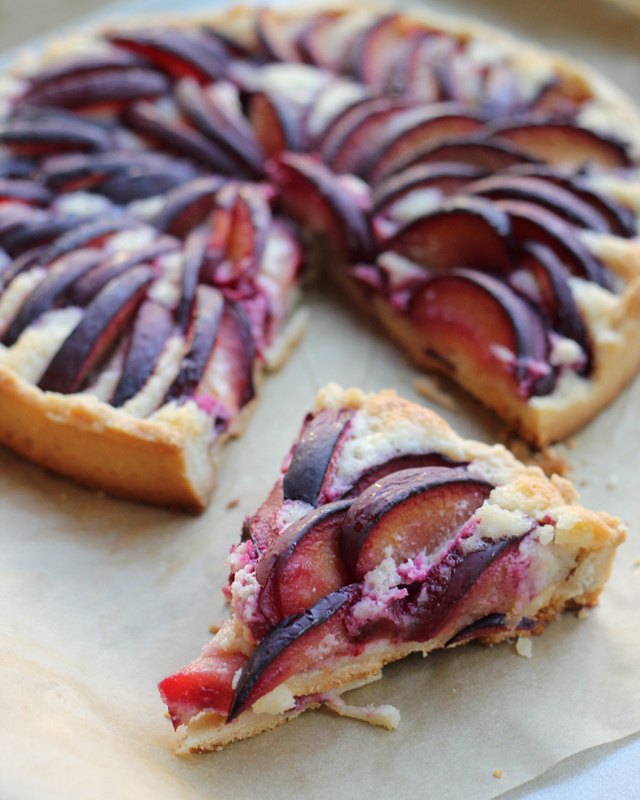 It's only taken a year and six months but apparently The.Boy has only just (as in, last night) gotten really truly comfortable around me.
How do I know?, you ask.
Well because at around 11pm last night as I was exiting the bathroom after brushing my teeth, I stumbled upon him sitting on the couch.
Biting his  toenails.
As if it wasn't even a thing.
In case you didn't realize. IT'S A THING.
A thing that I, personally, don't do at all. But most certainly a thing that one should NEVER do in front of other people who one wants to someday sleep with them again. Just saying.
The best part was that after I shrieked one of my signature piercing shrieks, he rolled his eyes and was all like, "Fine, I'll use a nail clipper". As if he were so put upon and was doing me a huge favor by doing so. I really make life hard for him, don't I?
And then I felt free to inform him that I was glad he wasn't home on Tuesday night and thus didn't get a piece of this tart, because he didn't deserve it.
It's a Thomas Keller masterpiece after all. And is therefore much too classy for those who bite their toenails.
Then I went on to describe it in excruciating detail – juicy bites of sweet-tangy roasted plums enrobed in a luscious almond cream, all of which is encased in a sweet almond cookie-esque crust. So good that a few of my coworkers even went so far as to declare it as their favorite thing I've ever made.
Now if that's not incentive to drop his dirty habit, I'm not quite sure what is. Short of an anti-toenail biting patch. But hopefully we won't have to go that far.
One year ago…Beer, Bean and Cotija-Stuffed Poblanos
Two years ago…Green Posole, Caramelized Onion, Cabbage, and Sweet Potato Chowder with Rosemary
Three years ago…Spicy Pork with Cinnamon, Winter Squash and Raisins
Four years ago…Ginger-Soy Grilled Steak and Lemon-Ginger Sweet Potatoes 
Plum and Almond Cream Tart
A stunning fruit tart filled with a rich almond cream and juicy plum filling.
Ingredients
For the pate sucree
375 grams (2⅔ cups) all purpose flour
46 grams (1/4 cup+2½ tbsp) + 94 grams (3/4 cup+1 tbsp) powdered sugar, divided
47 grams (1/4 cup+3 tbsp) almond flour
225 grams (8 oz) unsalted butter, at room temperature
56 grams (3½ tbsp) eggs
For the almond cream
73 grams (1/2 cup+2½ tbsp) almond flour
7 grams (2¼ tsp) all purpose flour
73 grams (2.5 oz) unsalted butter, at room temperature
73 grams (1/2 cup+2 tbsp) powdered sugar
44 grams (2 tbsp+2 tsp) eggs
For the tart
½ recipe pate sucree
1 recipe almond cream
4-5 medium plums or pluots
Instructions
For the crust, place all the flour in a medium bowl. Sift the almond flour and 46 grams of powdered sugar into the bowl, breaking up any lumps that had formed. Whisk to combine.
Put the butter in the bowl of a stand mixer fitted with the paddle attachment. Beat it on low speed until it is the consistency of mayonnaise. Sift in the remaining powdered sugar and pulse to combine, then beat on medium-low for 1 minute or until combined and fluffy. Scrape down the bowl.
Add the dry ingredients to the mixing bowl in two additions, mixing each time until just combined. Scrape to incorporate any dry ingredients. Mix the eggs in on low speed until just combined.
Transfer the dough to a cutting board or work surface. Use the heel of your hand to smear it and work it together. Divide the dough in half and form each into a 4x6 rectangle. Wrap each in plastic wrap. Store one in the freezer to use for another tart or pastry and store one in the refrigerator until firm, at least 2 hours.
Roll out the dough by putting it between two sheets of parchment paper and rolling it into a round that is about 11 inches in diameter. Fold the dough over the rim of an 8-inch Tart Ring that is sitting on a parchment lined baking sheet.. Don't worry if it cracks or comes a part a bit, just piece it back together with any overhanging dough.
Remove the excess dough and freeze for 30 minutes or refrigerate for an hour.
Meanwhile, prepare the almond cream. Sift the almond flour into a medium bowl, breaking up any lumps. Whisk together with the all purpose flour.
Put the butter in the bowl of a stand mixer fitted with a paddle attachment and mix on medium-low, until it is the consistency of mayonnaise. Sift in the powdered sugar and mix on low until incorporated, then increase the speed to medium-low and mix until fluffy, 2-3 minutes. Scrape down the bowl.
Add the almond-flour mix to the stand mixer in two additions, pulsing until just incorporated. Scrape the bottom of the bowl.
Add the eggs and mix on low speed until combined and smooth. Transfer to a bowl and cover with plastic wrap. Refrigerate until cold, about 2 hours.
Preheat oven to 350.
Spoon the almond cream in the center of the now chilled tart dough and spread so that it fills the tart crust.
Cut the plums into ⅛-inch thick wedges. Arrange a ring of plum slices around the outer edge of the crust so that they are facing the same direction and overlap by about two-thirds. Continue with inner, concentric layers, until the center of the tart is filled with plum slices.
Bake for 45-60 minutes, or until the crust is well browned, the filling is set, and the plums are soft and juicy. Allow to cool completely before serving.
Notes
Adapted from
Bouchon Bakery