Disclosure: This post was sponsored by La Pasta Inc, makers of the perfect pasta for all of your all natural fresh pasta needs. With fun and unique flavors that you won't find anywhere else, as well as Italian classics, they produce a pasta for everyone, including vegan and gluten-free options! As always, my thoughts and opinions are my own.
Pasta salad gets a healthy twist just in time for summer! This veggie-loaded roasted string bean, tomato, basil, and mozzarella ravioli salad is feel-good warm weather food.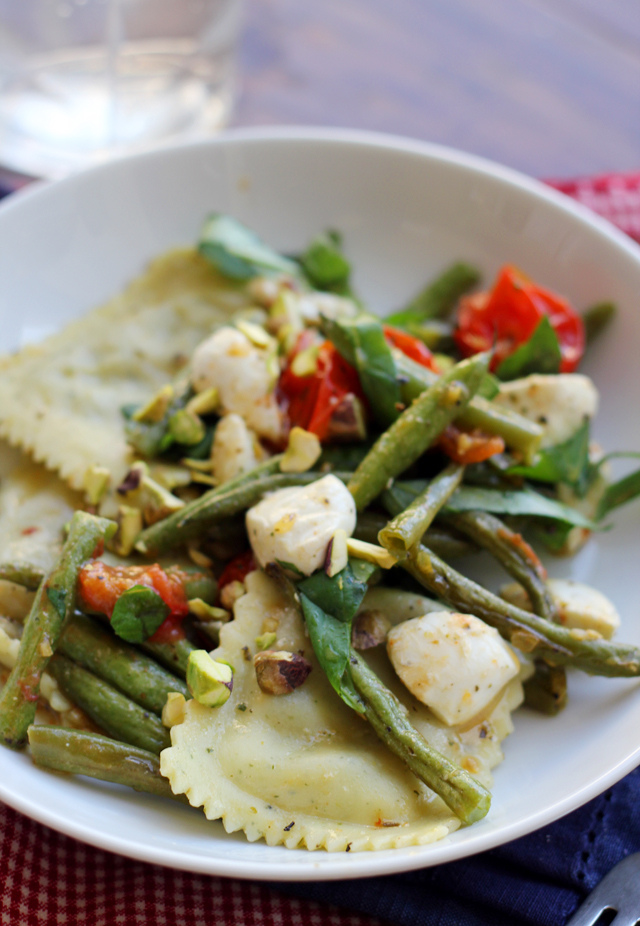 Pasta salad before Memorial Day.
Things are getting all sorts of kooky around here.

Do people still follow these Memorial Day/Labor Day rules anymore?Like, If I wear white jeans around the Upper East Side tomorrow, will there be a Pretty Woman-esque situation in which all sorts of fashionable establishments will refuse to wait on me because I'm just all kinds of wrong?
On the flip side, if I wear white jeans while toting around this salad maybe the other pedestrians will think I'm so off the wall that I'll finally get some personal space.
A girl can dream.
What's more likely is that they'll stick their hands into my salad bowl as they walk on by and pluck a ravioli out for the road.
To be honest. I wouldn't blame them.
I'm ready to kick pasta salad season off yesterday if it means I can get more of this ravioli salad into my life.
A healthier alternative to the mayo-laden mess normally served when temps hit above freezing, it is chock full of roasted veggies and fresh flavor so it won't weigh you down as you go about your day. The classic tomato/basil/mozzarella trio gets a bit of an updated feel to it with roasted tomatoes, spicy string beans, and a sprinkling of toasty pistachios on top. It's kind of the perfect bite, made all the better because you can feel good about eating it.
I am extra excited about this ravioli salad because it uses my new favorite brand of pasta – La Pasta Inc – a producer of all-vegetarian, all natural fresh pastas. They feature such crazy fun flavors, like the Sweet Potato, Quinoa, and Kale ravioli featured in this recipe, as well as all sorts of vegan and gluten-free options. Not only could I pronounce EVERY INGREDIENT on the ravioli ingredient list (BIG plus for me), but I was really blown away by it's great flavor, with hints of sweet cheesy savory-ness in every bite.
If you want your pasta salad to be the buzz of the town this year (and not just because you made it a few weeks too early), then it needs to have some La Pasta pasta in it, so look for it in a store near you or try to locate where to find it using their store locator! No matter which of their myriad varieties you choose, you won't be disappointed. I pretty much guarantee it.
Now if you'll excuse me, I have to go dig out my white pants. #LivingOnTheEdge
Roasted String Bean, Tomato, Basil, and Mozzarella Ravioli Salad
Pasta salad gets a healthy twist just in time for summer! This veggie-loaded roasted string bean, tomato, basil, and mozzarella ravioli salad is feel-good warm weather food.
Ingredients
2 tbsp olive oil
1 lb string beans, trimmed
1 pint cherry tomatoes
1 tbsp Tuscan or Italian seasoning
1 tsp red pepper flakes
salt and black pepper, to taste
½ lb sweet potato, quinoa, and kale ravioli
½ lb mozzarella balls (bocconcini), quartered
½ cup thinly sliced basil
¼ cup pistachios, toasted
Instructions
Preheat oven to 400.
In a large bowl, toss together the olive oil, string beans, cherry tomatoes, Tuscan seasoning, red pepper flakes, and a hearty pinch of salt and black pepper. Spread out on a parchment-lined baking sheet and bake until string beans are starting to brown and tomatoes are starting to burst, about 20 minutes. Set aside.
In the meantime, bring a pot of salted water to a boil. Cook the ravioli in the boiling water according to package directions. Drain.
In a large bowl, toss together the roasted vegetables, ravioli, mozzarella, and basil. Season to taste with salt and black pepper. Serve topped with the pistachios.
Notes
An Eats Well With Others Original
Nutrition Information
Serving size:
¼ of recipe