Apricot season is here! We're celebrating with this vanilla apricot tart – filled with a decadent pastry cream and sticky sweet tart roasted apricots, it is truly a celebration.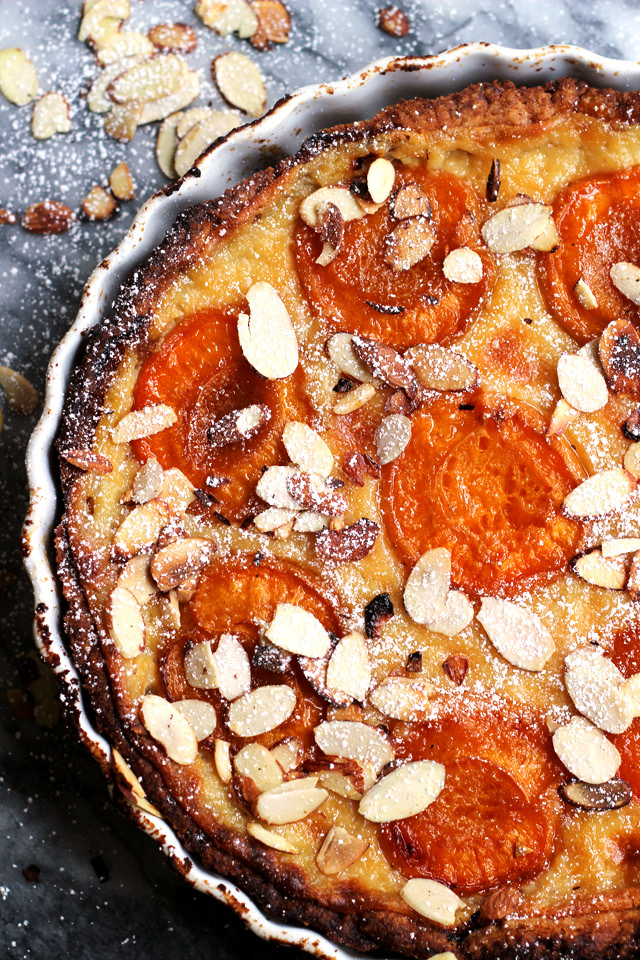 You know how "they" say that watched pots never boil?
Well I'm starting to think the same can be said for fruit flies skydiving into a jar of vinegar.
YES we have an infestation, and I honestly didn't realize how bad it was until I went to take out the garbage last night and was bombarded.
Not my finest (or most well-spoken) moment.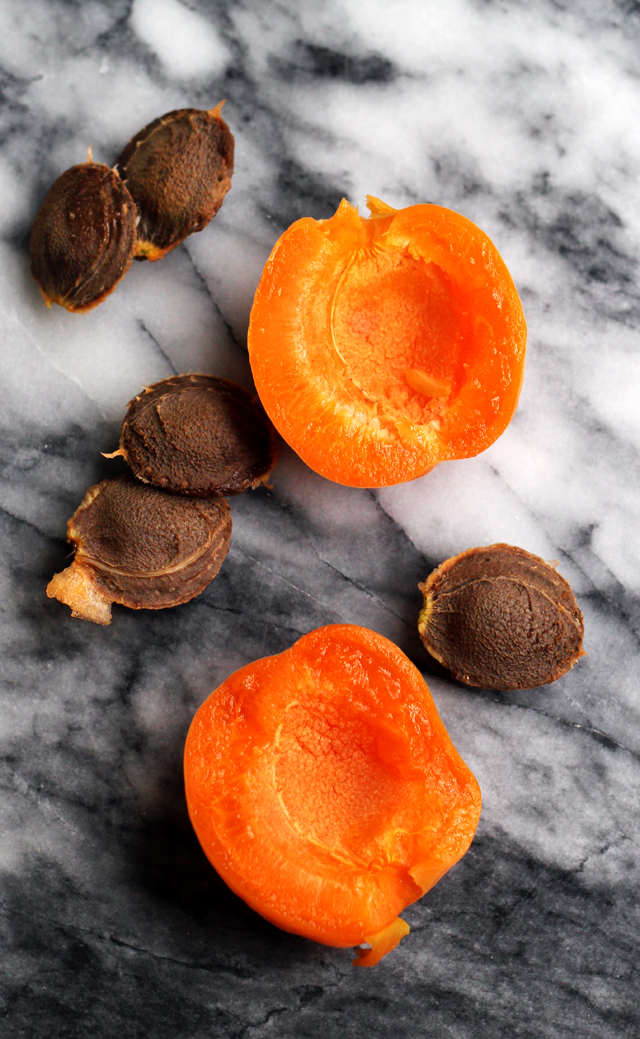 So we're doing the "paper-rolled-into-a-funnel-and-stuck-in-a-Mason-jar-of-apple-cider-vinegar" trick. And it's working! Kind of.
The flies fly in and appear to be stuck/too stupid to find their way out…but then they refuse to drown in the vinegar! I can't understand it. Professor Google swears they should be so undeniably attracted to its scent that they should be belly up within minutes.
Ummm it's been hours….and nothing.
So now I'm on a mission to eat/bake with all of our fruit…because if they have nothing else to eat then they'll have to go for the vinegar. That's just Survival 101.
Starting, obviously, with this vanilla apricot tart. Apricots and I have a "moment" at around this time every year. They just look so vibrant and seem like they should be so insanely sweet so I buy them by the armful. Then some are, some aren't, and the rest go into a sweet treat because I can't handle that sort of fruit Russian roulette anymore.
This year's tart is definitely a looker, if I do say so myself. But she's more than just a pretty face.
The apricots' flavor deepens in the oven so they're simultaneously intensely sweet, tart, and caramelized. Paired with a vanilla pastry cream custard, the most magical of pastry crusts, and some toasty almond crunch, each bite is a revelation.
The consequent fruit fly extermination? Just an added bonus.

Vanilla Apricot Tart
Apricot season is here! We're celebrating with this vanilla apricot tart - filled with a decadent pastry cream and sticky sweet tart roasted apricots, it is truly a celebration.
Ingredients
For the dough
2 cups all purpose flour
¼ cup sugar
½ tsp baking powder
¾ tsp kosher salt
1 cup cold unsalted butter, cubed
¼ cup water
For the pastry cream
3 tbsp unsalted butter
2 tsp vanilla extract
¾ cup whole milk
¾ cup heavy cream
pinch of salt
1½ tbsp cornstarch
5 tbsp sugar
1 large egg
1 large egg yolk
For the tart
8 rice apricots, pitted and halved
2 tbsp sugar
2 tbsp brown sugar
¼ tsp kosher salt
2 tbsp unsalted butter, melted
¼ cup toasted sliced almonds
powdered sugar, for serving
Instructions
For the crust, pulse together the flour, sugar, baking powder, and salt in the bowl of a food processor, just to combine. Add in the butter and pulse until pea-sized pieces form. Slowly add in the water and pulse just until the dough starts to come together.
Dump the dough onto a piece of plastic wrap and pat into a disc. Wrap tightly and refrigerate for at least an hour.
Meanwhile, for the pastry cream, put the butter and vanilla in a bowl and set a fine-mesh sieve over it. Set aside.
In a medium saucepan, heat the milk, heavy cream and salt over medium heat. In a separate bowl, whisk together the cornstarch, sugar, egg, and egg yolk. When the cream begins to boil, lower the heat. Add the hot milk mixture to the egg mixture a quarter cup at a time, stirring constantly. Pour the hot egg mixture into the saucepan. Increase the heat to medium and whisk constantly until thickened, about 1-2 minutes.
Remove from the heat and immediately strain into the bowl with the butter. Whisk the butter into the pastry cream until it is completely melted and incorporated. Cover with plastic wrap, pressing it directly onto the surface of the cream and refrigerate until cool.
When the dough is ready, roll it out on a lightly floured surface to a 15-inch square. Gently press into an 11- or 12-inch tart pan. Trim any excess dough. Freeze for at least one hour.
Heat oven to 350F.
Line the inside of the shell with parchment paper and fill with pie weights or baking beans. Bake for 35 minutes, until the edges start to brown. Remove the parchment and weights and return to the oven. Bake until the whole shell is browned, 15-20 minutes. Remove from the oven and let cool.
When the shell is cooled, spread the pastry cream over the bottom. Toss the apricots with the sugar, brown sugar, salt, and butter. Arrange the apricots on the pastry cream cut side up.
Bake for 1 hour and 25 minutes, or until the pastry cream looks set and the fruit is browned. Allow to cool. Sprinkle with toasted almonds and powdered sugar before serving.
Notes
Recipe from
Huckleberry: Stories, Secrets, and Recipes From Our Kitchen
More stone fruit desserts: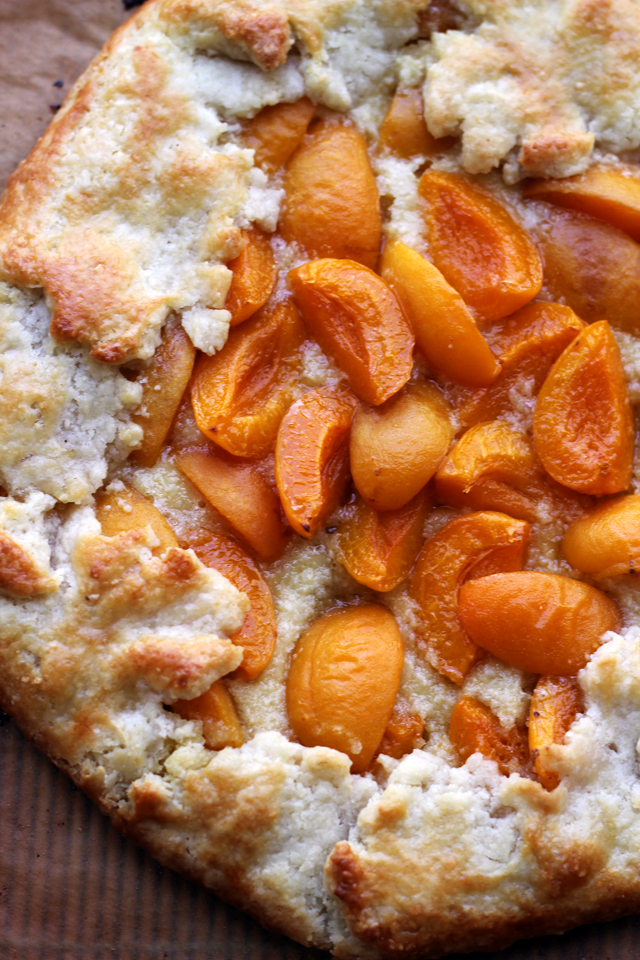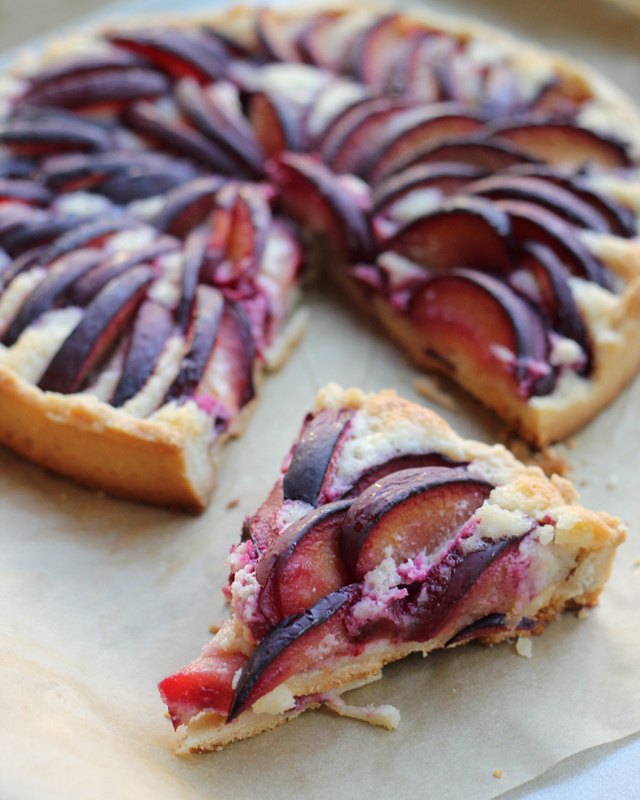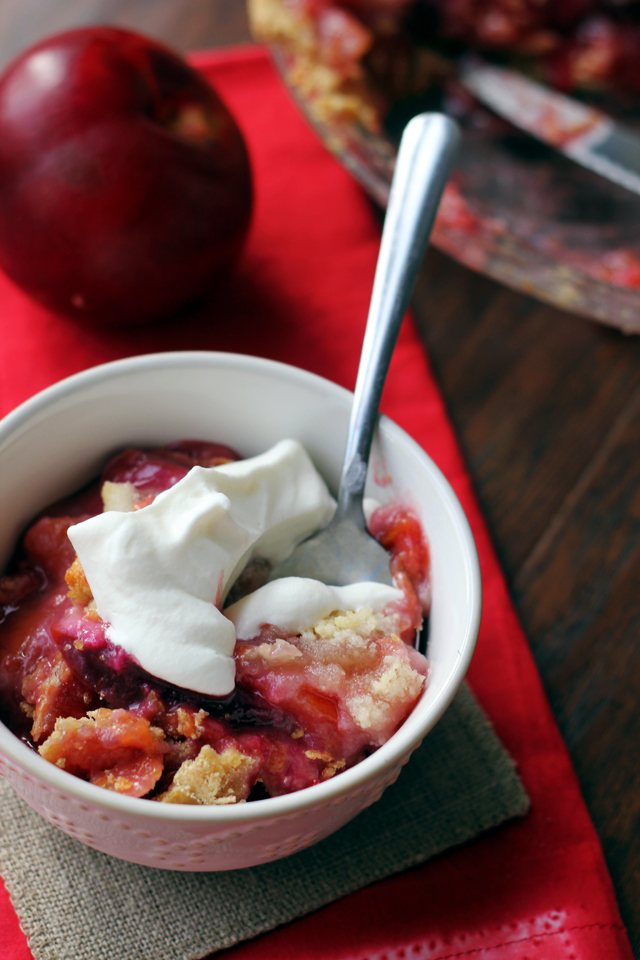 From Around the Web:
Apricot Cream Cheese Babka from Brown-Eyed Baker
Five-Spice Plum Cake from Hungry Rabbit NYC
Mini Nectarine Vanilla Bean Pies from Dessert For Two
Apricot Cobbler with Buttermilk Biscuits from Snixy Kitchen
Cherry-Plum Port Crumble from Bakers Royale