Sweet, tart, and super juicy rhubarb raspberry lattice pie made with an extra flaky all butter pie crust.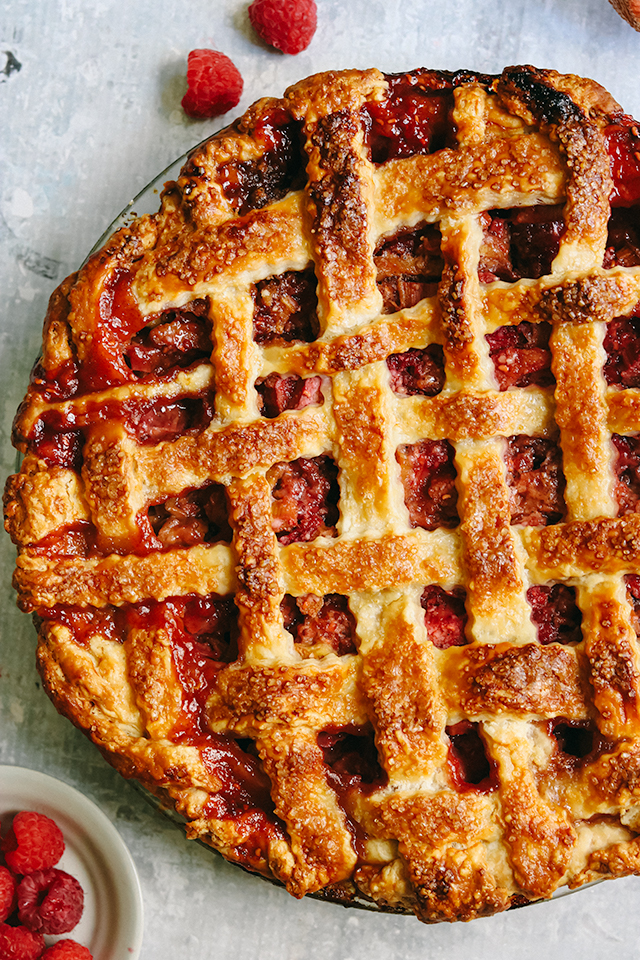 In the depths of last spring, when I was encased in fear yet still deliriously optimistically hopeful that things would be "back to normal by the fall!" (ha, how naive), when everyone else was playing with sourdough and baking excessive amounts of banana bread…I was making pie.
A lot of pie.
Like, too much pie for one family of two and a half ("the half", by the way, claims to not even like pie or any dessert that is not a brownie – yes I'm having her DNA tested) to have reasonably consumed over a five month period. And yet, we did. OH WE DID.
I won't tell you how many pie recipes I've been holding back from you since then, but it's enough that someone should probably stage an intervention.
Or you could just get really excited because there is a lot of really good pie heading your way in the near future.
If you know me at all or have been following this blog for any length of time, you probably know that in addition to being a pie addict, I'm just a tad bit obsessed with rhubarb. It's one of the few vegetables that we bake with and eat as a fruit (usually it's the other way around…tomatoes, cucumbers, zucchini) and is so fabulously tart that acts as the perfect foil to sweeter ingredients.
I've used it in cakes, galettes, blondies, shortcakes, popsicles, crumbles, breakfast, and of course pie. (Here's the full compendium of past Eats Well With Others rhubarb recipes, if you're interested.) What I've learned is that I love it all the ways, but also that there's always room for more.
As mentioned earlier, rhubarb is usually paired with other, sweeter ingredients so that the two can balance each other out – add the yin to the other's yang. 
Here we're kind of going against that and mixing tart raspberries with even more tart rhubarb, but with enough sugar and the warm spices of cinnamon and cardamom it all comes together in the end. 
Top it with a dollop of vanilla bean ice cream and you've really got something good going on.
I used my favorite all-butter crust for this recipe, which is that from the Four & Twenty Blackbirds bake book. It's made by hand with just a hint of sugar and apple cider vinegar that helps to flavor the dough, but also to soften it and make it easier to work with. This dough is a dream and whenever I come back to it after trying another recipe, it's like a huge sigh of relief to dig into it because working with it is just so effortless. 
When working with double crusts, I like to roll out and freeze the bottom crust from the night before. Not only does this make for quick pie prep the next day, but it also protects against soggy bottoms or crust shrinkage. You can do this with single crust pies as well and it will save you a lot of time and stress, and also get you one step (and a few hours) closer to eating pie…and that's always a good thing.
Rhubarb Raspberry Lattice Pie
Sweet, tart, and super juicy rhubarb raspberry lattice pie made with an extra flaky all butter pie crust.
Ingredients
For the crust
2½ cups all purpose flour
1 tsp kosher salt
1 tbsp sugar
½ lb (2 sticks) cold unsalted butter, cut into ½-inch pieces
1 cup cold water
¼ cup cider vinegar
1 cup ice
For the filling
1 lb fresh rhubarb, cut into ½-inch pieces
2 cups raspberries
⅔ cup sugar
⅔ cup packed dark brown sugar
3 tbsp ground tapioca or arrowroot
½ tsp ground cinnamon
¼ tsp ground cardamom
½ tsp kosher salt
1 large egg
dash angostura bitters
egg wash (1 large egg whisked with 1 tsp water and a pinch of salt)
demerara sugar, for finishing
Instructions
For the crust
Whisk together the flour, salt, and sugar in a large bowl. Add the butter to the flour mixture and toss to coat. Using a pastry blender, cut the butter into the flour until only pea-sized pieces of butter (or smaller) remain.
In a separate small bowl, combine the water, cider vinegar, and ice. Sprinkle 2 tbsp of the ice water mixture over the flour-butter mixture. Toss with your hands until fully incorporated. Add more of the ice water, 1-2 tbsp at a time, using your hands to mix. Add just enough of the water mixture so that the dough comes together into a ball. Split the dough in half and shape each half into a flat disc. Wrap in plastic wrap and refrigerate for at least 1 hour.
Roll out one of the pie discs into an 11-inch round. Use this to line a 9-inch pie plate leaving a 1-inch overhang around the edges. Wrap in plastic wrap and freeze overnight.
The next day, roll out the second pie crust disc into an 11-inch round. Using a pizza cutter, cut into long thin strips for the lattice. Place back in the refrigerator to chill for at least 30 minutes while you prepare the filling.
For the filling
In a large bowl, combine the rhubarb, raspberries, sugars, tapioca, cinnamon, cardamom, and salt. Toss to combine. Stir in the egg and bitters, mixing until well combined. Pour the filling into the chilled pastry shell, then arrange the lattice on top and crimp as desired.
Place the pie in the refrigerator and chill for 10-15 minutes. Meanwhile, heat oven to 425F.
When ready to bake, brush the top of the pastry with the egg wash and sprinkle with demerara sugar.
Place on a foil or parchment-lined rimmed baking sheet on the lowest rack of the oven. Bake for 20-25 minutes or until starting to brown. Decrease the oven temperature to 375F and move the pie to the center rack in the oven. Bake for another 30-35 minutes, or until the juices are bubbling all throughout the pie.
Remove from the oven and cool completely on a wire rack, at least 2-3 hours. Slice and serve.