An almond raspberry celebration cake that is perfect for spring! Layers of almond butter cake are filled with raspberry jam and a mascarpone buttercream – as pretty as they are delicious.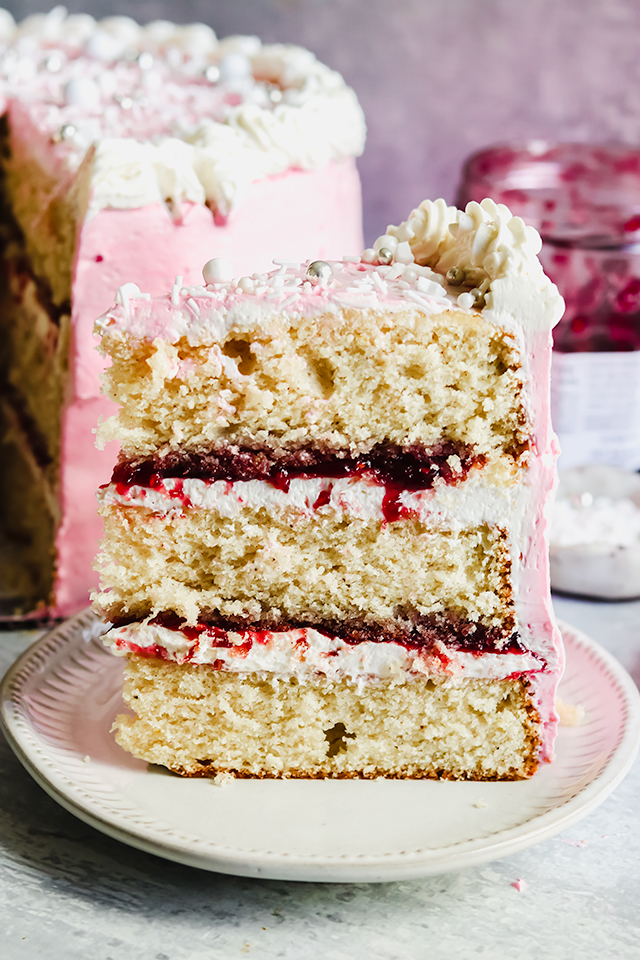 The period between Valentine's Day and the Fourth of July is basically just one nonstop birthday celebration in our family. I kick things off in February, then my husband, his grandmother, and my sister have birthdays in March, Remy and my cousin are in April, my brother is in May and my mother is in June. There are probably even some I'm forgetting because I am horrible at keeping track of the birthdays in my husband's family.
Considering that I usually end up baking at least THREE cakes for Remy (one for her actual birthday, one for each side of the family's celebration, and *tentatively* one for an actual friend party this year) and then one for at least every one of the aforementioned individuals…that is a lot of cake.
We won't even get into the fact that Easter falls somewhere in there too and requires a whole other set of "traditional" and "necessary" baked goods. (Kind of thrilled that baby boy coming any day will excuse us from any and all obligations this year, not gonna lie.)
Basically, it's a lot, especially for someone with extreme decision-making issues when it comes to celebration cakes. It's not rocket science BUT not only do you want the cake to taste and look good (obviously) but you also want it to be perfectly suited for the birthday recipient. 
So this year I did what any normal shameless parent would do and passed off the task of cake decisions to my five year old. What could possibly go wrong?
Well let's just say her taste has improved a LOT from last year's "seaweed cake" suggestion, because this almond raspberry celebration cake from the Icing On the Cake cookbook was what she chose for my birthday this year and it was divine. Layers of fluffy almond butter cake filled with sweet mascarpone swiss meringue buttercream and raspberry jam – what is there not to love?
Probably the best way I can describe this cake is that it is like wedding cake, except actually good. Many many wedding cakes I've had look gorgeous but end up being dry and kind of one-note in terms of flavor (and that note is just SWEET).
That is not so for this beauty.
The cake layers themselves are incredibly moist and plush with a hint of infused lemon zest, a pinch of cinnamon, and robust vanilla and almond flavors shining through. The batter is made from a mixture of cake and almond flour, which help it to stay light and create a really soft texture. 
A mascarpone buttercream that is, at it's core, really a vanilla swiss meringue buttercream is used to fill and frost the cake. Though they take more effort (and are more finicky) than American buttercream, I love love love swiss meringue buttercreams for their silky smooth texture and subtle sweetness. The mascarpone infusion in this one adds a hint of tang for a more complex flavor than just a pure vanilla buttercream would have. 
Raspberry jam is used in-between each layer for some tart fruity sweetness that compliments the flavors of the cake and frosting beautifully. I recommend using a good quality jam for this (I used Bonne Maman, but Stonewall Kitchen or Sarabeth's jam are other great options) because the flavor does come through a lot. The original recipe calls for seedless jam, but ours had seeds and we didn't mind them in the finished cake at all. 
If you own the Icing On The Cake book (and you should!! it is my go-to for celebration cake inspiration) then you'll notice that the recipe for this cake actually is for a multi-tiered wedding-style cake. I pared it down to only make the 8-inch cake, since it was just the three of us eating it, but if you're looking to make it for a big gathering then it is worth checking out the original recipe in the book. I reduced the buttercream recipe accordingly and only had just a tad bit extra, so you'll notice that difference between the recipe below and the recipe in the book as well. 
Almond Raspberry Celebration Cake
An almond raspberry celebration cake that is perfect for spring! Layers of almond butter cake are filled with raspberry jam and a mascarpone buttercream - as pretty as they are delicious.
Ingredients
For the cake
2½ cups (325 g) cake flour
2 tsp baking powder
½ tsp baking soda
½ tsp kosher salt
½ tsp ground cinnamon
½ cup (60 g) almond flour
1 cup (225 g) unsalted butter, room temperature
1¾ cups (350 g) sugar
1½ tsp finely grated lemon zest
1 tsp vanilla bean paste
¾ tsp almond extract
4 large eggs
1 cup buttermilk
For the mascarpone buttercream
6 egg whites
2 cups (400 g) sugar
⅔ tbsp vanilla bean paste
½ tsp almond extract
2½ cups (564 g) unsalted butter, room temperature
1 cup (230 g) mascarpone
¼ tsp ground cinnamon
pinch of salt
To assemble and decorate
⅔ cup raspberry jam
sprinkles
Instructions
For the cake
Heat oven to 350F. Grease three 8-inch cake pans with baking spray. Line with parchment paper and set aside.
In a large bowl, sift together the cake flour, baking powder, baking soda, salt, and cinnamon. Stir in the almond flour. Set aside.
Combine the sugar and lemon zest in a small bowl. Rub together with your fingers until moist and fragrant.
Cream together the butter and sugar/lemon mixture in the bowl of a stand mixer fitted with the paddle attachment on medium-high speed for 5 minutes. Stop the mixer and scrape down the sides of the bowl.
Decrease the mixer speed to medium-low and add in the vanilla and almond extract. Mix to combine.
Add in the eggs, one at a time, mixing well after each addition. Scrape down the sides of the bowl.
Decrease the mixer speed to low and add in the flour mixture in three batches, alternating with the buttermilk. Mix until just combined.
Divide the batter among the prepared baking pans. Bake for 25-28 minutes or until a toothpick inserted in the center comes out clean. Allow to cool in the pans on a wire rack for 10-15 minutes, then remove from the pans and allow to cool completely.
Once cool, level the tops of the cakes as needed.
For the mascarpone buttercream
Combine the egg whites and the sugar in a clean stand mixer bowl. Whisk until just combined. Bring an inch or two of water to a simmer in a small saucepan. Place the mixer bowl on top of the pan to create a double boiler. Heat the egg white mixture, stirring occasionally, until it reaches 160F on a candy thermometer.
Remove from the heat and place the mixer bowl on the stand mixer. Fit the stand mixer with the whisk attachment and mix on high speed for 8-10 minutes or until the outside of the bowl has cooled to room temperature.
Decrease the mixer speed to low and add in the vanilla and almond extracts. Add in the butter 1-2 tablespoons at a time, only adding the next batch once the previous one has been incorporated. Add in the mascarpone. Switch from the whisk attachment to the paddle attachment. Add in the cinnamon and salt. Mix on medium-high speed until smooth, about 3-5 minutes.
To assemble and decorate
Place one of the cake layers on a cake board. Fill a piping bag that is fitted with a plain round tip with the buttercream. Pipe a ring around the edge of the cake and fill it in with ¾ cup of the buttercream. Spread about ⅓ cup of the jam on top.
Top with a second cake layer and repeat. Place the final cake layer on top.
Crumb coat the cake with the buttercream and chill in the refrigerator for 15 minutes.
Tint the remaining buttercream any color you like, leaving 1 cup plain white for the piped edging on top, if desired.
Smoothly frost the cake with the colored buttercream.
To create a shell border, fill a piping bag fitted with a small star tip with the reserved white buttercream. Pipe shell borders around the edges. Decorate as desired.