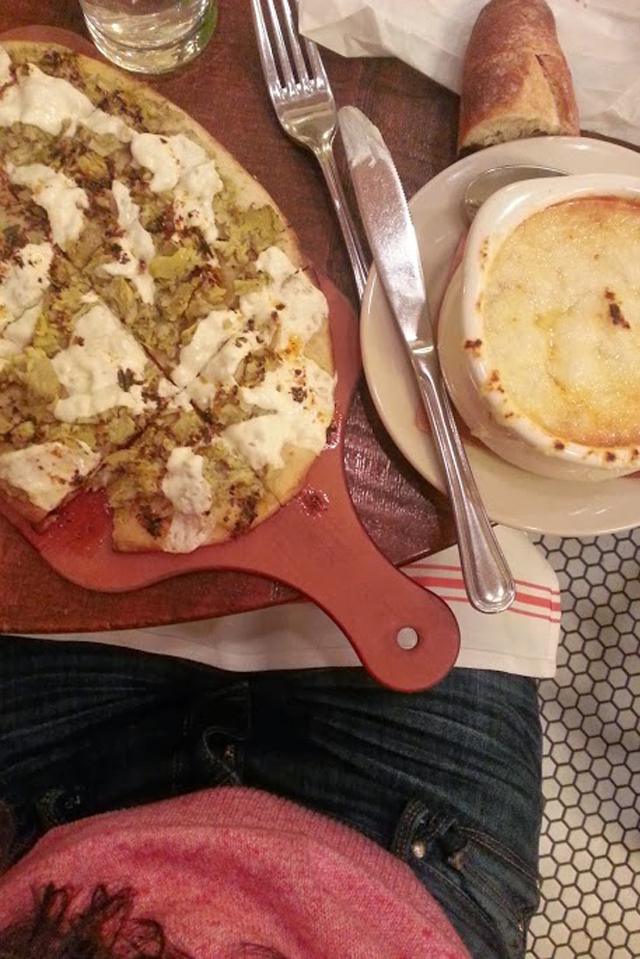 1. You guys need to remind me that from now on, I probably want to only order off the appetizer menu when I go out to eat. That's where all the fun stuff lives. Like, for instance, the artichoke chili flatbread and cheddar cheese SMOTHERED tomato soup seen above that I got when I went to The Smith with Heather, Bea, and Susan last week.
2. But really, why can't all my lunches be covered in broiled cheese?
3. I bought this Red Velvet Emulsion
 to use in all my future red velvet cakes because my baking idol said I should. Anyone ever use it? It gets very mixed reviews on Amazon and very rave reviews on King Arthur Flour. I'm nervous. Though I feel like so long as I smother whatever I bake with it, with cream cheese frosting, everything will be okay.
4. Bedazzled pumpkins as wedding centerpieces. Just try to talk me out of it.
5. If we somehow managed to ship all the East Coast snow over to California…would it end the drought?
6. A certain someone thought it would be a good idea to watch Fox News after the State of the Union address. Uh, buzzkill. I think I lost a few brain cells because of it.
7. One of my coworkers is moving to Saudi Arabia to start his own lab at the end of the week. We might have bought him feminist propaganda
 as a going away present(/passive aggressive disapproval of his leaving).
8. I refuse to be surprised if it doesn't make it through Saudi Arabian Customs. (Except that I will probably be irate in a very vocal way.)
9. We met with the third and final caterer this weekend. If I don't have a decision for you by next week, then please send tequila shots.
10. My first Stitch Fix came! Honestly, none of these were things I would have chosen for myself. But I did keep one item. Guess which! And ignore the photo that's only of my chest area. This is what I happens when I tell the.boy to take pictures for me.