These homemade broccoli and American cheese-stuffed mini quiches are the perfect from-scratch Superbowl party appetizer! This is a Sponsored post written by me on behalf of Cooper Cheese for SocialSpark. All opinions are 100% mine.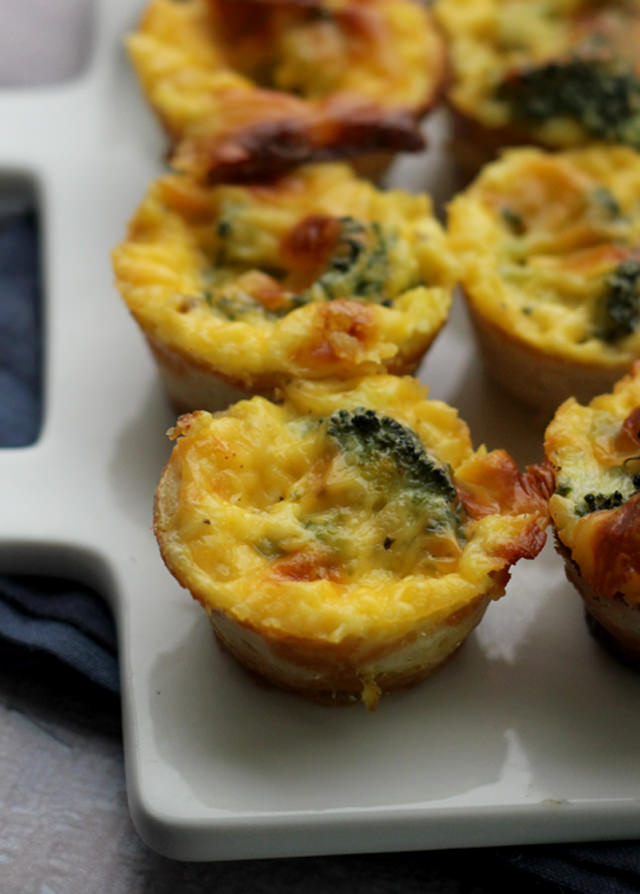 You should probably back away from the refrigerator.
Oh, don't think I didn't see you rummaging around in your freezer making sure you had one of those weirdo artificial-ingredient-nightmare boxes of frozen appetizers in there for the Big Day this Sunday.
We are not (and I say that with a capital N-O-T) going the prepackaged route this Superbowl Weekend.
It's going to be homemade or the highway.
That's my life motto, and I'm forcing it upon you sticking to it.
Let's get this party started with broccoli cheese mini quiches, shall we?
A staple in any freezer aisle boxed mix, these are totally dependable as a party app. I mean…who doesn't love a two-bite treat of cheesy deliciousness encased in a buttery flaky pastry crust?
And who doesn't love it even more when it's made of totally recognizable pantry ingredients?! Exactly.
For my first foray into mini quiche territory, I chose to go the broccoli+American cheese route because it is one of my favorite omelet combos, and what is a quiche really, but an omelet in pie crust clothing?
Rhetorical question.
Anyway, these were pretty perfect if I do so say myself, mostly because the.boy and I both loved them. Which is big for us since I'm usually all like "Uggghhhh footballl foooood" and he is all like "Ugggghhhhh greeeennnn veggetablllesss". But these were a best of both worlds situation.
And if that's not a case for getting these on your superbowl table ASAP…then I'm not really sure what is.
These quiches were made using Cooper deli cheese! For more information about their delicious product and to find more cheese-stuffed inspiration, you can find them on Facebook, on Twitter, and on Pinterest!
Broccoli Cheese Mini Quiches
These homemade broccoli and American cheese-stuffed mini quiches are the perfect from-scratch Superbowl party appetizer!
Ingredients
For the pie crust
1¼ cups all-purpose flour
½ tsp coarse salt
½ tsp sugar
½ cup chilled unsalted butter, cut into small pieces
2 tbsp to ¼ cup ice water
For the mini quiches
1 small head broccoli florets, chopped into small pieces
coarse salt and freshly ground black pepper
½ cup milk
½ cup heavy cream
2 large eggs
1 large egg yolk
3-4 oz shredded Cooper Deli American cheese
Instructions
To make the pie crust, in the bowl of a food processor, pulse together the flour, salt, and sugar. Add in the butter and process until the mixture resembles coarse meal, about 10 seconds. With the processor running, add in the cold water tablespoon by tablespoon until the mixture starts to come together.
Take the dough and pat it into a thin disk. Wrap in plastic wrap and refrigerate for at least an hour or overnight.
In the meantime, heat a splash of water in a medium pan. Add in the broccoli florets and steam until tender, about a minute. Drain and set aside.
In a bowl, whisk together the milk, heavy cream, eggs, and egg yolk. Season to taste with salt and black pepper.
When the dough is done chilling, roll it out on a lightly floured surface until it is ⅛-inch thick. Use a biscuit cutter to cut out circles of dough that are about 2½-inch round. Fit the rounds into a 24-cup nonstick mini muffin pan. Repeat with remaining dough until it is all used up.
Sprinkle half of the cheese into the bottoms of the pie-lined muffin cups. Top with the egg filling, distributing it evenly among the cups. Top with broccoli florets and remaining cheese.
Bake at 375 until puffed and golden, about 30 minutes. There will probably be a lot of cheese spillover depending on just how much you fill the muffin cups, but that is normal. Remove mini quiches from tin almost immediately when they come out of the oven and place on a wire rack to cool. Serve warm.
Nutrition Information
Serving size:
1 mini quiche