For a soup that will warm you up, wake up your taste buds with it's kick of peppery flavor, and keep you full for hours, this nine vegetable hot and sour soup just can't be beat!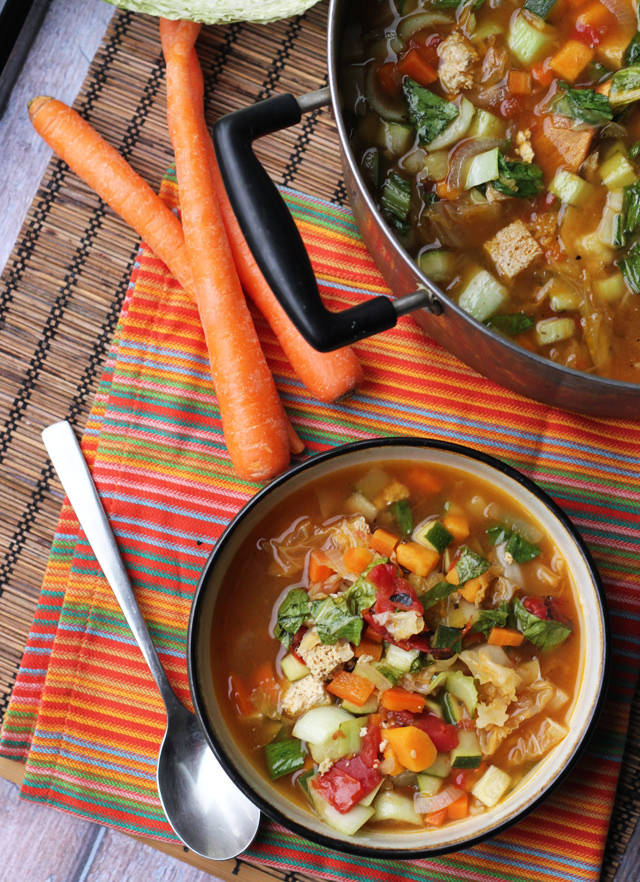 Code red, I repeat, CODE RED.
We have a soup identity crisis on our hands.
Of the worst(/best) kind.
On the one hand, it's SOUP. There's a serious broth flava situation going on here. It's spicy, it's sour, it's tangy, it's savory, it's salty – it's everything you wanted your neighborhood Chinese takeout's hot and sour soup to be, but wasn't.
And on the other hand it's full of every vegetable (celery and celeriac notwithstanding because I despise them with the heat and fury of a thousand suns) I could stuff into the pot. So, STEW.
Add to that the complicating factor of a fiance who thinks soups are for the birds while stews are the bee's knees, so everything that comes out of the kitchen has to be named in a very calculated fashion.
It's a hot mess. No, but literally.
Well, obviously I went with soup. Because I had a bowl and was so pleasantly surprised/fell.hard.in.love that I was all like, "uh, NOT sharing".
And then the.boy got home from work and tasted it and he too fell.hard.in.love. With soup that he insists is a stew.
Uh, yeah, this recipe is going to need a lot of psychotherapy. And so, apparently, are our future children. Be warned.
Also, this soup/stew/(I-refuse-call-it-stoup-because-UGH-RACHAEL-RAY) makes enough to feed a small army. It's a good thing.
One year ago…Chipotle Black Bean Soup with Avocado Cream
Three years ago…Mint Chocolate Cupcakes
Chinese Nine-Vegetable Hot and Sour Soup
For a soup that will warm you up and keep you full for hours, this nine-vegetable hot and sour soup just can't be beat!
Ingredients
3 tbsp olive oil
1 onion, thinly sliced
1 tbsp grated ginger
1 jalapeno, minced
1 large sweet potato, peeled and diced
1 cup diced carrots
½ savoy cabbage, coarsely chopped
2½ quarts water or vegetable broth
½ cup soy sauce
⅓ cup rice vinegar
2 tsp salt
2 tsp ground black pepper
½ cup cold water
¼ cup cornstarch
1 zucchini, diced
1 red bell pepper, diced
8 oz extra firm tofu cut into ½-inch cubes
4 baby bok choy, thinly sliced
14 oz canned diced tomatoes
2 tsp sesame oil
Instructions
Heat oil in a large pot over medium heat. Add in the onions, ginger, and chiles and cook for a few minutes, stirring. Add in the sweet potato, carrots, and cabbage. Cover and cook for about 3 minutes, or until cabbage starts to wilt. Add in the broth and bring to a boil. Reduce the heat to a simmer and cook for 5 minutes.
In the meantime, whisk together the soy sauce, rice vinegar, salt, pepper, cold water, and cornstarch in a separate bowl. Set aside.
Add the zucchini, bell peppers, and tofu to the pot. Simmer until the veggies are tender, about 8 minutes. Add in the soy sauce mixture and stir until the soup thickens, about 8 minutes. Add in the bok choy and tomatoes and bring the soup back to a simmer. Stir in the sesame oil.
Notes
Adapted from
The Moosewood Restaurant Cooking for Health: More Than 200 New Vegetarian and Vegan Recipes for Delicious and Nutrient-Rich Dishes
*To give the tofu that porous, spongy texture, freeze it overnight in it's liquid and then thaw it in the the fridge or by immersing it in a bowl of warm water.