A galette of thinly sliced potatoes and cacio e pepe flavor topped with a light arugula salad.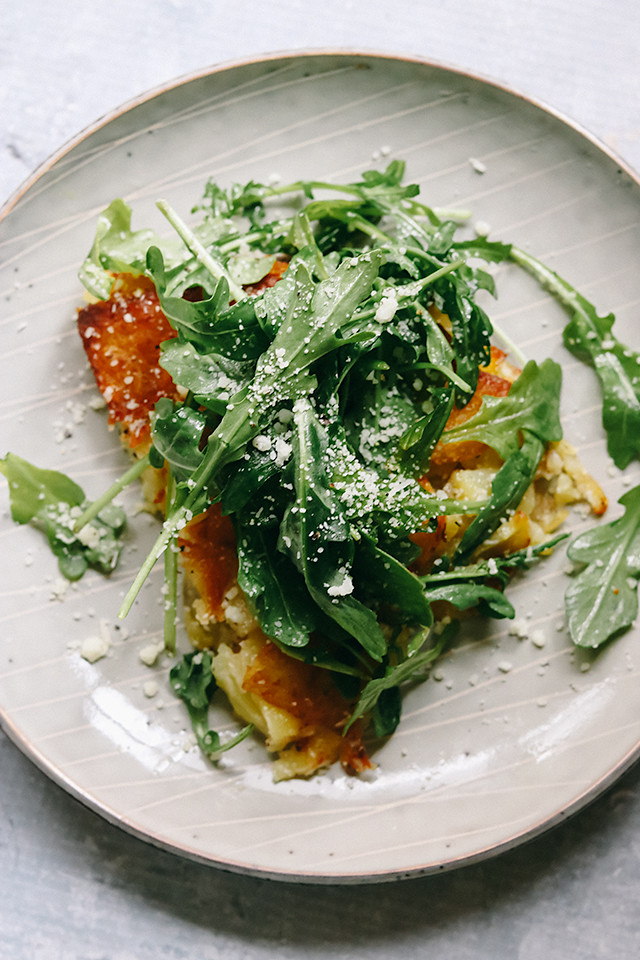 Macarons don't scare me, but savory galettes that require precision, impossibly thinly sliced vegetables, and flips out of 400 degree skillets?
Uh, yeah. Feel free to NOT sign me up for that.
It's completely irrational, I know, but that's the only way to explain why it has taken me *years* to try this cacio e pepe potatoes anna from the Smitten Kitchen Every Day Cookbook, despite it being the cover recipe and therefore mocking me with it's golden crispy cheesy edges every time I pull up my eCookbook on my iPad.
I guess if there's one thing the pandemic was good for, it was getting me to conquer some of my baking fears because it's not like there was anything else to do.
And you know what?
This was zero percent as complicated as I thought and 110 percent as delicious.
I don't own a mandoline after chopping off a good portion of my right pinky with one a few years ago, so I sliced my potatoes using the slicing attachment on my food processor. This makes the process that much easier and far less dangerous than mandolining or even thinly slicing them with a knife. After you get all of the potatoes sliced, it's really just a matter of layering them in a greased skillet with a cheese-and-pepper mix that gives them the characteristic sharp cacio e pepe tang. Bake them to crispy golden potato perfection and then top them with a fresh arugula salad. It's the ultimate any time meal and can be served for just about any meal, which is particularly excellent when all your days and hours seem to run together indiscriminately.

Cacio e Pepe Potatoes Anna
A galette of thinly sliced potatoes and cacio e pepe flavor topped with a light arugula salad.
Ingredients
½ cup (65 g) finely grated Pecorino Romano
1 tbsp potato starch or cornstarch
½ tsp fine sea salt, or to taste
½ tsp freshly ground black pepper
2-3 tbsp butter, melted
2 lb (~1 kg) Yukon gold potatoes, peeled and very thinly sliced
For the salad
8 cups (160 g) arugula
1 tbsp olive oil
2 tsp white wine vinegar
Instructions
Heat oven to 375F.
In a small bowl, mix together the cheese, cornstarch, salt, and black pepper. Set aside.
Pour 1 tbsp butter into the bottom of a 9-inch cast iron skillet and swirl it all around the bottom of the pan and up the sides. Arrange about a quarter of the potatoes in overlapping circles in a single layer on the bottom of the pan. Drizzle with 1 tsp of the melted butter. Sprinkle with 2 tbsp of the cheese mixture. Repeat four more times, or until all of the potatoes are used up, reserving 1 tbsp of the cheese mixture for later.
Grease a piece of aluminum foil with nonstick spray. Cover the cast-iron skillet with it. Bake for 35 minutes, or until the potatoes are tender. Remove from the oven and, with pot holders on, press the top of the foil down so that you compact the potatoes into the pan as much as possible. Remove the foil and bake for another 25-30 minutes, or until brown all over.
Meanwhile, toss the arugula with the olive oil and vinegar. Set aside.
Once the potatoes are done baking, let them rest in the skillet for a few minutes, then run a knife around the edges to loosen it. Invert onto a plate. Cut into wedges then top with the dressed arugula. Sprinkle with the reserved cheese mixture.