Pasta is tossed with a creamy parmesan butternut squash sauce and baby greens in this easy weeknight meal.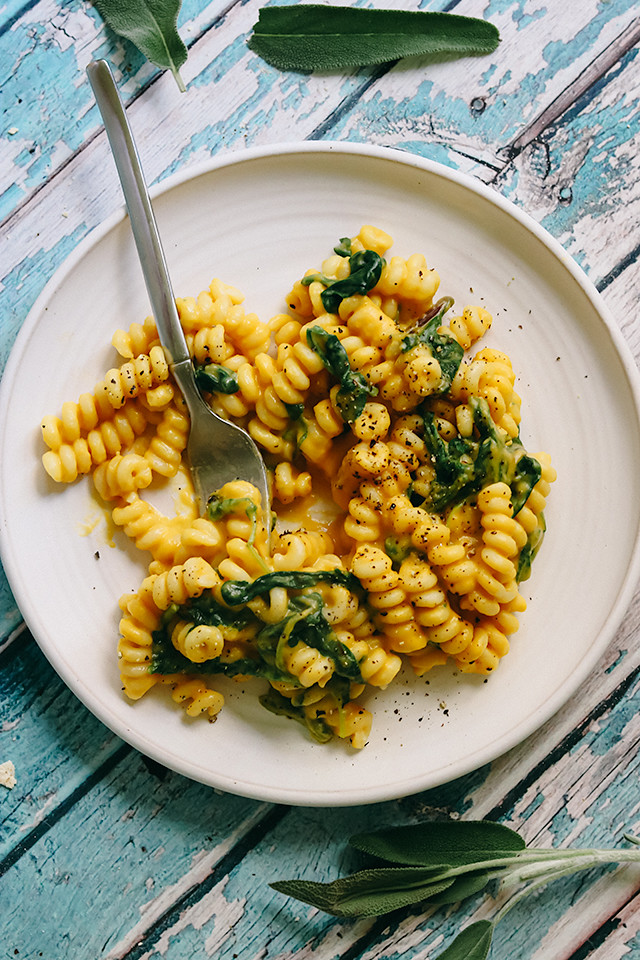 SAVE ME.
From myself.
From the Amazon Christmas toy catalog we got in the mail that Remy just discovered and thinks is a "workbook". Look, I'm not telling her otherwise.
Does that make me a bad mom?
If you need me, I'll be hiding all of my credit cards and eating my way through a bowl of this butternut sauce because-
it. is. E V E R Y T H I N G.
I'm no stranger to butternut pasta and if you look in the blog archives you'll find a dozen. Maybe two.
They're all different and unique and beautiful and special in their own way, and I personally recommend cooking your way through them this fall.
BUT if you're specifically looking for a butternut sauce that's ultra creamy (with only a bare minimum of cream), velvety smooth, and like eating a warm hug? This is it. And it is so simple it's almost laughable: steamed pureed squash, onions, garlic, vegetable broth, and a hint of sage infusion. Simmer all that goodness together to let the flavors infuse and then blend it until it's ultra dreamy. Add in a dollop of parmesan and heavy cream, then toss it with your favorite pasta shape. I also mixed in some greens because that's just who I am. You do you.
Pasta with Creamy Parmesan Butternut Squash Sauce
Pasta is tossed with a creamy parmesan butternut squash sauce and baby greens in this easy weeknight meal.
Ingredients
2 tsp olive oil
¾ cup chopped sweet onion
2 garlic cloves, minced
1½ cups vegetable broth
1½ cups pureed butternut squash
1 sprig fresh sage
1 tsp kosher salt
freshly ground black pepper, to taste
¼ cup grated parmesan cheese
¼ cup heavy cream
1 lb pasta
8 oz baby kale
Instructions
Heat the oil in a large skillet over medium heat. Add the onion and saute for 4-5 minutes, or until translucent and tender. Add in the garlic and cook until fragrant, about 30 seconds. Stir in the vegetable broth, butternut squash, sage, salt, and black pepper. Simmer for 10 minutes, stirring occasionally.
Meanwhile, bring a large pot of salted water to a boil. Add the pasta and cook until al dente, according to package direction. Add the greens in the last minute of cooking and then drain.
Remove the sage from the butternut sauce and then pour the mixture into a high-powered blender. Puree until smooth. Return to the pan and stir in the parmesan and heavy cream. Pour over the cooked pasta and toss to combine. Season to taste with salt and black pepper.