Take a bite of sunshine in the form of these lemon blueberry sour cream coffee cake muffins! Guaranteed to brighten your day.
This is a sponsored post written by me on behalf of Florida Department of Citrus for IZEA. All opinions are 100% mine.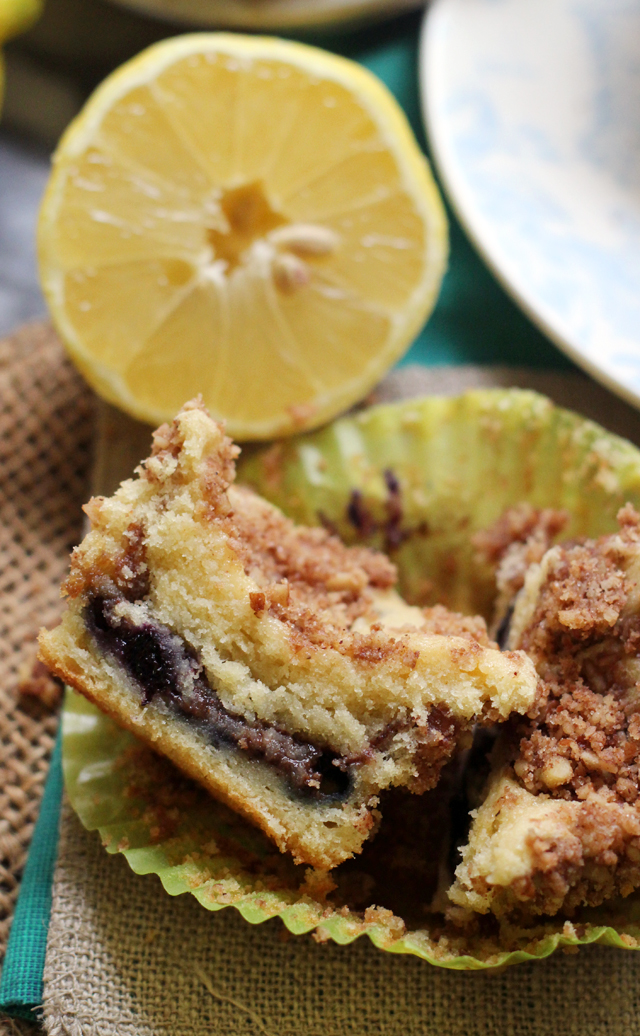 We need to talk about the overwhelming uplifting power of citrus.
And the weather.
It's been all doom and gloom here recently. I'm talking 72 hours of gray skies and all day downpours.
Not ideal for food photography OR my mood. Apparently.
I didn't realize how much so until I bit into one of these lemon blueberry-licious muffins and became a NEW PERSON. The kind that laughs and smiles and doesn't make her husband watch trashy reality television. Oh. Wait.
I always forget how bright and refreshing a bite of something citrusy can be, and then BAM. I find myself mindlessly nibbling away at a grapefruit or squeezing some lemon juice into my water and it hits me. This is the good stuff.
Now, you know I normally like to eat local whenever possible, but since oranges, lemons, limes, and grapefruits can't exactly be grown in mid-Atlantic climates, I try to look for citrus fruits that were grown in Florida instead.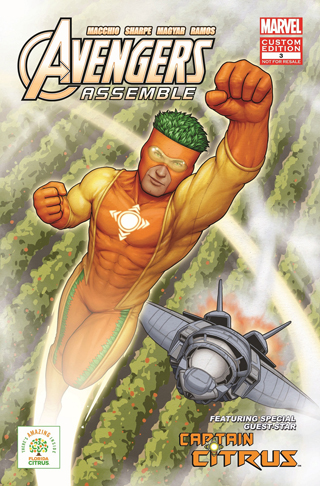 Speaking of which, have you guys heard of Captain Citrus ?! He is basically my new superhero role model. Created by the Florida Department of Citrus, he helps to convey the values of the Florida Citrus industry while encouraging kids to make smarter decisions concerning nutrition. Now, I don't have kids myself, but a lot of my friends do and as fun as Batman and Superman are, I kind of love the idea of a superhero totally devoted to defeating villains…and helping kids make smart food choices along the way! I mean, when a superhero tells you that drinking a glass of 100% Florida Orange Juice can be part of a well-balanced diet, you listen! Especially when he mentions the vitamin C, folate, potassium, no added sugar, and (most importantly) taste as the Amazing 5 reasons why.
For all you moms out there, there is a Captain Citrus Facebook contest going on right now with a fun prize package that includes your child's likeness and voice over used in (1) episode of Avengers Assemble on Disney XD, a trip to LA with round-trip transportation for four, 3 days/ 2 night hotel stay, tour of Marvel Studios, a $250 gift card and much more!
For all you not moms out there…we don't have to share our muffins. Consolation?
Actually, I did share some of my muffins with my friend Faye from Live Bake Love for this month's Leftovers Club! Hope they bring as many bites of sunshine into your day as they did mine, chica!
Lemon Blueberry Sour Cream Coffee Cake Muffins
Take a bite of sunshine in the form of these lemon blueberry sour cream coffee cake muffins! Guaranteed to brighten your day.
Ingredients
For the filling
1 cup frozen blueberries
1 tsp lemon zest
For the streusel
¾ cup all purpose flour
¾ cup sugar
½ cup dark brown sugar
2 tbsp ground cinnamon
2 tbsp cold unsalted butter, cut into 2 pieces
1 cup pecans
For the muffins
12 tbsp unsalted butter, softened
4 large eggs
1½ cups sour cream, divided
1 tbsp vanilla extract
2¼ cups all purpose flour
1¼ cups sugar
1 tbsp baking powder
¾ tsp baking soda
¾ tsp kosher salt
Instructions
Heat oven to 350F. Line two muffin tins with paper liners. Set aside.
in a bowl, stir together the frozen blueberries and lemon zest. Set aside.
For the streusel, in the bowl of a food processor, pulse together the flour, sugar, brown sugar, and cinnamon until combined. Remove 1¼ cups of this mixture to a separate bowl. Leave the remainder in the food processor and pulse together with the butter and pecans until they are the size of small pebbles. Set aside.
In a medium bowl, whisk together the eggs, 1 cup of sour cream, and the vanilla. Set aside.
Combine the flour, sugar, baking powder, baking soda, and salt in the bowl of a stand mixer fitted with the paddle attachment. Add in the butter and the remaining ½ cup of sour cream. Mix on low speed until the dry ingredients are moist and the mixture resembles wet sand. Increase to medium speed and beat until the batter comes together, about 10 seconds. Scrape down the bowl and add the egg mixture in three additions, beating for 20 seconds after each. Scrape down the bowl again and mix for 1 minute on medium-high speed, until the batter is fluffy.
Add 2 tbsp of batter to each of the cupcake liners. Sprinkle the blueberry lemon mixture evenly among them and top with the streusel without the pecans and butter. Top with the remaining batter. Top with the streusel that does have the pecans and butter, sprinkling it all over pans. It will be messy.
Bake for 25-30 minutes, or until the muffins feel firm to the touch and a toothpick inserted in the center comes out clean. Let cool before serving.
More citrusy sweets!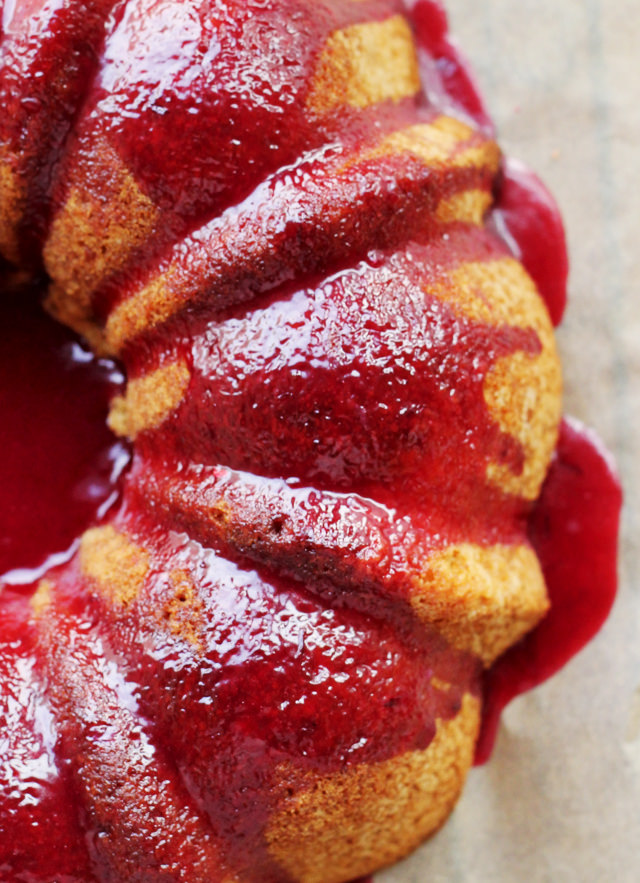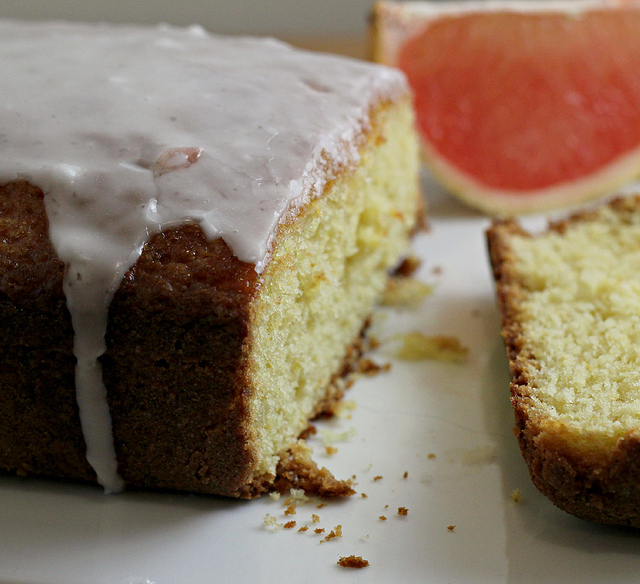 Grapefruit Olive Oil Pound Cake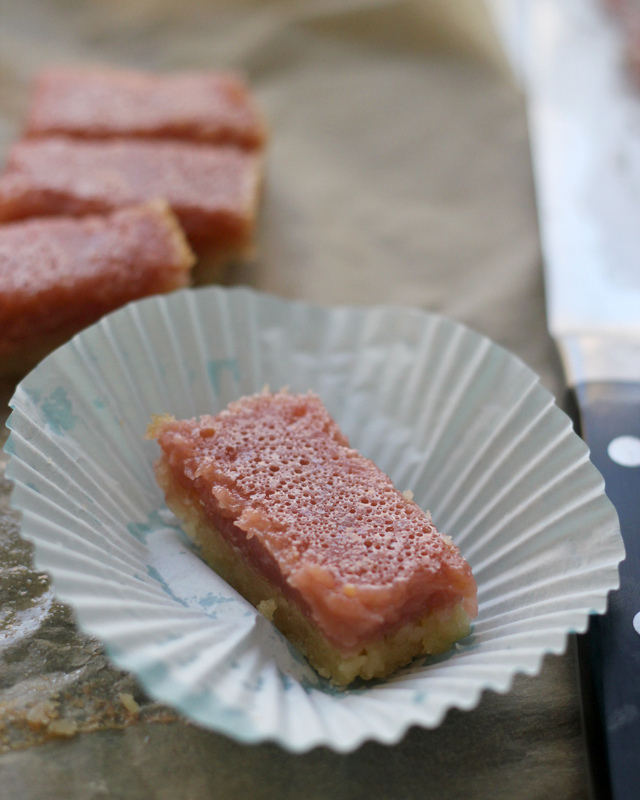 From Around the Web:
Citrus Cranberry Cake from Roxana's Home Baking
Dark Chocolate Orange Cookies from Crunchy Creamy Sweet
Citrus Poppy Seed Bread with Citrus Curd Swirl from A Cookie Named Desire
Citrus Poppy Seed Muffins from Edible Perspective
Four Citrus Coconut Shortbread Bars from Blogging Over Thyme