A luscious salad of sweet caramelized roasted figs and onions with radicchio, goat cheese, and a pomegranate-balsamic vinaigrette.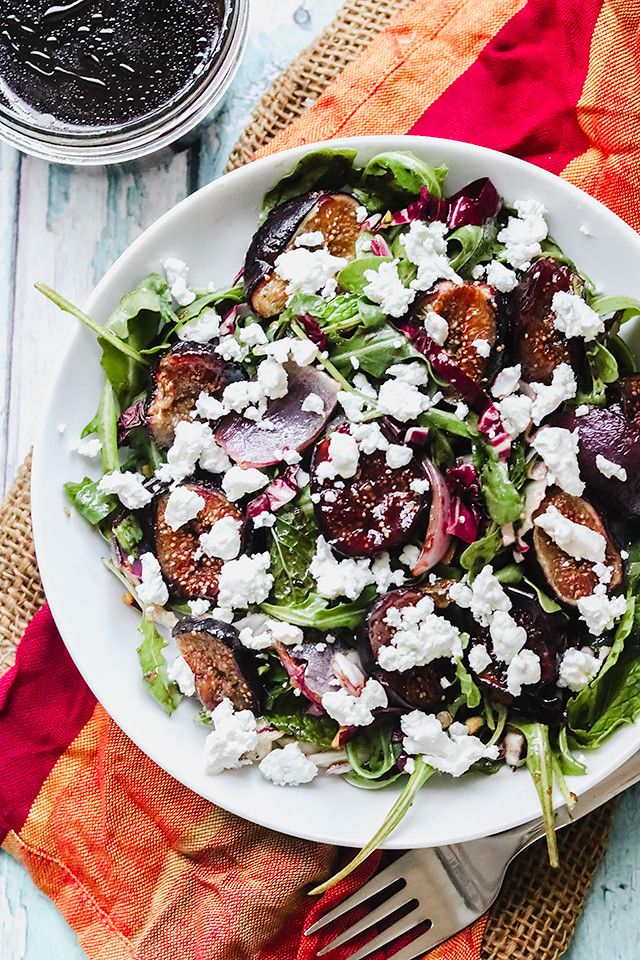 There are a few truths in life that are unshakeable, and the fact of the matter is that if there's a fig salad in a cookbook…you know I'm counting down the days until fig season so that I can make it.
It's just…part of the fundamental essence of ME.
So it was written, and so it shall be done.
Also, there is so little that has been good about 2020 that if we want to spend all our pocket money on fresh figs, then who can even blame us?!
It's the little things.
(At least, that's what I tell my husband.)
To sum up: there was a fig salad in the Falastin cookbook (which I am currently obsessed with, and if you like flavor and good food YOU SHOULD BE TOO) and so I had to make it.
HAD TO.
And here we are. Join me?
Truth be told, I loved everything about this. Obviously, or I wouldn't have shared it here.
One great thing about it is that the figs don't have to be especially ripe or perfect because they're about to get roasted in a sweet and tangy pomegranate balsamic dressing until they're caramelized, sticky, finger-licking good. Red onions are getting on the roasting party too. (I told you it was gonna be good.)
After their stint in the oven, you toss the roasted young'uns with some bitter greens, fresh mint, and more of that absolutely addictive dressing. Top with toasted pistachios and creamy goat cheese and you have yourself a salad for the books.
Make it while the figs are still good. It's 2020. You deserve it.
Roasted Figs and Onions with Radicchio and Goat Cheese
A luscious salad of sweet caramelized roasted figs and onions with radicchio, goat cheese, and a pomegranate-balsamic vinaigrette.
Ingredients
For the dressing
5 tbsp balsamic vinegar
3 tbsp pomegranate molasses
3 tsp honey
2 garlic cloves, grated
flaky sea salt and black pepper
10 tbsp olive oil
For the salad
12 figs, halved lengthwise
2 red onions, each cut into 8 wedges
flaky sea salt
1 tsp olive oil
½ head radicchio, core removed and leaves thinly sliced
5 oz arugula
½ cup mint leaves
⅓ cup toasted pistachios, chopped
black pepper, to taste
4 oz goat cheese, crumbled
Instructions
Heat oven to 425F. Line two baking sheets with parchment paper and set aside.
For the dressing, whisk together the vinegar, molasses, honey, garlic, ¼ tsp salt, and black pepper to taste. Slowly whisk in the oil, mixing until emulsified and completely combined. Set aside.
For the salad, place the figs and onions in two separate bowls. Toss each with 1½ tbsp of the dressing, a pinch of salt, and ½ tsp olive oil. Toss to combine then pour the figs onto one prepared baking sheet and the onions onto the second. Place in the oven. Bake the figs for about 20 minutes and the onions for about 30 minutes, or until soft and caramelized. Remove from the oven and allow to cool for 15 minutes.
In a large bowl, toss the roasted onions with the radicchio, arugula, mint, pistachios, ½ tsp sea salt, black pepper, and half of the remaining dressing. Toss to combine then divide among serving plates. Top each plate with a quarter of the goat cheese and a quarter of the figs. Serve immediately with the extra dressing on the side.