This Moroccan roasted vegetable pilaf with chickpeas is rich in warm flavors and some of the season's best roasted root vegetables – it makes for a great ethnically inspired meal.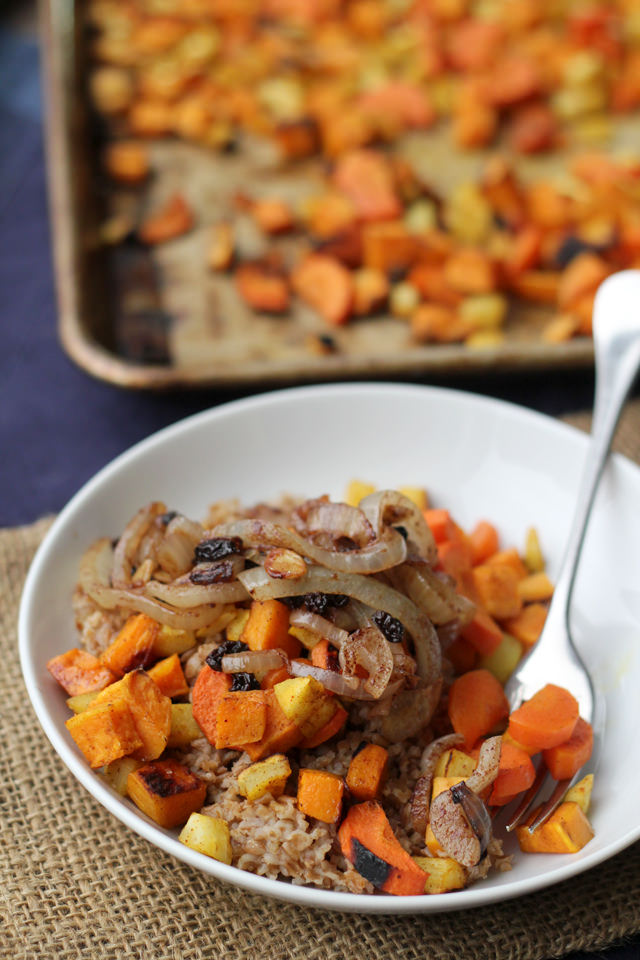 We need to get out of here.
Yesterday the distance I ran on my long run was approximately the same/possibly more than the "feels like" temperature outside.
And I refuse to accept it. Complacency is not my biggest virtue.
So, we have only one option, as I see it.
Let's be Morocco-bound.
In the markets of Marrakech we can find all the warm flavors that we've developed a physical dependency on (some might call it an addiction, but I don't like to get all medical up in here) tossed up into one fabulous spice mix and mixed into stews/pilafs/big-pans-of-roasted-veggies-galore, with none of the weather we can't live with and all of the 70F and blue skies we can't live without.
It's really a win/win as far as the eye can see.
Hmm, what's that? No passport, you say!
Well, neither does the.boy. (Such.A.Buzzkill)
So we'll have to travel by Culinary Express. Whereby we don't leave our kitchens, but cook as though we're 3,687 miles away. Give or take.
Also a win/win, especially where this Moroccan Roasted Vegetable Pilaf is involved. In it, all of our favorite root veggies are tossed with ras el hanout, a Moroccan spice blend that makes me feel all warm and fuzzy inside, and then roasted to sweet caramelized perfection. They are then served on a bulgur chickpea pilaf and topped with a sweet caramelized onion honey almond relish.
So let's crank up the heat, hope that our bones will someday not feel like they're frozen all the way through, and dig into a big bowl of this healthy veggie pilaf, letting it whisk us away to the memory of warmer temps and bluer skies.
One year ago…Red Velvet Macarons with Cinnamon Cream Cheese Frosting
Two years ago…Zucchini "Meatballs" and Curry-Tomato Sauce over Polenta, Pumpkin Cake with Caramel Pecan Pie Streusel
Three years ago…Pork and Black-Eyed Pea Chili
Four years ago…Keftedes over Greek Cinnamon-Scented Tomato Sauce, Apple Blondies with Brown Sugar Frosting
Five years ago…Spaghetti with a Creamy Tomato Sausage Sauce, Broccoli and Cheese Calzone
Moroccan Roasted Vegetable Pilaf with Chickpeas
This Moroccan roasted vegetable pilaf with chickpeas is rich in warm flavors and some of the season's best roasted root vegetables - it makes for a great ethnically inspired meal.
Ingredients
1½ lb sweet potato, peeled and diced
10 oz parsnips, peeled and diced
1½ tbsp olive oil
1 tsp ras el hanout
9 oz carrots, peeled and diced
1 tsp kosher salt, divided, plus more to taste
2 cups vegetable broth
1 cup uncooked bulgur
2 cups cooked chickpeas
For the topping
1 tbsp olive oil
1 onion, thinly sliced
¼ cup sliced almonds, toasted
¼ cup dried currants
1 tsp ground cinnamon
1 tbsp honey
Instructions
Preheat the oven to 450.
In a large bowl, combine the sweet potatoes, parsnips, olive oil, ras el hanout, and carrots. Mix in ½ tsp salt. Spread out on a parchment-lined baking sheet and bake for 30-40 minutes, or until vegetables are tender.
Bring broth to a boil in a medium saucepan. Stir in the bulgur and ½ tsp salt. Lower the heat to a simmer, cover and cook for 15-20 minutes or until broth has evaporated and bulgur is cooked. Let stand covered for 5 minutes before fluffing. Stir in the chickpeas.
For the topping, heat 1 tbsp olive oil in a medium skillet over medium heat. Add in the onion slices and cook for 12 minutes, stirring occasionally, until tender and golden brown. Add in the almonds and currants. Cook for two minutes. Stir in the cinnamon and cook for 30 seconds. Stir in the honey and remove from the heat.
Distribute the bulgur among the serving dishes. Top with the roasted vegetables and then the onion topping.
Nutrition Information
Serving size:
⅙th of recipe