Every time is a good time for banana chocolate chip snack cake!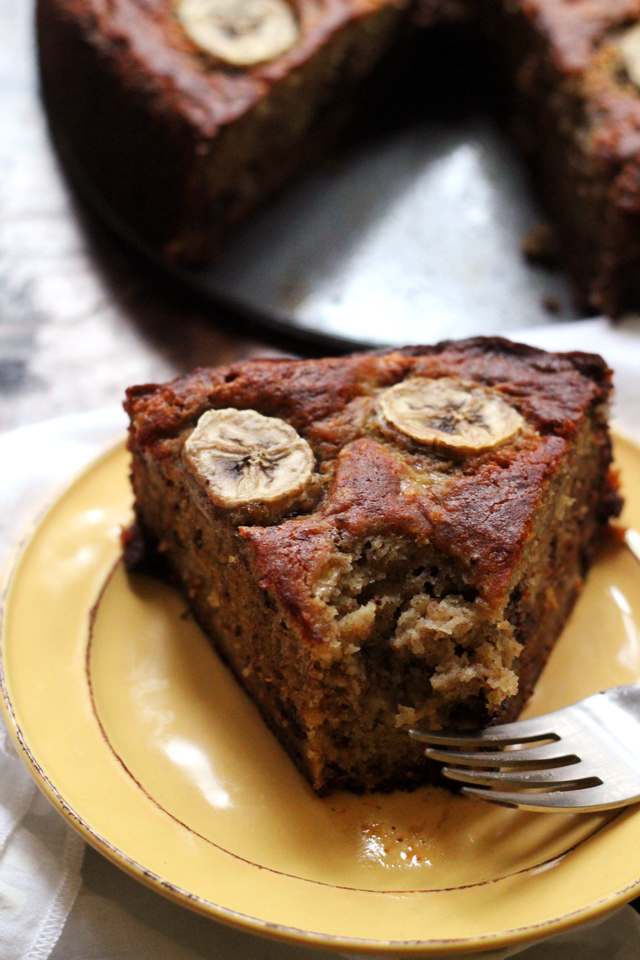 Yesterday might have been Pi(e) Day, but I hope you still have room for CAKE.
I know I sure do.
Right next to the baby's legs somewhere, I swear there's enough space in my belly for exactly one slice. No more, no less.
(But mostly no more because HEARTBURN, my friends. #thestruggleisreal)
Because it's such confined quarters in there, I have to be really selective about what I choose to ingest on any given day.
It's just too sad to only have one or two bites of something only to realize that (a) I'm totally full and (b) IT WASN'T EVEN WORTH IT.
Not saying that I'm overly emotional/hormonal or anything, but such an occurrence may or may not have brought me to tears…once or twice. Ahem.
Of course, biting into this banana chocolate chip snack cake also brought me to tears…OF JOY.
It was that good.
And it was that good even while being part whole wheat, part almond flour, not that sugary, and full of the goodness that is Silk's Dairy Free Yogurt Alternative, which, if you haven't had it – YOU MUST. It's creamy and velvety smooth and melts on your tongue in blazes of vanilla glory. For real.
You used to only be able to buy Silk's Dairy Free Yogurt Alternative in single serving containers, but now I am extra excited because they have finally come out with a 24 oz container that comes in both vanilla (<– my favorite for snacking and baking) and plain (<– my favorite for everything else). (Here's a coupon in case you want to try it for yourself!).
So perfect for my never-ending snacking needs.
In fact, my current eating game plan is to alternate bites of cake with Silk dairy free yogurt spoonfuls all the live long day…
…and I'm not even the least bit sorry for it.
Banana Chocolate Chip Snack Cake
Every time is a good time for banana chocolate chip snack cake!
Ingredients
½ cup unsalted butter, softened
½ cup sugar
1 tsp kosher salt
2 large eggs
1 cup all purpose flour
¾ cup whole wheat flour
¼ cup almond flour
1½ tsp baking powder
1½ tsp baking soda
2 tsp vanilla extract
1 cup vanilla Silk Dairy Free Yogurt Alternative
5 very ripe bananas, mashed
1 banana, sliced
¾ cup chopped dark chocolate
Instructions
Heat oven to 350F.
In the bowl of a stand mixer fitted with the paddle attachment, cream together the butter, sugar, and salt on medium-high speed for 2-3 minutes. Scrape down the sides of the bowl and add the eggs, one at a time, beating well after each addition.
Add the flours, baking powder, baking soda, vanilla, Silk Dairy Free Yogurt Alternative, mashed bananas, and dark chocolate to the bowl. Mix on low speed until just combined.
Grease a 10-inch springform pan. Pour the batter into the prepared pan and smooth out the top using a spatula. Top with the banana slices.
Bake for 50-60 minutes, or until a toothpick inserted in the center comes out clean. Let rest in the pan for 15 minutes. Remove the sides from the pan and let cool completely before serving.
Notes
Adapted from
Huckleberry: Stories, Secrets, and Recipes From Our Kitchen
This is a sponsored conversation written by me on behalf of Silk. The opinions and text are all mine.