Homemade dinner rolls don't get easier than these! Ready in an hour, they are light, fluffy, and the perfect accompaniment to soups, stews, and chilies.
Disclosure: As a Become a Better Baker Blog Ambassador, this post was sponsored by ACH Foods. As always, my thoughts and opinions are my own. Thank you so much for supporting the brands that keep me inspired in the kitchen!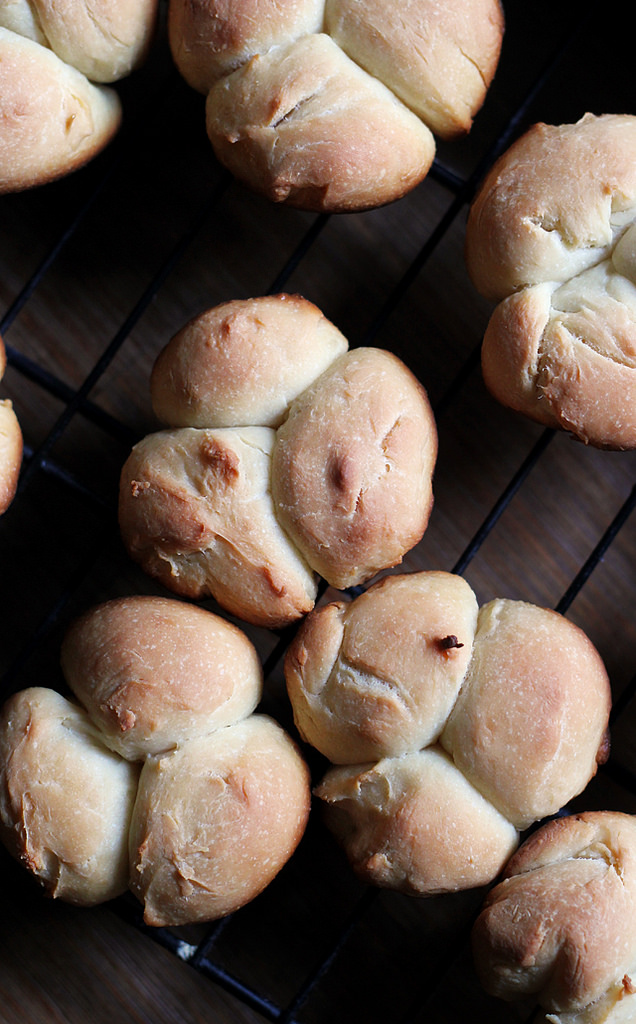 When I grow up, I would like to be a dinner party pro.
Mostly I'm the kind of hostess who is still in her pajamas, hasn't showered, and has to have her fiancé distract her guests while she disappears into the bedroom to get herself together.
It's quite a "situation" and pretty much unpleasant for everyone involved.
I think we're all really hopeful that it's just a phase and one day I'll wake up with all of the grace and finesse of Martha Stewart, but until then, if you come over for dinner, I pre-apologize for the flour I'll probably have in my hair.
Really, sorry.
From what I can tell, successful hosting involves a lot of trial and error, and practice makes perfect-ing.
And trying to accumulate as many life hacks as you can so that you can at least appear to have it all together (even when you really, really, REALLY don't).
Step one: get the dinner roll situation under control.
Because if you can somehow manage to time pulling warm rolls out of the oven with your guests' arrival, then they'll be too busy stuffing their faces to notice when you slink off to pull a comb through your hair.
#winning
This might seem like a delusion of grandeur in and of itself, but that's just because you haven't tried this recipe for cloverleaf dinner rolls yet.
It comes together in just around an hour thanks to Fleischmann's ® RapidRise Yeast, and requires just one kneading step; taking all the stress out of bread baking. I chose to shape the rolls into this cloverleaf pattern, but you can also shape them into knots, crescent rolls, or just plain old spheres – whatever is most fitting for the occasion.
These rolls are fluffy in the best way, slightly sweet, and just perfect with a pat of melty butter straight from the oven.
Just make sure to put a few aside before you set them out for your guests…otherwise you run the risk of having none left for yourself. Then, you'll be the hangry hostess, and trust me, no one wants to see that.

Cloverleaf Dinner Rolls
Homemade dinner rolls don't get easier than these! Ready in an hour, they are light, fluffy, and the perfect accompaniment to soups, stews, and chilis.
Ingredients
2-2¼ cups all purpose flour
1 envelope Fleischmann's RapidRise Yeast
2 tbsp sugar
½ tsp salt
½ cup milk
¼ cup water
2 tbsp butter
Instructions
In a large bowl, whisk together ¾ cup flour, undissolved yeast, sugar, and salt. In a medium pan over medium-high heat, warm the milk, water, and butter until they reach 120-130F. Pour the warm liquids into the flour mixture and beat for 2 minutes at medium speed with an electric mixer. Add in ¼ cup of flour and beat for 2 minutes at high speed. Stir in enough of the remaining flour so that a soft dough forms. Knead lightly on a floured surface until smooth and elastic, about 8-10 minutes. Cover with plastic wrap and let rest for 10 minutes.
Divide the dough into 12 equal pieces. Divide each of these into 3 equal pieces.
Grease a muffin tin and place 3 pieces of dough in each of the cups. Cover with plastic wrap and let rise in a warm, draft-free place until doubled in size, about 30 minutes.
Heat oven to 375. Bake for 20 minutes or until lightly golden. Remove from the pan and serve warm.