A one pot summer vegetable tortellini minestrone made with summer's bounteous fresh vegetables, including zucchini, bell peppers, and corn!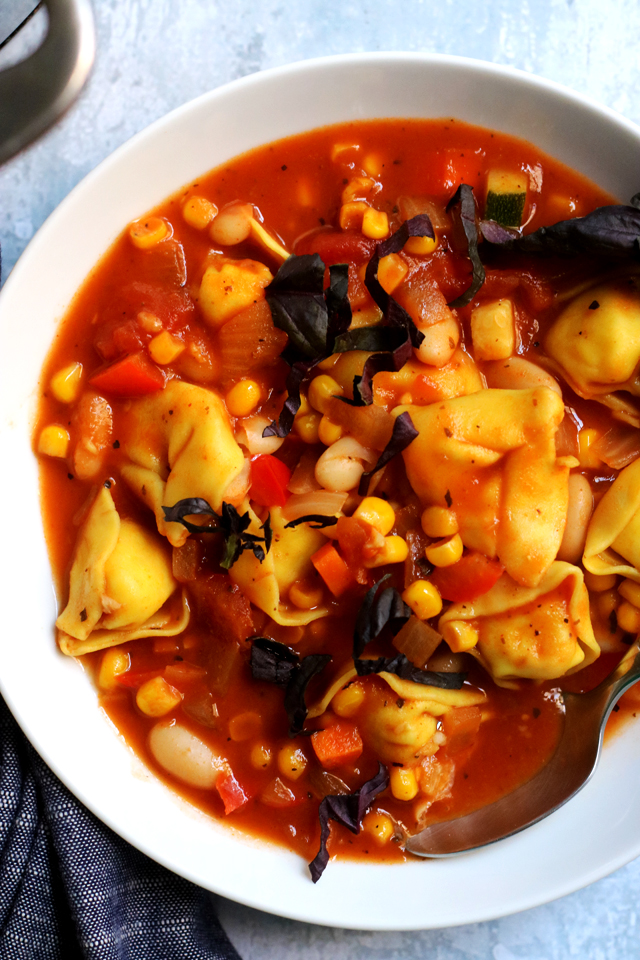 It was a balmy 78 degrees here over the weekend and we were like, "srsly summer. where'd you go?"
Quickly followed by, "LET'S HAVE SOUP!"
This is actually the second soup I've made in just as many weeks. The first was a pureed zucchini/asparagus/white bean/pesto number that was truly divine. My husband had the unlucky fate of having to feed it to Remy on a night when I got home way past her bedtime and I suspect she made a huge mess of it. I can only assume this given the slew of angry texts I received from him stating that under no circumstances should Remy ever be served soup again.
Fast forward a week later and here we are!!
Soup's on the table. And on my floor. And on Remy's lap. And maybe some of it in her belly (but mostly in her hair)?
I may never learn my lessons, but guys – at least I make a damn good soup.
This soup is FILLED with summer lovin' in the form of zucchinis/tomatoes/corn/peppers AND of course tortellini.
Most of these I honestly eat all year round, but they taste that much better (and cost that much less) when they're actually in season.
Probably my favorite part of this soup, though, is that it's ONE POT and takes all of 30 minutes to make. You can make the cook time even shorter by chopping all the veggies ahead of time.
And hey! Maybe your kid won't pick out all the "cornies" and then throw the rest all over the floor. However, I make no promises.
Just soup. Always soup.
One Pot Summer Vegetable Tortellini Minestrone
A one pot summer vegetable tortellini minestrone made with summer's bounteous fresh vegetables, like zucchini, bell peppers, and corn!
Ingredients
2 tbsp olive oil
1 onion, chopped
6 oz carrots, peeled and diced
1 red bell pepper, diced
3 garlic cloves, chopped
2 tsp italian seasoning
1 tsp smoked paprika
3 tbsp tomato paste
5 cups vegetable broth
14 oz canned diced tomatoes
8 oz zucchini, diced
1 parmesan cheese rind (optional)
1 bay leaf
10 oz frozen corn
14 oz can white beans, drained and rinsed
22 oz frozen cheese tortellini
8 basil leaves, chiffonade
Instructions
Heat a large pot or Dutch oven over medium heat. Add the oil and heat until shimmering. Add the onions, carrots, and bell peppers to the pot and saute until tender and just starting to caramelize, about 7 minutes. Season to taste with a large pinch of salt.
Stir in the garlic, Italian seasoning, smoked paprika, and tomato paste. Saute for 2 minutes. Add in the vegetable broth and tomatoes, stirring to combine.
Add the zucchini, parmesan rind, and bay leaf to the pot. Bring to a boil and then lower heat to a simmer. Allow to simmer until the zucchini is tender, about 7 minutes.
Once the zucchini is tender, stir in the corn, beans, and tortellini. Simmer until the tortellini is cooked through, about 5-7 minutes. Season to taste with salt and black pepper.
Divide the soup among 6 serving bowls and top with the basil. Serve warm.