A bright and zingy meyer lemon tart with a surprise layer of chocolate inside!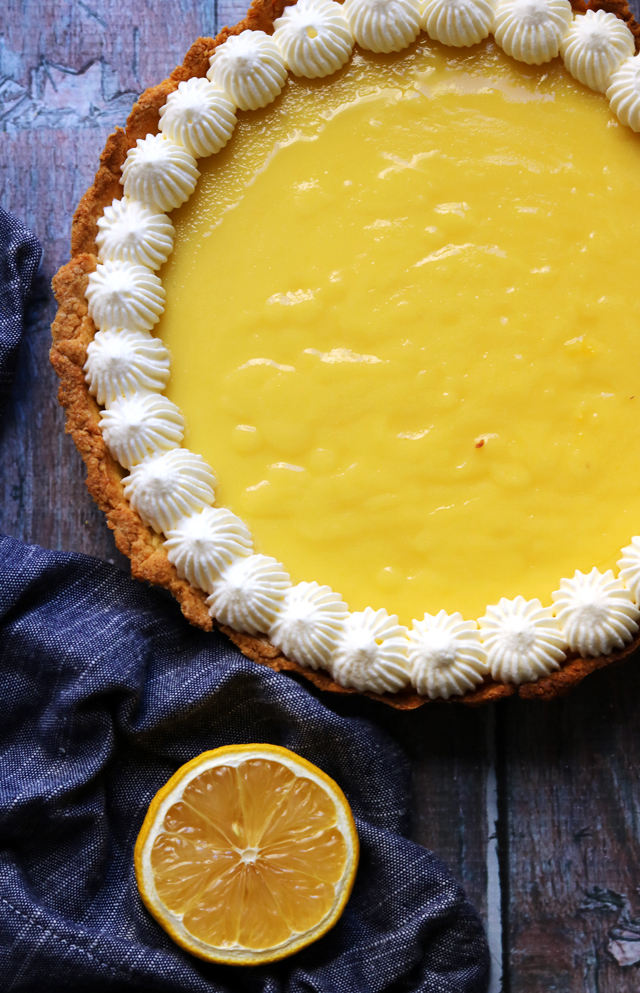 I'm over here in a sea of chocolate lovers, like YES I'LL TAKE THE LEMON DESSERT PUHHH-LEEAAAZZZEEE.
It's always causing issues when the.boy and I go out to dinner because we can never decide what dessert to order. He's all about death-by-chocolate anything and I'm all about anything but that. IDK. It's genetic, I think. My mom is also a lemon fan and my dad (while he didn't like lemon), was never into chocolate.
The.boy's family, on the other hand, is clearly on the opposite side of the spectrum. His mom made a lemon cake once for someone's birthday, like, DECADES AGO, and she still gets grief for it.
The debate is still out on where Remy is going to end up in all of this. So far she seems to have taken a liking to eating whole lemons, so…I think I'm safe.
ANYWHO. Consider this tart a marriage of our flavor predilections.
It's overwhelmingly (and perfectly so, if I do say so myself) lemon but with a schmear of chocolate to keep the peanut gallery happy.
Normally I'm not the biggest fan of the citrus/chocolate combo but there's something about this that is a little bit magical. Maybe I just don't like orange and chocolate together?? Very possible.
The crust is made with a pate sucree, which is basically like a big buttery cookie. Because of all the sugar in it, the dough is not the easiest to work with, so if you want to avoid the stress of it then I think a graham cracker or gingerbread crust would work wonderfully here as well.
Meanwhile, the lemon curd is one of the easiest I've ever made. Topped with dollops of whipped cream it is a positive explosion of sunshine. Exactly what we need in these wintry snow-filled times.
Meyer Lemon and Chocolate Tart
A bright and zingy meyer lemon tart with a surprise layer of chocolate inside!
Ingredients
For the pate sucree
¼ cup heavy cream
2 extra-large egg yolks
2¾ cups plus 2 tablespoons all-purpose flour
½ cup granulated sugar
¼ teaspoon kosher salt
8 oz unsalted butter, cold and cut into ½-inch cubes
For the tart
½ recipe pâte sucrée (above)
2 ounces bittersweet chocolate
4 extra-large eggs
3 extra-large egg yolks
1 cup granulated sugar
1 cup Meyer lemon juice
10 tablespoons cold unsalted butter, cut into small pieces
A pinch of kosher salt
1 cup heavy cream
Instructions
For the pate sucree
In a small bowl whisk together the cream and egg yolks. Set aside.
In the bowl of a stand mixer fitted with the dough hook, combine the flour, sugar, salt, and butter on medium speed. Mix until a coarse meal forms. Slowly pour in the cream/yolk mixture and mix until just combined, being cautious not to overwork the dough.
Remove the dough to a floured work surface and bring it together. Divide it in half and pat each half into a 1-inch thick disc. Wrap in plastic wrap and place in the refrigerator to chill for 5-10 minutes.
Take one disc and roll it out into a 1-inch thick circle, about 11-12-inches in diameter. Line a 10-inch tart pan with the dough, pressing it down into the corners with your fingers. Roll the rolling pin lightly over the top of the tart pan to remove any excess dough. Chill for 1 hour in the fridge or freezer.
For the tart
Heat oven to 375F.
Remove the chilled tart dough from the fridge. Prick the bottom with a fork and line with parchment paper. Fill the lined tart shell with dried beans or pie weights. Bake for 15 minutes. Remove from the oven and lift out the paper and beans. Bake for another 10-15 minutes, or until the crust is golden brown. Allow to cool completely.
Melt the chocolate either over or double boiler or in the microwave. Spread it in an even layer over the crust. Chill in the refrigerator for 15 minutes so that the chocolate can harden.
Meanwhile, make the lemon curd. To do this, whisk together the eggs, yolks, sugar, and lemon juice in a small heavy-bottomed saucepan. Cook over medium heat, stirring constantly, until the curd has thickened and coats the back of a spatula. Remove from the heat. Stir in the butter, a few cubes at a time, stirring until completely incorporated before adding the next batch. Add the salt and let cool for 8 minutes. Strain it into the prepared tart shell. Chill in the refrigerator for a few hours or overnight.
Just before serving, whip the cream until the holds soft peaks. Serve with dollops of whipped cream on top.