An Indian version of tortilla soup meets chili that is rich with spice and flavor. Serve with toasted naan strips in place of tortillas.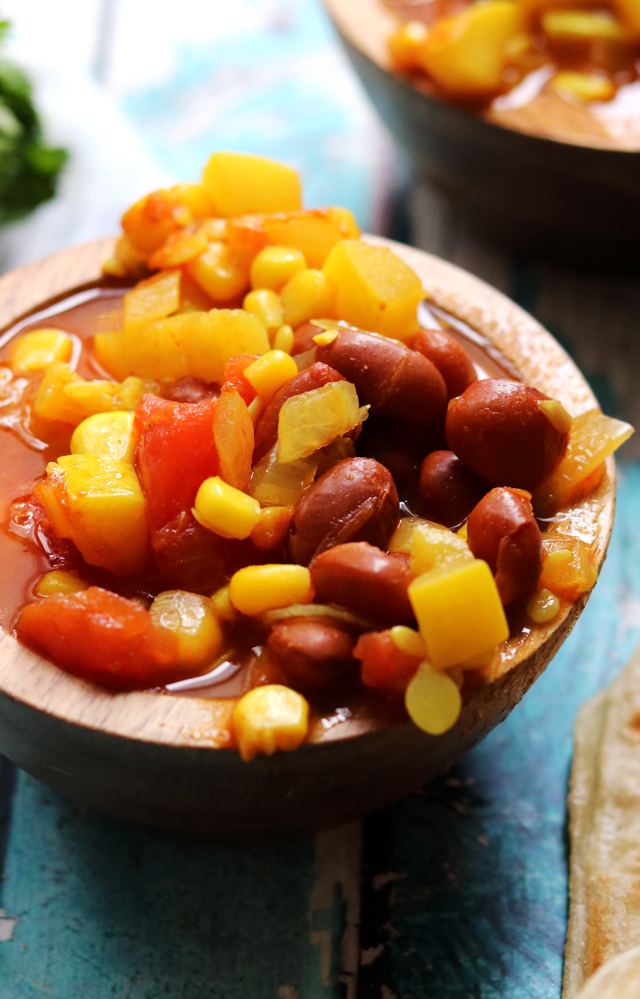 More soup! More soup!!
This was part of my personal mission to make every tortilla soup known to man (really, I CANNOT pass up a tortilla soup recipe in a cookbook without immediately running to the kitchen and getting a batch simmering). I'm just constantly in search of the perfect recipe. You know, a soup that's intensely savory, rich with spice, stuffed with all of my favorite soup mix-ins, topped with all of my favorite soup toppings, and just the ideal version of itself in every way.
I'm not picky.
But seriously I have three recipes for tortilla soup already on the blog and they are each kind of wonderful in their own way. The first is more of a southwestern tex-mex version and is probably closest to my classic tortilla soup ideal. The second is kind of a mash up between tortilla soup and posole, and is topped with all the best things. And the third is more of a healthy hippie version of tortilla soup haha.
And now we have an Indian-spiced version!!!
I think my tortilla soup dreams may be complete.
This was one of those recipes where I saw the photo in the cookbook (Season by fellow blogger Nik Sharma for those inquiring minds) and it looked so incredibly good that I absolutely had to have it. And it did not disappoint!!!
It has all of the flavor of a richly spiced Indian curry but the feel of a cross between chilli and tortilla soup. And then it's topped with toasted naan strips which are my new favorite soup topper. They're simultaneously crispy and chewy, and soak up that soup broth so well. While the original recipe was decidedly NOT vegetarian and called for chicken, this version replaces the meat with beans and summer squash. You can totally substitute butternut or your favorite winter squash for the zucchini, up to you!
Indian Curry Chili with Toasted Naan
An Indian version of tortilla soup that is rich and spice with flavor. Serve with toasted naan strips in place of tortillas.
Ingredients
seeds from 2 green cardamom pods
4 tbsp olive oil
1 red onion, diced
2 garlic cloves, minced
2 summer squash or zucchini, diced
1 tsp ground Kashmiri chili pepper
½ tsp ground turmeric
1 tsp garam masala
14.5 oz canned diced tomatoes
2 cups cooked pinto or brown beans
4 cups vegetable broth
1 cup frozen corn
3 tbsp lime juice
½ tsp fine sea salt
2 large naans
3 tbsp minced cilantro
Instructions
Heat oven to 350F.
Meanwhile, grind the cardamom seeds in a spice grinder or with a mortar and pestle. Heat 2 tbsp of the olive oil in a Dutch oven or heavy-bottomed pot over medium-high heat. Add the onion to the pan and saute until translucent and tender, about 5 minutes. Reduce the heat to medium-low and stir in the garlic, zucchini, ground cardamom, ground Kashmiri chile powder, turmeric, and garam masala. Cook until fragrant and zucchini has started to soften, about 3-4 minutes. Add in the tomatoes and stir to combine. Warm through for 3-4 minutes. Add in the beans, vegetable broth, corn, and lime juice. Increase the heat to high and bring to a boil. Decrease the heat to low and cook, covered, for 10-12 minutes. Season to taste with salt and black pepper. Allow to sit for 10 minutes before serving.
While the soup is simmering, cut the naan into ¼-inch wide strips. Drizzle with the remaining olive oil and place on a baking sheet in a single layer. Bake until golden and crispy, about 8-10 minutes.
Serve the soup garnished with the naan strips and cilantro.