Smoky and savory with just a hint of heat is the best way to describe this cozy sweet potato lentil tortilla soup!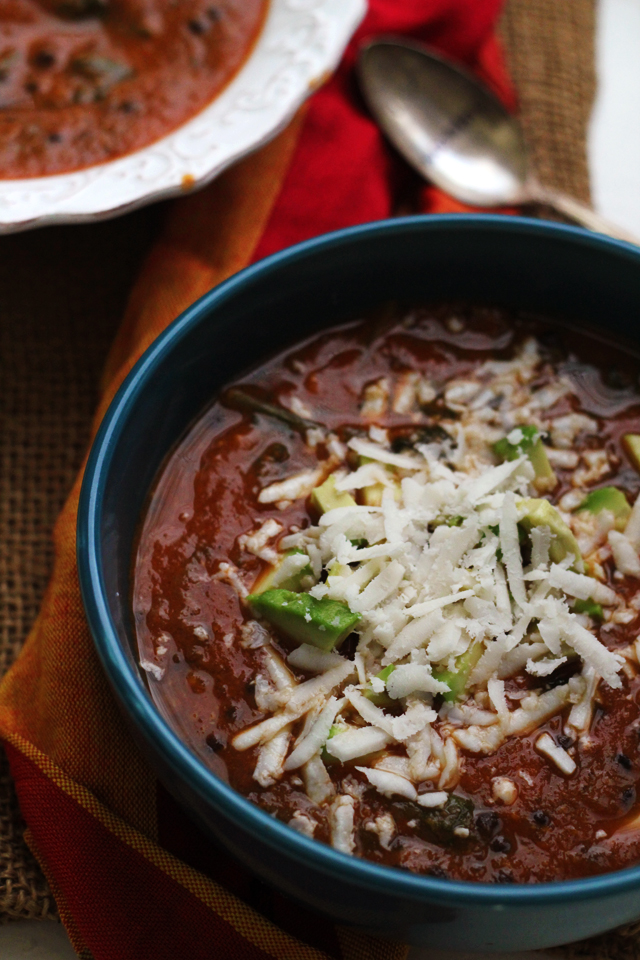 If there's one thing I can say to sum up this soup, it's this:
KID TESTED, MOTHER APPROVED.
And by that I mean, we all gobbled it up with reckless abandon, but Remy especially thought it was the best thing since mashed peas (<– and that's saying something).
I'm not sure I've ever been so proud.
I've been trying to make lots of soupy dishes lately, partly because it really is feeling like winter in these parts and partly because Remy LOVES THEM.
And I love that she can participate in a meal without me having to cut up everything beforehand/constantly be worried that she's going to choke.
It's a win/win.
Plus, this has lentils, which have iron, which means I don't have to feel like a negligent parent for forgetting to give her an iron supplement most days.
(Okay, every day.)
While this recipe has its roots in one from Sprouted Kitchen's Bowl + Spoon cookbook
, it is a hop, skip, and quite a few jumps away from the original. I toned down the heat a bit to make it more palatable to baby taste buds, added in sweet potato and spinach just because, used canned whole peeled tomatoes in lieu of fresh, and threw in black lentils where it was recommended to use pinto beans or chicken. All that to say, it is versatile! So use what you've got and don't even apologize for it. There's just no need.
Sweet Potato Lentil Tortilla Soup
Smoky and savory with just a hint of heat is the best way to describe this cozy sweet potato lentil tortilla soup!
Ingredients
1 cup black lentils
1 tbsp olive oil
1 onion, coarsely chopped
4 cloves garlic
2 medium sweet potatoes, peeled and coarsely chopped
1 tbsp ancho chili powder
2 tsp smoked paprika
salt and black pepper, to taste
2 (28 oz) cans whole peeled tomatoes
4 cups vegetable broth
2 tbsp unsalted butter
1 lb baby spinach
avocado, cotija cheese, and tortilla chips to garnish
Instructions
Cook the lentils according to package directions, until tender. Drain and set aside.
Meanwhile, heat the olive oil in a large pot over medium heat. Add the onion, garlic, and salt to season. Saute until tender, about 5 minutes. Stir in the sweet potatoes and spices. Saute for 2-3 minutes, or until spices are fragrant. Add the tomatoes, halving the whole tomatoes as you add them to the pot, along with their liquid. Add the vegetable broth and bring to a boil over high heat. Lower heat and let simmer for 30 minutes, until everything is softened.
Using an immersion blender, puree the soup until smooth. Stir in the butter, spinach, and lentils. Return the soup to a simmer and cook for 1-2 minutes, or until spinach is wilted. Season to taste with salt and black pepper. Serve topped with handfuls of diced avocado, grated cotija cheese, and/or tortilla chips.