Pizza gets a healthy spin with toppings of kale pesto, roasted sweet potatoes, and brie.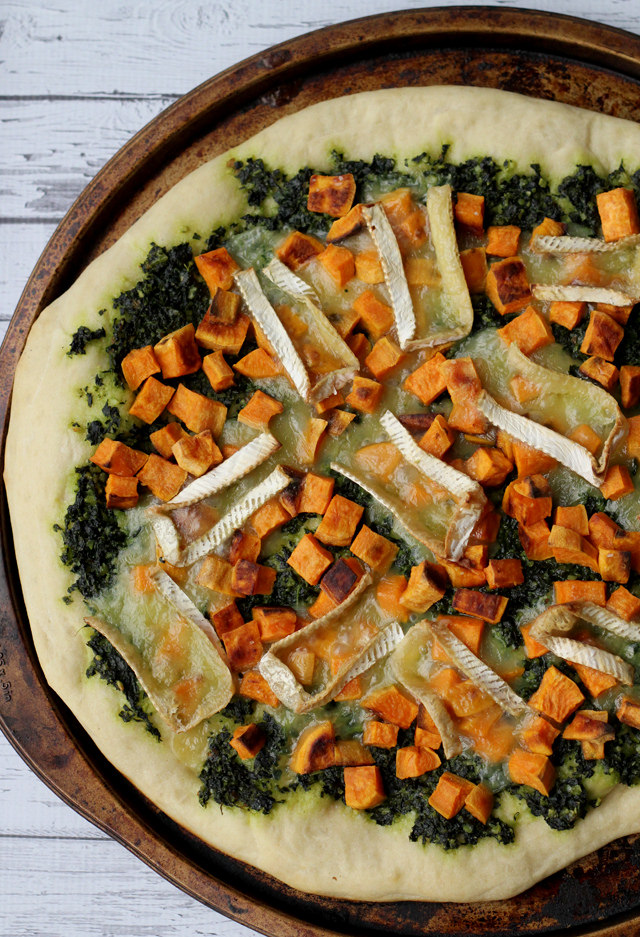 I'm a girl on a mission.
A pizza mission.
After all, we are nigh on one of the top 5 pizza takeout days of the year.
And I'd kind of prefer it if you didn't stuff your face with grease, cheese, questionable cured meat, and high fructose corn syrup-laden sauce atop a cardboard crust. (Domino's, Papa John's, and Pizza Hut – I'm talking to you.)
Especially when homemade pizza is just SO.EASY. and can be topped with all of your favorite healthy toppings. (Or not-so-healthy toppings. But at least you'll know what they are and from whence they came.)
Like kale pesto, roasted sweet potatoes, and a solid dose of brie.
Resolutions don't have to stop for the superbowl, after all.
I overcomplicated things a bit by making my own pizza dough (even though that, too, is super simple), but you can totally buy premade pizza dough from your favorite supermarket (I know Whole Foods and Trader Joe's carry it) or pick some up from your local pizzeria (they'll usually sell it to you on the cheap) if making your own feels ridiculously overwhelming. Throw on all your favorite toppings, bake at super high temps for 10 minutes, and you are good to go.
Here we are, just changing the world (and the way we celebrate the superbowl). One pizza at a time.
This is my submission to Recipe Redux, the theme of which for this month is healthy pizzas!

Sweet Potato and Brie Pizza with Kale Pesto
Pizza gets a healthy spin with toppings of kale pesto, roasted sweet potatoes, and brie.
Ingredients
1 recipe for pizza dough
1 large sweet potato, peeled and cut into ½-inch dice
1 tbsp olive oil
1 bunch lacinato kale, leaves only
1 tbsp lemon juice
¼ cup sliced almonds
¼ cup grated parmesan cheese
¼ cup olive oil
salt, to taste
6 oz brie, thinly sliced
Instructions
Heat oven to 400.
While pizza dough is rising, toss sweet potato cubes with olive oil. Spread onto a parchment-lined baking sheet. Sprinkle with salt. Roast for 30 minutes or until tender. Set aside.
Bring a medium pot of salted water to a boil. Boil the kale for 30 seconds. Remove with tongs and use paper towels to squeeze dry.
In a food processor, combine the cooked kale, lemon juice, almonds, and parmesan cheese. Process until coarsely chopped. Add in the olive oil and process until pureed. Season to taste with salt.
Increase oven temperature to 500.
Spread pizza dough out onto a greased pizza pan. Spread the pesto over the pizza, leaving a 1-inch edge all around. Sprinkle with sweet potato cubes and slices of brie. Bake for 10 minutes or until bottom is brown, dough is cooked, and cheese is melted.
Let rest for 5 minutes before slicing and serving.
Notes
An Eats Well With Others Original