Welcome, welcome. Everyone please take your seats, shut your cells phones, stop talking to your neighbor and make yourselves at home. The show is about to begin!
If you read my blog at all or, even if you don't, all it takes is one look at my sidebar to know that I eat a lot of pasta. I cook it at least once a week, to be precise. And since I am usually cooking for one, it means that I eat it at least 4 days a week. Sometimes more.
And do I ever tire of it? No. Never. Pasta is by far one of the most versatile ingredients out there and there are an infinite number of sauces/toppings you can have with it. Not to mention all of the different shapes and sizes that pasta can take on. Right now I am going through a stringy pasta phase, but who knows, next week I may be craving rigatoni. Life is crazy that way.
This week's Presto Pasta entries are a testament to the adaptable nature of pasta. From baked spaghetti to Asian stir fries, these dishes run the gamut of the pasta world. So read on and enjoy!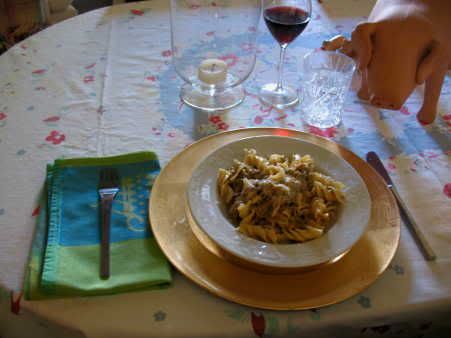 First up, we have Judith of Think On It who offers up some Penne ai Porri e Pecorino with a requisite glass of red wine, of course. In her post, Judith reminds us of how important it is that we value and take care of our bodies and what better way to do so than with some good, healthy food. My mentality exactly!

Daphne of More Than Words sure knows how to spice up a tomato sauce! Her Spicy Tomato Tortellini with Chorizo Sauce contains an assortment of flavors and ingredients that will make your tongue dance.

Next up, we have the Queen of Pasta herself – the creator of Presto Pasta Nights – Ruth of Once Upon A Feast. She is sharing an irresistible Sicilian Pasta with Roasted Cauliflower. I know that in my house, roasted cauliflower and broccoli are two veggies that are craved quite frequently. Combine them with pasta (and some other secret ingredients) and you can't go wrong.

After eating meat day in and day out for the Jewish holidays, Chaya of Chaya's Comfy Cook Blog satisfies her craving for a light and simple vegetarian meal with this Spaghetti and Cheese. I love baked pasta dishes and this one truly looks like a palate-pleaser.

Got any frozen beef in your fridge that you aren't sure what to do with? Take a cue from Katie over at One Little Corner of the World and whip up this Beef Stroganoff. It is the ideal comfort food.

HoneyB of The Life and Loves of Grumpy's Honeybunch and I must be on the same wavelength, since this is exactly the recipe I need to use up some of the winter squash that I recently bought. This vegetarian Butternut Squash Lasagna even passed Grumpy's carnivore test, so we know it must be good (although I must say I had absolutely no doubts)!

Sarah of Taste My Plate didn't let the fact that she couldn't find taco shells without the seasoning mix get her down. Instead, she did what any good chef would do and concocted a new recipe out of her dilemma – this Mexican Pasta Bake. It's a happy thing she did because she claims that this is one of her new favorites! I can see why, especially with the delightful sides of avocado and fresh tomatoes. It is almost like a taco deconstructed!

Deb of Kahakai Kitchen, one of my favorite bloggers out there, uses some of my all-time favorite ingredients (coconut milk, almond butter, eggplant, AND cilantro!!) in her pasta dish this week. She concocted this Quick and Easy Eggplant, Zucchini and Chicken Sausage over Rice Noodles from a bunch of things that she had on hand, although this dish seems so put-together that I would never have guessed.

Heather of Girlichef, one of the most daring bloggers out there (the girl makes her own cheese for pete's sake!), rejoices in her love of soup this week. I wish I could get myself over there to grab a spoonful of this tasty and hearty Orecchiette, Sausage, and White Bean Soup.

Gilli of So So Simple Food marvels at her inability to tire of asparagus, even though she has been making this dish since the 60s! I can certainly see why this Asparagus Tomato Casserole has stood the test of time.

In an attempt to clean out her draft folder, Soma of eCurry shares with us her Pasta with Fennel and Tomatoes. With a dish that takes advantage of the end-of-summer/beginning-of-fall flavors, you just can't go wrong!

After a busy day with her family, Johanna from Green Gourmet Giraffe whipped up this Spinach, Capsicum, and Feta Pasta. It may have been quick and painless to make, but lacking in flavor and nutrition it was not!

Graziana of Erbe in Cucina shares with us a secret she learned in Greece – that thyme is of the essence…when you are cooking with fish! Her Tuna Fettuccine with Thyme shows that she can definitely practice what she preaches.

Nancy from Gaga in the Kitchen joins us today with this Chao Mi Fen, a dish that has a counterpart in almost every Asian culture she can think of! Personally, I don't care where this dish is from or what it is called – it looks delicious no matter what.
Finally, I present you with my Pumpkin and Pine Nut Linguine. The beginning of my attempts to use up the 12 pounds of winter squash that I purchased about a week ago. My name is Joanne and I am a pasta/pumpkin addict. The first step is admitting that you have a problem.
So that concludes this edition of Presto Pasta Nights. Please stop by Eat the Right Stuff for next week's scintillating round-up.
In the words of The Killers, I bid you all adieu:
Aggressively we all defend the role we play
Regrettably time's come to send you on your way
We've seen it all bonfires of trust flash floods of pain
It doesn't really matter don't you worry it'll all work out
No it doesn't even matter don't you worry what it's all about
We hope you enjoyed your stay
It's good to have you with us, even if it's just for the day
We hope you enjoyed your stay
Outside the sun is shining, seems like heaven ain't far away
It's good to have you with us
Even if it's just for the day
Have a good one!
You are reading this post on Eats Well With Others at https://joanne-eatswellwithothers.com. Excerpts and links may be used, provided that full and clear credit is given to the author and or owner of Eats Well With Others. All rights reserved by Joanne Bruno.